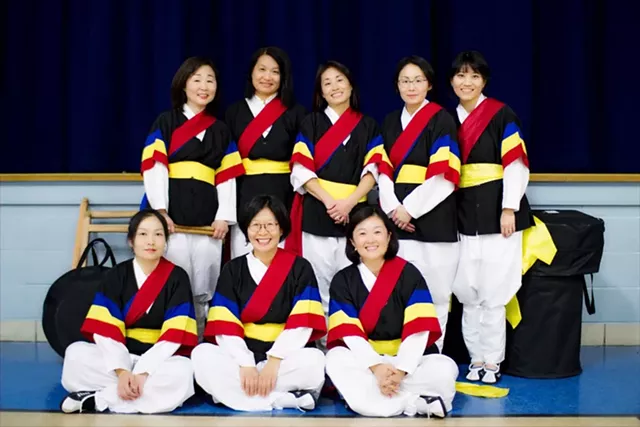 Courtesy of the Flynn Center
Sori Mori
When Cindy Rancourt was living in her native country of South Korea, she wasn't interested in Korean traditional music. But since moving to Vermont in 2006, the Essex resident has had a voracious appreciation for all things Korean.
Rancourt teaches at the
Green Mountain Korean Culture School
, helps out during the Korean Food Fest, practices taekwondo and attends a Korean church in Essex. She's also a member of an all-female drumming troupe, Sori Mori, that performs in the samul nori folk style. These are all an expression of her "longing and yearning" for her home country, said Rancourt.
On Saturday, November 17, at the FlynnSpace in Burlington, Sori Mori — which roughly translates into 'gathering of sounds' — open the second season of New Voices, a showcase of world musical traditions in and around Burlington. The troupe will play festive Korean percussion music that's typically performed in rice-farming villages during the harvest season.
"I'm grateful [for] this wonderful opportunity to share [the] traditional sounds of Korea," said Rancourt.
John Flanagan
Sori Mori at practice
When
William Ellis
curated the inaugural season of New Voices in 2016-17, he had a clear vision: He wanted to introduce local audiences to the musical cultures of the immigrant and refugee populations in the Queen City. Over the course of four concerts, concertgoers were treated to the
rap music of the African diaspora
, and the musical and dance traditions of the Nepali, Somali,
Syrian
and
Tibetan
communities.
Ellis, an associate professor of music at
St Michael's College
, also wanted to introduce new communities to the
Flynn Center for the Performing Arts
as a resource. "It's important to validate and celebrate the diverse musical expressions of each community in itself by giving them a public forum to share their cultures and traditions," Ellis said.
Frederic Silberman
Victor Koblavi Dogah
Joining Sori Mori on stage will be the Ghanaian drumming ensemble Five Town All-Stars, led by Victor Koblavi Dogah. The group has performed at such colleges as Brandeis, Dartmouth, St Michael's College and UMass Amherst. Some of the members have known each other since they were in Ghana.
If you're expecting to simply sit back and watch the show, think again. A key element of the group's performance is audience participation, said Dogah, a graduate of the
Berklee College of Music
.
"Our group is all about how to bring [the] community together," said the drum master. "There's a lot of chanting, playing music and singing."
The second season of New Voices will have three concerts and see the pairing of amateur performers with professional artists. In February, two female ethnic-Karen singers share the stage with
Sabouyouma
, the Burlington-based polyrhythmic funk-fusion band. Somali comedian, poet and rapper
Abow Ibrahim
, Netherlands-born EDM composer
Es-K
and
Mal Maiz
, a collective that plays various styles of Latin American and Afro-Caribbean music, close the series in April.
Every act will be paid, said Ellis, who is a musician himself. "We pay these musicians and that's validating too," said the music professor. "I'm tired of people being asked to play for free."
According to
Steve MacQueen
, artistic director at the Flynn Center, the decision to stage New Voices was not a response to national politics. Instead, it's a response to the growing diversity in Burlington. One of his goals for the Flynn Center, he continued, is to offer wide-ranging and inclusive programming to reflect increasing multicultural populations in the Queen City.
"As an art center, we have a a responsibility to the community," said MacQueen, "and the biggest change we've seen in the Burlington community in the last 20 years or so years, has been the very welcomed influx of New Americans."