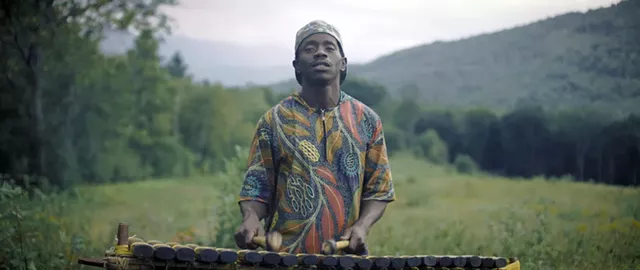 Courtesy Of Jesse Rosenfield
Ousmane Camara
Before the advent of written language, media and technological communication, oral tradition was the only way people could convey information over time or great distances. Storytellers would travel their lands, spreading word of political happenings and other forms of cultural knowledge. Those tasked with disseminating the latest news went by many names, depending on the region and era. In West Africa, they were — and still are — known as griots.
Warren-based musician Ousmane Camara is part of a multigenerational line of such troubadours. The Guinean 34-year-old has studied the ancient practice — and his primary instrument, the balafon — his entire life. Everything he's done has centered on the tradition, which he continues with his Burlington-based polyrhythmic funk-fusion band, Sabouyouma.
The seven-piece ensemble has become one of the most popular acts in the state, making appearances at all of the major clubs in the Queen City area, as well as summer music festivals and locations farther afield in the Green Mountains. The group is even gigging regionally. Known for ecstatic live shows and world-class musicianship, Sabouyouma (pronounced SA-boo-YOU-ma) are local ambassadors of West African rhythms and culture. Beyond that, the group exudes a togetherness and uplifting spirit that can be attributed to Camara's core values.
"It's not easy bringing people together from different families, different education, different ideas," he says. But, according to the griot, it's actually pretty simple.
"Respect human beings," he says. "[And the] music is easy to share."
Camara is an intense individual. Despite his slight frame, he emits a powerful, enthralling energy — onstage and off. In conversation, he rarely breaks eye contact. You can tell that he's interested in making a genuine connection.
His instrument, the balafon, is similar to the wooden marimba but is curved instead of flat. And rather than resonant pipes hanging below the bars, dried, carved calabash (gourds) dangle beneath them to spread the sound. With mallets in hand, Camara performs preposterously complex patterns with laser focus. It's astounding how someone can be so swift and precise at the same time.
But the skill is practically in his genes. To borrow a phrase from The Lord of the Rings, one does not simply become a griot; you have to be born into it.
"My grandfather was the big master balafon player," says Camara. Following in his ancestors' footsteps, he left his immediate family at age 7 to study balafon with his teacher.
"People don't have money to pay their teacher," he says. "So you spend your life with your teacher, working for [them]."
Hailing from Conakry, Guinea's capital and largest city, the griot traveled from the coastal metropolis to many other countries in the region, spreading his art and teaching others. That's how Camara met his American wife, Adina Ford.
After studying djembe drumming and African dance for years, Ford sought out a balafon instructor. Bristol-based dance and drum instructor Simbo Camara (no relation) guided Ford to Ousmane in Africa. Her future husband was initially her teacher.
Their love story is a huge part of Sabouyouma. The band's name itself means "give thanks" in Susu, one of the many languages spoken in West Africa, as well as in the band.
"I sing [Sabouyouma] in songs about the person who [brought] Adina to Africa," says Camara. "I have so much blessing in my heart for [Simbo]."
Getting Camara situated in Vermont was difficult. His 10-year green card was not easily obtained.
"[At first,] they decided [Ousmane] didn't speak English well enough for us to hold a relationship," says Ford. After two failed attempts at securing his residency, they sought advocacy from the office of Sen. Bernie Sanders (I-Vt.).
Even though he now holds his green card and is settled in Vermont with his wife, baby girl and two stepsons, Camara's family unit is incomplete. His 12-year-old son, Ismael, currently lives back home with relatives. (The boy's mother recently passed away.) Camara and Ford are working on solutions to bring Ismael to Warren.
Sabouyouma came to life in 2016 shortly after Camara settled in Vermont. One by one, the balafonist assembled an outstanding team of noteworthy local players, including Mame Assane Coly, a Senegalese expat known for his work with drumming groups Africa Jamono and Jeh Kulu.
Just as many Burlington-area bands can say of their own projects, Sabouyouma coalesced during a residency at creative incubator the Light Club Lamp Shop.
Given that Sabouyouma's music is sung entirely in Susu, Maninka and other West African dialects, the American members of the group begin with only a general understanding of a song's meaning.
"The music — it's complicated for some people," says Camara.
"He would play what he wanted me to play [on bass] on the balafon," says the group's bassist, Daniel Bishop, who also plays in pop-punk outfit PREECE and singer-songwriter Ivamae's backing band. (Bishop replaced Michael Graziadei, a bassist known for his work with Sierra Leone's Refugee All Stars.)
"Ousmane has all of the parts in his head," says drummer Jesse Rosenfield. "Theoretically, these songs are for multiple balafons."
But Sabouyouma has only two balafonists: Camara and Ford. The bandleader disseminates a song's various parts to his band members and their various instruments one note at a time.
"[Learning] a lot of Western music is based on existing recordings," says Rosenfield. "You'll have more of a reference repertoire to draw from. There are recordings of this West African stuff, but [what Sabouyouma play] is so specific to Ousmane's family and his local take on folk music. Village to village, people are going to have their own take."
Bishop and Rosenfield agree that there's a steep learning curve in Sabou­youma and a need to be sensitive — given that they're both white American men.
"I just try to approach everything with as much respect as I can," says Bishop. "[I've] gotten a lot closer with Ousmane. [Now,] I think I better understand what he's looking for in terms of how the music is in an authentic way and doesn't sound appropriated or watered down.
"More and more of the music will be decoded by asking [Ousmane] the right questions," Bishop continues. "He'll start to talk about the context of the songs — if it's coming from a place of regal appreciation, if it's something that was performed for the kings [or] at the end of the harvest season. If it was more a social song, [he'll tell us] what specific dances were involved."
"Everybody comes with really great energy and a lot of respect for Ousmane," says Ford. "I've been in several bands in the area, and I've never had a leader be so patient."
A Sabouyouma record is forthcoming. The group just released its first single, "Ikanikase." The track features pedal steel courtesy of special guest Brett Lanier, which gives it a dreamy, psychedelic quality. But the percussive energy of the djembe and balafon — plus resplendent bursts of choral singing — make it feel rooted in Camara's homeland.
And, even though you likely won't understand the words, the group's music conveys palpable feelings.
"I have so much love for the people who are with me," says Camara, "to be able to open my heart to show them what I have."