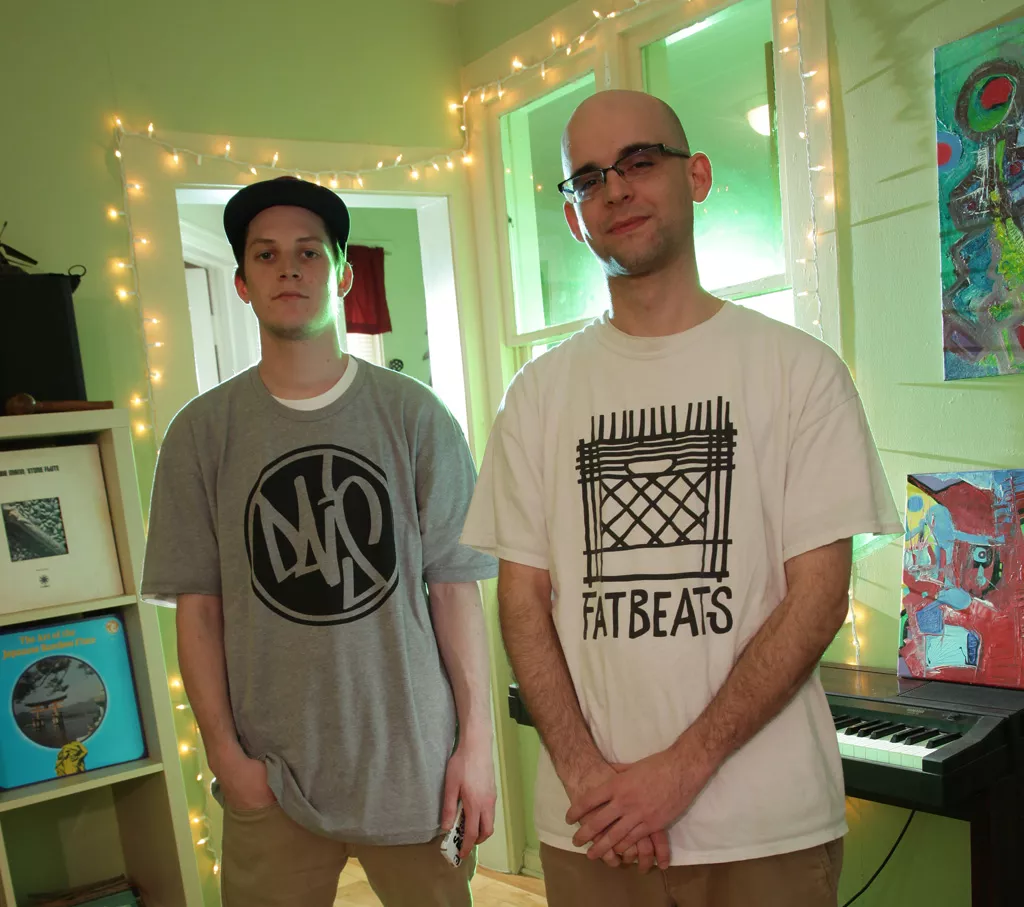 Matthew Thorsen
Luie La Hart and Robert Ronci
As Burlington's hip-hop scene continues to grow, both in numbers and in depth of talent, the city has more aspiring producers than ever. While rappers usually claim the spotlight, the people who craft the beats behind the scenes — producers — are just as integral to the genre's relevance in Vermont. On Thursday, October 29, Manhattan Pizza & Pub patrons will get to experience the dense and jazzy craftsmanship of two of the local scene's finest beat makers, Es-K and Loupo, performing alongside DJs Big Dog, Crusty Cuts and C-Low.
Loupo, 22 and known to the IRS as Luie La Hart, was born in Duxbury and grew up around Montpelier. Robert Ronci, aka Es-K, 27, was born in the Netherlands; he moved to the shores of Lake Champlain from the plains of Kansas at 17. Despite their diverse backgrounds, the guys have demeanors so similar that you'd almost think the two were brothers. Both are earnest and humble young professional producers who come across as excited fans. Their enthusiasm for technical details and obscure albums is contagious, almost flammable, and is evident in their work.
For corroboration, Seven Days contacted Devon Ewalt, better known as Learic. The veteran 802 rap-battle champion is a founding member of the seminal local hip-hop group the Aztext and is indisputably Vermont's best rapper.
"As far as the BTV beat scene, for me, it goes back to the Loyalists and Nastee," Learic says. "When I was getting my start here, those were the two sources of classic-sounding hip-hop production. The cool thing about the scene now is that the sounds are so diverse."
When it comes to the current crop, though, Learic doesn't hesitate: "Es-K and Loupo definitely stand out," he says.
The two artists collaborate and network every day, driven by a tight circle of local producers who have been friends for years. Among these are MC Dialect, who produces under the pseudonym Flip Physics; and the multi-instrumentalist and ace recording engineer Zach Crawford, who works with rap artists around the country as SkySplitterInk. All the sample swapping and friendly competition adds up to some industrial-scale output for everyone involved. Even by that standard, Es-K is staggeringly prolific.
One of his recent projects was the instrumental series Spontaneous Grooves, spanning two "seasons" of 12 "episodes" each — that's a whopping 321 tracks in total. That may seem impressive on paper, yet Es-K views his legacy in a more practical light.
"The reality is ... it's really not that much music," he says. Constant productivity, Es-K explains, is simply the result of discipline and routine. "I usually spend about 35 hours a week making music," he notes. "An hour or two before work, three hours after work and eight hours-plus on my days off."
Feats of consistency aside, Es-K's big break was his 2014 album Serenity, an intensely personal project dedicated to a close friend who died in 2010. Featuring a roster of guest artists ranging from legends A.G. and C-Rayz Walz to underground talents such as Chel Strong, it was a tour de force presentation that's been making noise nationally ever since.
Ask around about Es-K, and it soon becomes clear how he landed such high-profile rappers. Everyone is quick to point out his work ethic, his polite charm and his unusually acute ear for talent.
"I knew the first time we had a phone call that this was going to work out well," reminisces Derrick Daisey, also known as Vitamin D, the owner of Los Angeles label Cold Busted, which has also released two superb albums from Loupo. Es-K organized another album series for the label, the nine-volume It's What You Make It, a compilation of new talent from around the world that featured 20 artists each month.
"Talk about a ton of work, but those releases are some of my favorites," Daisey reflects. Es-K "knows exactly what I am looking for when it comes to instrumental hip-hop. And since I run the entire label by myself, having someone else to find those beats helps out a ton."
The spotlight has also been a boon to local beatsmiths such as SkySplitterInk, who has been featured on several Cold Busted releases and says his audience has grown as a result.
"Es-K has really helped us all to make connections we may not have found otherwise," says Skysplitter Ink.
The tag team has been hard at work locally, too, creating space for hip-hop producers to share their beats and get used to performing live. Their most successful experiment has been the MelloCast residency series at Drink. Loupo recently headlined the Steak Frites lineup at Signal Kitchen, another growing platform for new artists.
Loupo has been a fixture at local rap shows for years, and for good reason. He's entertaining to watch without demanding your attention, a rare magic trick. Lately his live set has been a freewheeling visual experience. Loupo usually works two massive, backlit performance pads to control his layered compositions via Ableton Live.
"It's funny owning such crazy equipment, because I never dreamed I'd have a setup like this," he says, chuckling. Loupo has also been incorporating his microKORG and new Moog Minitaur, which he informs is "quite a suggestive bit of gear."
Fittingly, the duo is focused on doing work instead of celebrating success.
"It's always growing, but there's always things that can improve," Loupo says.
Es-K is planning ahead, too.
"Currently, playing beats live is less of a performance and more like a showcase of premade material," he laments. "Eventually, I plan to get a loop pedal and start doing live performances with bass and guitar, keys and percussion, so I can layer things up on the spot."
That kind of dedication to improvement is more than an individual success story — it's a community asset. The young producers are quick to collaborate and eager to teach, and they have worked with dozens of local rappers, singers and fellow loop diggers over the past year alone. "It's a small city," Loupo says. "We're so grateful for venues that give us a chance, because then we can put on somebody new."
That inclusive philosophy contributes to the artistic quality of life in Burlington. Loupo and Es-K have become talent incubators, and the effects of their efforts will be felt here for years to come. The respect their work has earned them is already evident.
"Es-K and Loupo have defined themselves as being true craftsmen," Learic explains. "They obviously devote their lives to this, and it's much appreciated by the entire scene."