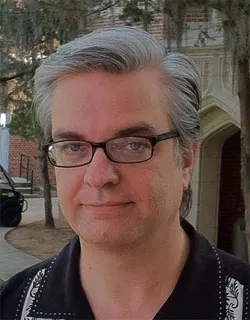 Steve MacQueen is headed north. Way north. The director since 2007 of the 7 Days of Opening Nights performing arts festival in Tallahassee, Fla., has been selected as the new artistic director of the Flynn Center for the Performing Arts in Burlington. MacQueen follows the 15-year tenure of Arnie Malina, who retired this spring.
Stylistically, the match seems ideal: The 7 Days fest website indicates programming that's "closely aligned" with the Flynn's mix of "world-class artists in jazz, dance, roots music, family entertainment, theater, world music and more," according to a press announcement released this week. In addition, MacQueen has experience with commissioning new works, educational outreach and forming community partnerships.
For his part, MacQueen says he is thrilled to come to the Flynn because of both the venue's stellar reputation and Burlington's cultural community. And MacQueen, 48, is no stranger to moving around. An "Air Force brat," he says he grew up relocating constantly. Eventually the MacQueens landed in Florida, where Steve later attended Florida State University — home of the 7 Days festival. Between college and programming performing arts, he was a newspaper reporter. And he's always been in bands — though MacQueen is humorously self-deprecating about his musical talent.
Clearly, Flynn executive director John Killacky and the board saw plenty of talent in MacQueen: He won out in a field of "79 applicants from all over the country and London," says the Flynn's statement.
Seven Days chatted with MacQueen by phone in advance of his arrival in Burlington, on June 1, and found him a bright and funny fellow. This is an excerpt; the full interview can be read on Blurt, the Seven Days staff blog.
SEVEN DAYS: So you're not from Florida.
STEVE MACQUEEN: No, I was an Air Force brat — we went from one unglamorous town to the next. Then we ended up [in Florida]. I went to the paper at the end of a long and undistinguished career in college — I really didn't do very well. But I was busy — I went to see a lot of stuff in music and theater.
I got my master's here [in arts administration] when I came to 7 Days. I would have gotten a 4.0, except I missed a class to go see a Leonard Cohen concert.
SD: Are you still in Reba Seeger?
SM: I guess we're about to break up. We've only played a couple times, though — mostly it's been a few bottles of wine and fooling around with a tape recorder.
SD: Your description of the band — "Gothic truck stop disco" — is hilarious. So maybe it provides rock relief from the more highbrow offerings of the performing arts?
SM: It's a good relief, but I'm very much in touch with my lack of actual talent. That's why God invented rock and roll, for guys like me.
SD: What attracted you to this position at the Flynn?
SM: So many things. One is the Flynn itself. It has a reputation in the field as an excellent place that brings in great performers. In my last two jobs, I've been it — a director without a full-time staff. This job is mainly programming, which is what I love.
The community plays a role, too. I don't want to sound negative, but I'm not a Southerner, yet I've been here 34 of the last 36 years. I'm ready to try a blue state.