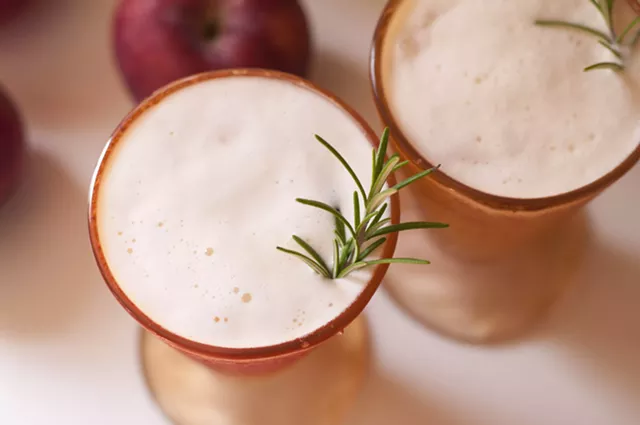 Hannah Palmer Egan
Frothy, fall flavor: gin, cider, lemon, egg and soda.
Everyone in the Vermont tree-fruit world is talking about it: 2015 has been a historic year for apples. Though we're well into the frost zone and most of the season's apples have been picked, orchardists are still pressing cider by the tanker and we'll have it in stores well into winter.
One of my favorite uses for fresh cider is as a cocktail mixer. Served warm or cold, the sweet, homey flavor of apple blends beautifully with rum, brandy or whiskey. But what about gin?
My liquor cabinet is always well stocked with whiskey and gin, but one of its current crown jewels is a bottle of barrel-aged gin from
Stonecutter Spirits
in Middlebury. This herby, smooth-drinking gin mixes nicely with just about anything, and makes a killer gin fizz, which just happens to be one of my preferred cocktails. While the original 19th-century recipe calls for just gin, lemon, sugar and soda, many modern bartenders add an egg white, which gives the drink extra body and richness. I'll gladly drink it either way.
Using fresh aromatic herbs (I had rosemary and thyme on hand, but sage and marjoram would do well) I made a cider syrup and used it in place of the fizz's usual sugar or simple syrup. Now: please don't be scared off by the idea of making syrup yourself — making it takes three ingredients and five minutes ... and it's well worth the effort. The resulting cocktail sings with the warm flavors of fall but stays true to its frothy, classic-cocktail roots.

Cider Gin Fizz
Makes one cocktail
Ingredients:
2 ounces high-quality gin

3/4 ounce rosemary-cider syrup*

Juice of half a lemon

1 egg white

Splash bitters, if desired

Club soda

Ice

*Cider syrup:
1 cup sugar

1 cup fresh apple cider

Fresh herbs

In a small saucepan, heat all ingredients over low flame, stirring often, until the sugar dissolves. Pour into a lidded container and refrigerate for up to two weeks.
Preparation:
Fill a cocktail shaker with ice. Add the gin, syrup, lemon juice and egg white, and shake ferociously for at least 15 seconds, until the shaker begins to frost on the outside and the ingredients are frothy.
Fill a Collins glass with ice. Strain the gin mixture over the ice. Top with club soda and garnish with fresh herbs.