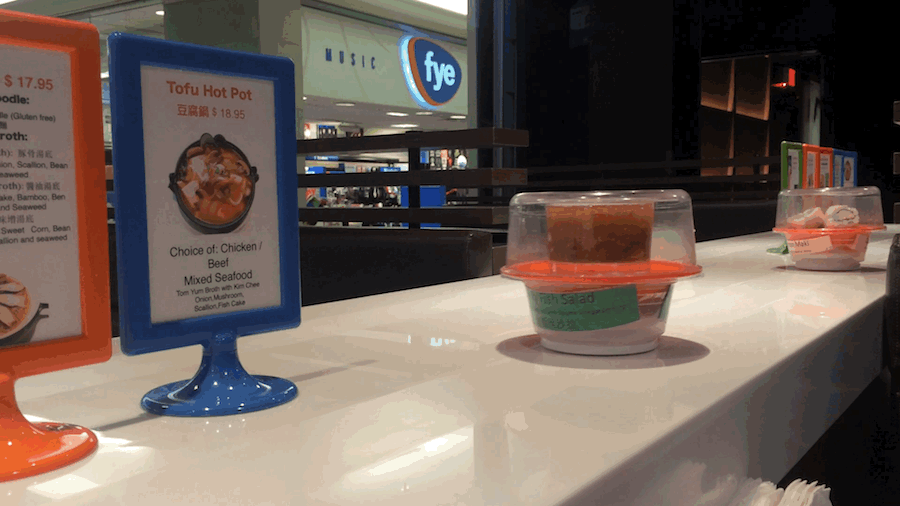 Burlington is not a place for highly conceptual restaurants. Most go about as far as "locavore" or perhaps "Vietnamese."
A Cuisine
requires a much more complex explanation.
"Conveyor belt sushi" requires some dense verbiage in itself. A slow-moving track extends along the long, skinny restaurant counter, moving food from table to table. Diners grab what they feel like, when they feel like it. But another detail, "in the mall," adds a whole other layer of gawkers, who watch diners grab their rotating sushi. The view includes Burlington Town Center's Starbucks and FYE.
Alice Levitt
Salmon teriyaki roll, $5
Unfortunately, the mall provides a wrinkle beyond mere quirk. I was expecting a higher standard from Sandy Kong, owner of
Asiana Noodle Shop
, but on the whole, the food tastes like it could have been served at any mall food court around the country, and at half the price. My overwhelming feeling after tasting my way through the skewer menu and a few of the sparse conveyor belt options was that the menu had been created with the theory "White Vermont needs sugar."
Admittedly, there are many higher-priced items I wasn't able to try due to Alice Eats price restrictions. I hope that my colleague Hannah Palmer Egan will return to A Cuisine to taste the ($17.95!) ramen bowls and entrées such as beef short ribs after I head to
Houstonia
magazine next month.
As I said, pickings were fairly slim on the conveyor belt during my visit, with a few different rolls and salads, but no hot dishes. I ordered those off the menu and they were cooked to order. In a mostly empty restaurant, this made sense. Even though there were only a few other parties, the two servers seemed harried and forgot to give my table water, ginger or wasabi until we asked specifically.
Alice Levitt
Tempura sweet potato roll, $3
I grabbed a plate with four slim segments of tempura sweet potato maki, the only $3 green plate I saw. The undercooked root in the center was crunchier than its tempura coating. Three blobs of rice covered in chopped salmon, scallions and sticky teriyaki sauce added up to the $5 salmon teriyaki roll (top).
Alice Levitt
Seaweed salad, $5
Briny seaweed salad, dressed in a tangy dressing and some sesame seeds is one of my favorite Japanese restaurant staples. This version had an unmistakable odor (and flavor) of wet dog. I try to eat a respectable amount of whatever I order when doing a review, but I just couldn't do it in this case.
Alice Levitt
From top to bottom: Beef satay, $3; pork belly, $3.50; beef tongue, $3.75
I was especially looking forward to dining off the skewer menu. When I'm in larger cities, I find myself almost magnetized by Japanese kushiyaki and Chinese grill-your-own skewer spots. Having a satisfactory facsimile in Vermont would have been a game changer. But it was not to be, at least not yet.
It wasn't all bad: I liked the beef satay, marinated with a hint of Malaysian-style curry and left slightly pink in the middle. But both the pork belly and leathery tongue had areas so tough that even my tyrannosaurus-tough teeth couldn't chew them.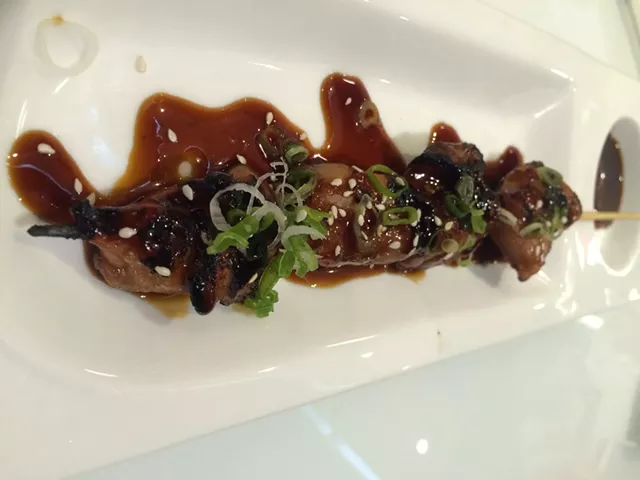 Alice Levitt
Yakitori, $2.75
The syrupy sauce on the classic chicken yakitori reminded me of the one at a Korean spot I frequented as a kid. That news was good, if saccharine, but the thigh meat was so overcooked that it adhered to the skewer in jerky-like strands.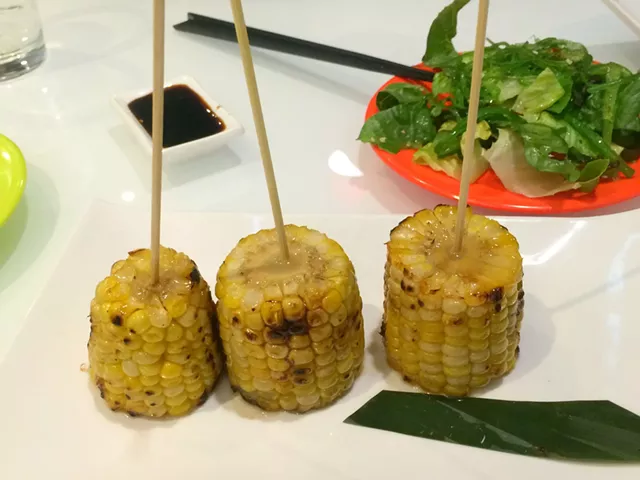 Alice Levitt
Sweet corn, $2.75
The most satisfying skewer dish was also the least expensive. Tender kernels of corn were enhanced by a kiss from the grill.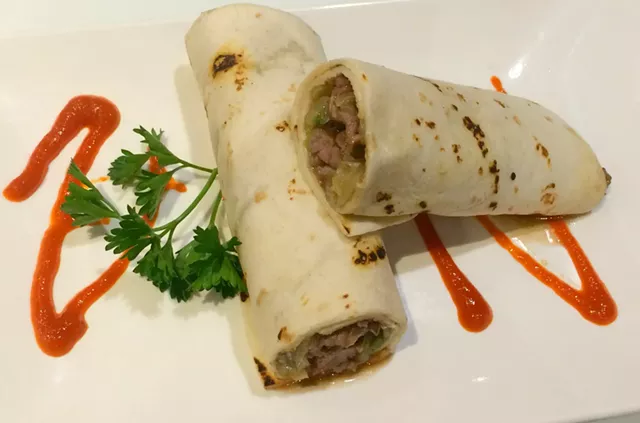 Alice Levitt
Beef wrap, $5
One item I hadn't anticipated but had to try was what appeared to be a take on a Shandong beef roll. I had the dish for the first time early this year at a food court in Flushing, Queens, and had developed a taste for the crispy wrap filled with beef and veggies. This version was far more simple — just strips of beef, onion and scallion in a lightly grilled flour tortilla. It didn't quite hit the spot I was hoping it would, but dipping the wrap in Sriracha was satisfying in its own right.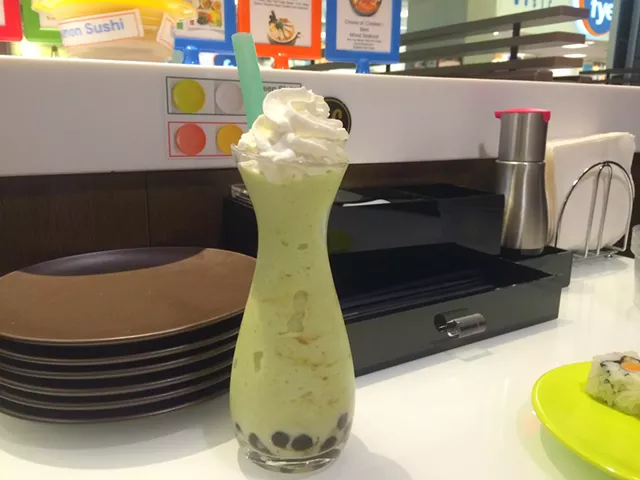 Alice Levitt
Avocado smoothie bubble tea, $3.95
With My H2O now long-gone from the mall's lower floor, it's nice to have boba back downtown. The options are more premium than your usual colorful powder mixed with milk. There's even a boba shake mixed with mashed oreos. I went for my standard avocado smoothie. Though it tasted slightly underripe, it was bubble tea nonetheless, which, like pizza or fried chicken, is good enough even at its worst. And I needed it. Without that added richness, the $41.85 meal would have left me still hungry.
Alice Eats is a weekly blog feature devoted to reviewing restaurants where diners can get a meal for two for less than $45. Got a restaurant you'd love to see featured? Send it to alice@sevendaysvt.com.