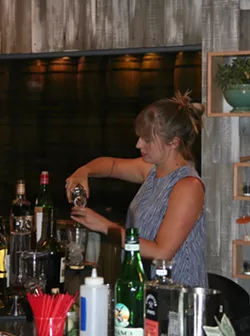 Suzanne Podhaizer
Sas Stewart making a cocktail
The Stonecutter Spirits headquarters in Middlebury is an impressive place: cool and modern, with plenty of poured concrete and brushed metal. But in the aging room, the casks and the hush more resemble a medieval monastery.
I was there last Friday for a whiskey-release party. Stonecutter has been experimenting with blending booze-making techniques from different traditions, and its Heritage Cask Whiskey is the most recent result.
As co-owner Sas Stewart put it, the spirit is distilled like a bourbon, aged like an Irish whiskey, and finished in wine barrels like a Scotch.
I'm no expert, but I can attest that the resulting spirit was the base of some damn fine cocktails. For the celebration, Stonecutter had asked six local mixologists to concoct drinks made with their newest product. The two I sampled — one cool with cucumber juice, the other laced with apricot and honey syrup — were excellent.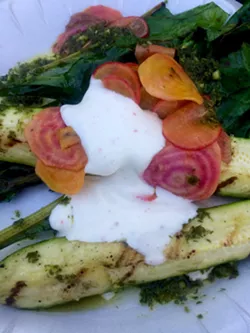 Suzanne Podhaizer
Chef Julia Clancy's grilled vegetables with spiced yogurt
More delights could be found on a narrow strip of lawn behind the building. There, chef Julia Clancy (also a contributor to
Seven Days
) was preparing barbecue with pork from Agricola Farm and vegetables from Elmer Farm. Slices of pork shoulder were perfectly cooked, infused with flavor from a whiskey marinade.
Savouré soda and lu.lu ice cream, both of Bristol, were in the house, too. A cone of "old-fashioned" ice cream, made with the guest-of-honor whiskey, toffee chunks and cherry, was a perfect end to an intriguing event.
Suzanne Podhaizer
Whiskey barrels in the aging room