Hannah Palmer Egan
Shakshuka: eggs and peppers and tomatoes and YUM
Shakshuka is a simple, stove-top dish of eggs poached in tomato sauce. A breakfast standard in the Middle East and North Africa, it's one of those traditional comfort foods that lies at the intersection of easy-to-make and impressive-to-look-at. Tangy and spicy and rich with aromatic spices, it's an excellent wake-up call, but I'd eat it for dinner, too.
As for ingredients, it's kind of an every-season dish: great in summer and fall when tomatoes are ripe, peppers fresh and laying hens are popping out eggs by the dozen. We're at the tail end of tomato season now, but many farms — including my local favorite,
4 Corners Farm
in Newbury — still have vines fruiting in greenhouses. So I used fresh tomatoes and peppers (and eggs from
Betseyfield Farm in the Intervale
).
When the summer produce quits, you can swap the freshies for canned tomatoes and hold the bell peppers; the recipe is still very doable and really just as tasty. Many versions call for tomato paste, so if you like a denser sauce, you can add a tablespoon or two. You could also add a teaspoon or so of
harissa
, if available.
The recipe below is made for one, but it's endlessly multipliable, provided you own a skillet large enough to accommodate eggs for a crowd.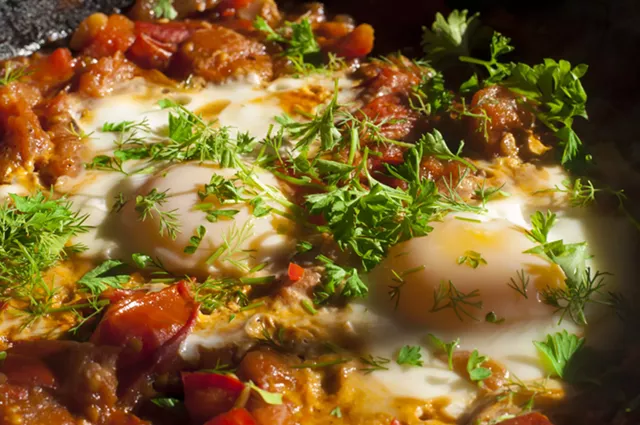 Hannah Palmer Egan
Shakshuka
Shakshuka for One
Ingredients:
Splash of extra-virgin olive oil

Half a large onion, chopped

2 cloves garlic, chopped

As many chili peppers as you can stand, seeded, ribbed and chopped

Half a red bell pepper, seeded and chopped

Generous shake each: cumin, fresh-ground black pepper, Hungarian paprika, turmeric

One pound fresh tomatoes, quartered

Two eggs

Fresh herbs: parsley, chives, dill or cilantro (or any of the above), chopped
Preparation:
Heat a skillet over medium heat. Add the olive oil and onions and sauté until fragrant. Add the garlic, then the chiles (I used Thai chiles, but any other would work) and bell peppers and spices. Cook 3-5 minutes until the peppers soften, then add the tomatoes (and maybe a splash of water to deglaze the pan if it's dry), reduce heat to low and simmer, covered, 10-15 minutes until the tomatoes break down and begin to thicken. When it reaches a saucy consistency, it's time to crack your eggs. If the sauce is sticking in the least, add another splash (up to a quarter cup at a time) of water and stir well. The extra moisture won't hurt the final dish one bit.
Use a wooden spoon to create a little hollow for each egg, then crack eggs into the pan. Cook until the whites set and the yolks are how you like them (I always think runny is best). Scatter with fresh herbs and serve with enough bread to sop it all up!