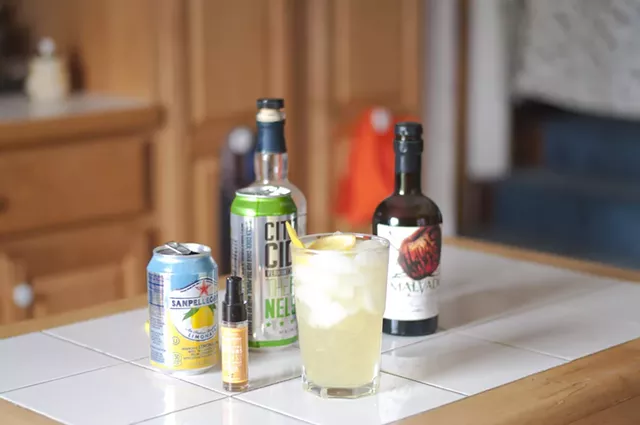 Hannah Palmer Egan
Elder-Ginger-Lemon Spritzer
Finally, it's starting to feel like spring outside — my daffodils are starting to bud and perennials are poking out of the ground.
That means it's high time to shift from red wine to white; dark liquor to light; from rich and spicy notes to more floral, fruit-forward flavors.
Here's a light, bright, not-so-boozy cocktail with which to celebrate the season. Made with
Citizen Cider's
Dirty Mayor, which has just a touch of ginger, and splashes of brandy and elderflower rum, it's a sparkling, citrusy quaff that won't put you under the table, should you happen to drink more than one.
Cheers!
Ingredients:
Preparation:
Fill a pint glass with ice. Fill halfway with Dirty Mayor cider. Add a splash each of Malvados apple brandy and elderflower rum. Top with lemon soda and two or three drops of citrus bitters. Garnish with lemon (peel and wheel) and serve.