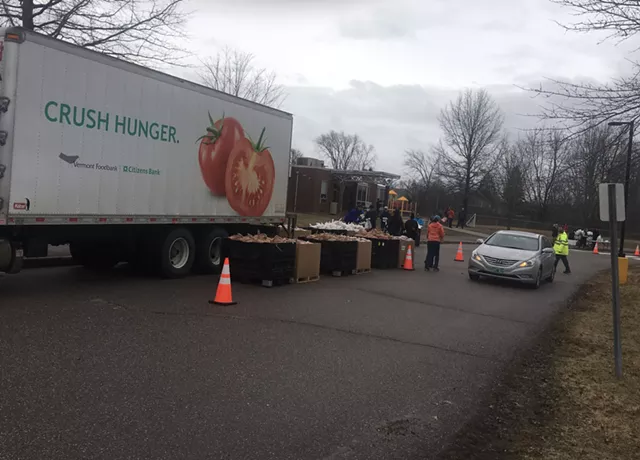 Courtesy of Vermont Foodbank
VeggieVanGo distributes produce in Winooski
Last week in Winooski, a
Vermont Foodbank
mobile produce distribution program called
VeggieVanGo
provided food to 647 families. Typically, the program serves about 400 families at that site, said John Sayles, CEO of the Vermont Foodbank.
His organization witnessed a similar phenomenon in St. Johnsbury, where the number of families seeking food at the local VeggieVanGo doubled from 200 families to 400, Sayles said.
With portions of the local economy shutting down due to the spread of the coronavirus, the need for food is on the rise in Vermont, he said.
"It's ramping up exponentially as things tighten down," Sayles explained. "I always see the Foodbank as a leading and lagging indicator of challenging times. We are responding as quickly as we can."
According to Sayles, in a typical month the Foodbank distributes about a million pounds of food across the state. He expects that distribution to double in April.
"We have the food on order," Sayles said. "So far the supply chain seems to be holding out."
The pandemic has also altered how food is distributed at VeggieVanGo sites. Until recently, people chose items from big bins of fresh produce. The program also included cooking demos and taste tests. Now, with new safety measures in place, it's a drive-through system in which people receive pre-bagged allotments.
"We're planning that this [increased need] is going to go on for some time," Sayles said. He added that even if the "initial crisis" lasts only a few weeks, the impact on people who have lost their jobs could extend for several months. He cited in particular hospitality and restaurant workers who are paid by the hour and often have little or no financial cushion.
Money, not food, is the most useful contribution a person can make to the Foodbank, Sayles advised.
"We can leverage a dollar a lot better than somebody going to the grocery store," he said.
A variety of efforts on a smaller scale are also taking shape to address Vermonters' need for food around the state.
Bread baker Trent Cooper, who operates
Trent's Bread
in Westford, recently posted on social media that he's baking bread and giving it away. He also spread the word about his free bread at local stores where he makes deliveries.
Within a few days, people had donated $495 to Cooper for purchasing ingredients. Each loaf costs 75 cents to make, not counting Cooper's unpaid labor. The unexpected cash donations will pay for about 660 loaves.
"I was just in an altruistic mood," Cooper said. "I wasn't expecting people to donate money. I was just going to feed people."
As a longtime cook, Cooper said he's aware that these are tough times for workers in the restaurant industry. On March 17 — St. Patrick's Day, no less — the state ordered bars and restaurants to stop in-person service through April 6, at least. Some restaurants have switched to takeout or delivery service, while others have closed.
"If this would've happened when I worked in a kitchen, I'd be stressing out, man," he said. "Now that I'm lucky, and people are supporting the local bread, the bakery has a chance to give back."
Little Morocco Café
, a restaurant in Burlington's Old North End, is preparing and delivering free food three days a week. On Tuesday, the restaurant delivered about 125 meals of lentil soup and saffron rice with caramelized raisins to members of Burlington's Somali community, manager Adill Ramani said. He relayed that he cooked for almost five hours before the food was delivered by Will Clavelle from the City of Burlington's Community Economic Development Office.
Courtesy of Little Morocco
Lentil soup and saffron rice
"We had inventory and we thought that we might as well use it, instead of [it] going bad," Ramani continued. "I will keep doing that until I don't have any money. We have to help our community through these hard times." (Email
lmorcafe@gmail.com
for information.)
The
Skinny Pancake
, which owns and operates several crêperies in Vermont and one in Hanover, N.H., intends to launch within the next week a meal-delivery service called ShiftMeals. The meals will be prepared at Skinny's commissary kitchen in Winooski for delivery to customer's homes.
With each meal that's purchased, the company will donate one meal to a food-industry employee who needs assistance, according to co-owner Benjy Adler. This is the first phase of a program that will grow to include broader food donations, he said.
The Skinny Pancake has had to lay off about 190 people. But a group of employees are being paid to stay on and work on ShiftMeals, Adler explained.
"We're dead set on making sure [the commissary] gets put to its highest and best use through this crisis," he said. He added that one goal of ShiftMeals is to help ensure that local farmers who produce food for area restaurants will have a market.
"We have to keep that money local and cycle it back into the reduced economy that we have," he said. "We need to keep the whole local food system intact."