Sally Pollak
Tommy Thompson Community Garden in Burlington
ShiftMeals
, the hunger-relief initiative started by
Skinny Pancake
restaurants to provide free meals to unemployed restaurant workers, musicians, gig workers and others, is establishing an agricultural component, the organization announced this week. The endeavor, ShiftMeals GrowTeam, is part of the group's effort to address the rise in food insecurity from the economic impact of the coronavirus.
ShiftMeals GrowTeam will provide laid-off cooks, servers and other hospitality workers access to farms and the means to grow their own food and learn about agriculture. Through partnerships with gardens and farms in Burlington, Richmond and Marshfield, ShiftMeals GrowTeam will build so-called Victory Farms at which people can cultivate their own food.
"People will be able to learn how to grow food for themselves and improve their own food security in their household," ShiftMeals director Jean Hamilton told
Seven Days
. "And [they'll] be able to share some extra food with their community."
ShiftMeals GrowTeam plans to hire 15 people to establish the farms, after which volunteers, committing to about eight hours of labor per week, will work on the farms. In exchange, the farm workers will receive a share of the food, according to a press release from ShiftMeals GrowTeam.
The largest Victory Farm is in Richmond, where it will operate in partnership with the
Vermont Youth Conservation Corps
. In Burlington, the Victory Farm site will be at the
Intervale
's Tommy Thompson Community Garden in collaboration with the
Vermont Community Garden Network
. The third farm, in Marshfield, is a partnership with the
Center for Grassroots Organizing
.
"The idea is to really empower people to grow food for themselves," Hamilton said. "And to recognize that these are really talented, hardworking people who suddenly have lots of free time on their hands and have an interest in food and food production."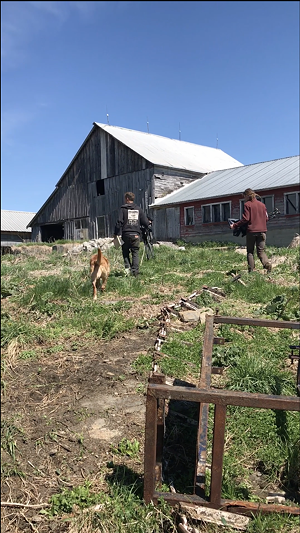 Courtesy of Jean Hamilton
Victory Farm site in Marshfield
ShiftMeals has provided more than 21,000 meals to people around the state since it started in late March. The initiative has evolved from offering free meals and vegetable seeds outside of Skinny Pancake restaurants into a partnership with the
Vermont Foodbank
that distributes meals through the charitable food network.
"As a restaurant, our social contract with the community is not only about employing and feeding people but also providing part of the social safety net," Benjy Adler, founder and co-owner of Skinny Pancake, said in the release. "By launching ShiftMeals and now GrowTeam, we achieve that goal. We're eager to see this program grow and help support other communities across the state and beyond."
Skinny Pancake's Montpelier restaurant opened for curbside pickup today. The restaurant plans to open for curbside service in Burlington and Quechee next week, probably on May 27, with delivery in Burlington, according to Adler.
In another gardening program, the city of Burlington announced today that it will give away seedling starts, in partnership with
Red Wagon Plants
of Hinesburg, through
Plant for the People
. Part of Burlington's COVID-19 response effort, Plant for the People aims to grow 100,000 pounds of vegetables this summer "to help address local food insecurity, improve the foundation of our local food system, and make our community even more resilient," according to the web page.
The first distribution of vegetable starts — including lettuce, cabbage, kale, chard and beets — will be Friday, May 22, from 4 to 6 p.m. at five sites in the city: Biben's Ace Hardware at 1127 North Avenue, BCA Studios at 405 Pine Street, Brixton's Halaal Market at 184 North Street, Nepali Market at 1563 North Avenue and Mawuhi African Market at 160 North Winooski Avenue.
For information about ShiftMeals GrowTeam, email: ShiftMeals@Skinnypancake.com.