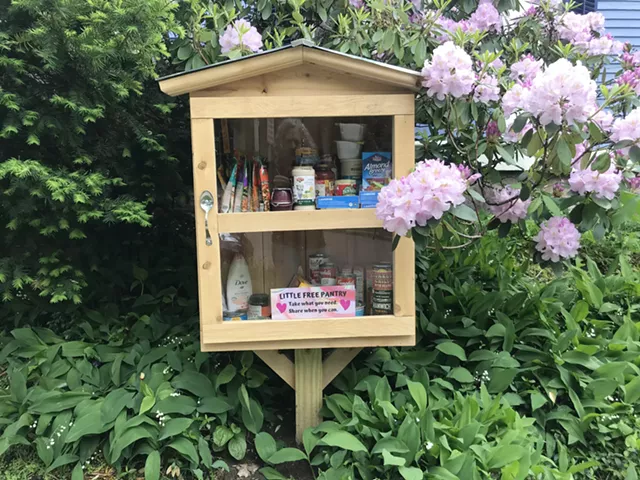 Sally Pollak
A little free pantry on Loomis Street in Burlington
On upper Loomis Street in Burlington, in front of a big, pink-flowering rhododendron, is a little food pantry stocked with spaghetti sauce, soup, pasta, canned chili, baby food, peanut butter, chocolate almond milk, and other nonperishable items.
A sign on the front-yard food stand reads: "Little Free Pantry / Take what you need. Share when you can."
Installed three weeks ago at the home of Sharon Panitch, the pantry is the first of several recently erected in Burlington. It's part of a project spearheaded by the
ONE Good Deed Fund
, a nonprofit in Burlington's Old North End.
"We absolutely adore it," Panitch said of her mini pantry.
Panitch learned about the pantry project on a Front Porch Forum posting. Sharing food through a sidewalk food shelf is similar to an idea she had when the coronavirus pandemic emerged.
"My first thought was all the kids who wouldn't be getting their food through school," said Panitch, a communications and development consultant. "I thought,
Oh my God, all these families are going to have hungry children
.'' (School districts are providing meals to students, but the food isn't necessarily reaching all students.)
She purchases items for the pantry when she goes shopping for her family and neighbors place food in it, Panitch said. Recently, when students moved out of the neighborhood, they dropped off boxes of food.
"I think people want to find a simple and concrete way to help," Panitch said. "There's nothing more simple and concrete than food."
Working with the Good Deed Fund, Panitch paid $240 — or half the construction cost — for the pantry, which was built and installed by carpenter Nick Carr. The nonprofit covered the remaining cost and will pay in full for pantries located in the Old North End, according to Laura Hale, president of the board.
The ONE Good Deed Fund has money for seven little free pantries in Burlington, Hale said. Three are built and in use — one each on Loomis Street, James Avenue and South Winooski Avenue — and a fourth is soon to be installed on Elmwood Avenue. The pantries are made of Vermont white cedar and topped with a tin roof. Maintenance is low, said Carr, noting that all you have to do is keep it stocked.
"It's been a ton of fun," he said of the project.
In the months since the pandemic struck, there's been a
significant rise in food insecurity in Vermont
— a roughly 50-percent increase among adults, and 60 percent for kids, according to hunger-relief organizations.
large-scale institutional
and government assistance to
neighbors helping neighbors
.
Panitch said she's been asked how she can be certain that people who use the pantry are in need of food.
"I'm not here to judge why people take it or not," she said. "Obviously, we want to try to get the food to people who really need it."