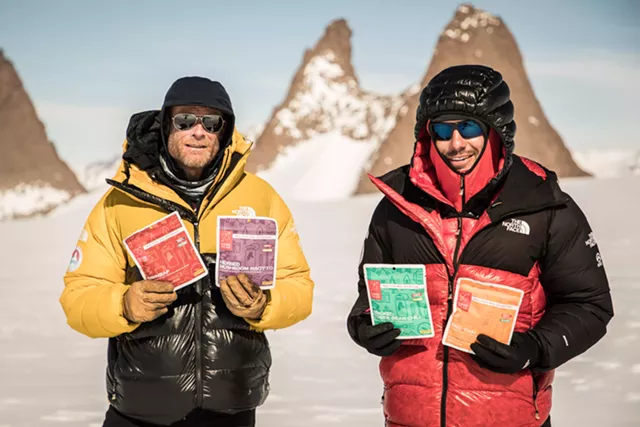 Courtesy of Pablo Durana
Alex Honnold and Conrad Anker with Good To-Go dehydrated meals
On Friday, Good To-Go's customer service team received emails from hungry Vermonters wondering when their takeout orders would arrive at their doors. A few senders, apparently, mistakenly contacted the food company in Kittery, Maine, instead of
Good To-Go Vermont
,
Seven Days
' new online directory of local takeout options for the coronavirus era.
Those who browse Good To-Go Vermont will find listings for Green Mountain State eateries offering takeout, delivery and curbside pick-up while restaurants remain closed to in-person diners in an effort to slow the spread of COVID-19. Folks can search by town and region to find establishments serving up everything from pizza to sushi to alcoholic beverages for takeaway.
Visitors at the Maine-based company's website,
goodto-go.com
, find a different type of offering: dehydrated meals made from high-quality ingredients.
"Our target audience really is outdoor people," said Good To-Go cofounder David Koorits in a phone interview. "People who are traveling or adventuring who need a quick and easy meal on the go."
Be they vegan, pescatarian, carnivorous or gluten-free, Good To-Go's customers are likely to find options to suit their palates and preferences. Products include camping staples, such as oatmeal and granola, as well as entrées, such as Thai curry and classic marinara with pasta. Koorits and his wife, cofounder and head chef Jennifer Scism, also sell weekender variety packs and emergency food kits that can feed one person for up to five days.
The pair did not set out to profit from a public health crisis, though. Good To-Go launched its emergency kits in November, well before the pandemic hit the United States. And Koorits took the name duplication in Vermont in stride.
"We're New Englanders," he explained. "We should have some food on hand in case you lose power, [experience] a hurricane or, in other parts of the country, earthquakes or fires … You should be prepared for any kind of emergency."
Good To-Go's packaged provisions are in high demand as people stock up on necessities amid COVID-19 fears. "We've seen over a 10- to 20-fold increase [in orders] in the last three weeks," Koorits said.
The number of orders has been so high, in fact, that several items listed on the company's website are sold out, including the kale and white bean stew and chicken gumbo entrées. However, Vermont retailers that carry Good To-Go foods have had their orders filled, Koorits said. "As of now, everyone's up to stock."
Good To-Go's website lists 14 Vermont stores that carry its goods, including Outdoor Gear Exchange in Burlington and Onion River Outdoors in Montpelier. Though some of the storefronts are temporarily shuttered, others, such as
Bootlegger Bikes
in Jeffersonville, have open doors and Good To-Go fare on the shelves. In Waitsfield, where Koorits lived from 2004 to 2006, Clearwater Sports also has the dehydrated food on hand. According to owner Barry Bender, the shop will offer curbside order pickup.
Let's review: For a frequently updated list of
local takeout
options, browse
Good To-Go Vermont
. For nutritious dehydrated meals for your backpack or pantry, patronize Vermont retailers that carry Good To-Go's products. And let us hope they all reopen soon.