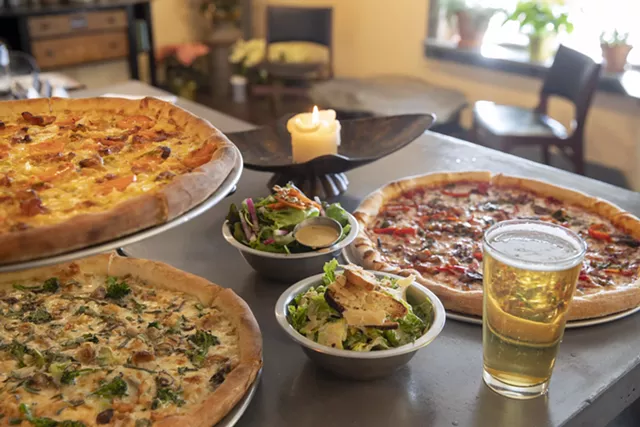 James Buck/File ©️ Seven Days
Stone's Throw Pizza in Fairfax
St
one's Throw Pizza
will open its third pizzeria — this one at 86 Ferry Road in Charlotte — in late fall or early winter, according to co-owner Silas Pollitt.
The Charlotte branch of Stone's Throw will be takeout only. The business will serve pizzas, salads and desserts to-go, and have a retail component that sells beer and wine, housemade pickles and kimchi, and pizza dough, according to Pollitt.
"There's lots of brainstorming going on," Pollitt said. "The concept allows us to exercise the imagination a little bit."
A pizza place in Charlotte is itself a stretch of the imagination. The permit for Stone's Throw Pizza is the first restaurant permit issued in Charlotte "in living memory," according to 24-year-old zoning administrator Daniel Morgan.
Pollitt and co-owner Tyler Stratton, childhood friends from Fairfax,
opened the original Stone's Throw
in their hometown in November 2018. They
expanded in January 2020 to Richmond
, where the pizzeria has outdoor seating in and around a garden that grows food for the restaurant.
"We love that whole area, and Charlotte seems like a beautiful community to be part of," Pollitt told
Seven Days
. "We've put a lot of effort into the garden and outdoor seating [in Richmond]. And we've been able to prosper there with the help of the community."
Renovation began this week on the Charlotte building, Pollitt said. He anticipates a 10-week buildout but added he can't be certain when construction will be complete.
"We'll keep the public updated," Pollitt said.
Stone's Throw in Charlotte, like its sister pizzerias, will be open Tuesday through Sunday. Its red clapboard building on Ferry Road previously housed the Little Garden Market and the Flying Pig Bookstore.