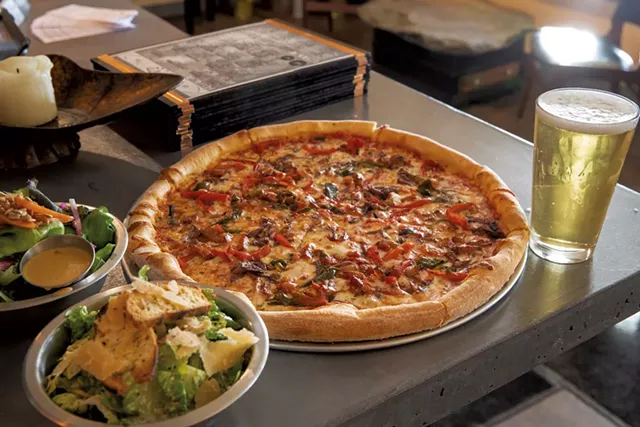 James Buck
Hunter pizza with glazed pork belly, charred peppers, grilled onions and fresh rosemary
The plates at the new pizzeria in Fairfax are nine-inch pizza pans that cost 70 cents apiece. The silverware is left over from a Stowe wedding. The base of the table by the front door, a low wooden pedestal, was found in the woods by chef and co-owner Silas Pollitt when he was foraging for mushrooms. It holds a slab of rock that evokes the name of the restaurant: Stone's Throw Pizza.
Launched by childhood friends who returned to their hometown for that purpose, Stone's Throw opened in mid-November to rapid success.
"This is a hungry town," Pollitt, 33, said. "There hasn't been a whole lot going on."
The action at 1123 Main Street started in August, when Pollitt and his longtime friend Tyler Stratton, 32, began the conversion of Foothills Bakery into Stone's Throw. After more than a decade away from Vermont, they'd come back to open a restaurant that offers a classic and creative take on pizza, plus salads, beer, wine and killer crème brûlée. Equally important to them was building a local hangout that would bring people together.
"We wanted to be in a community-based location, a town center that wasn't Burlington," Stratton said. "We wanted to grow something from the ground up. Fairfax fit the bill perfectly."
James Buck
From left: Chef/co-owner Silas Pollitt, designer/assistant manager Allie Duhamel and owner/manager Tyler Stratton
The project was made possible by a $74,000 loan from the Vermont Community Loan Fund, a nonprofit based in Montpelier. Pollitt and Stratton renovated and equipped Stone's Throw for $60,000, leaving themselves $14,000 for launch expenses. The Franklin County pizzeria is one of three restaurants funded by VCLF, which currently has 116 outstanding business loans, said Jake Ide, the organization's director of investment and philanthropy.
"They kind of hit the sweet spot for us, in many ways," Ide said, noting that Pollitt and Stratton had in-depth experience, a well-conceived and achievable business plan, and "their heads screwed on pretty well."
The fact that Pollitt and Stratton were two younger guys moving back to Vermont was itself an appealing aspect of the project, Ide said: "They have this vision for something that I think is going to be sustainable, based on the characteristics of that community today."
The support of family, friends and community members started with the buildup. Some people pitched in with painting and carpentry; others stopped in to talk and check out the project. Morrisville craftsman Joel Bryant, a friend of the owners, was commissioned to build the poured-concrete bar. At Stone's Throw's opening, he threw away his $1,100 payment check — already a "bargain basement price," Stratton said — and turned the bar into a gift.
"All the help we're getting, the warm reception, redefined everything we thought this place would be," Pollitt said.
The business partners are 2004 graduates of Bellows Free Academy in Fairfax who left town after high school for various pursuits, most in the food and restaurant industry. Pollitt, who had attended the culinary arts program at Burlington Technical Center, went on to study at the Culinary Institute of America in Hyde Park, N.Y., where he earned an associate's degree in culinary arts and a bachelor's in hotel and restaurant management.
"Cooking is my natural habitat," he said, recalling his family's big garden and meals. "I grew up with a lot of dirt in my fingernails."
Before moving back to Vermont, Pollitt worked for five years at the flagship Whole Foods Market store in Austin, Texas, where he was an associate team leader in the prepared foods department. Managing a large staff, his work was becoming less about food and more about human resources, Pollitt said: "I was just done with the corporate world."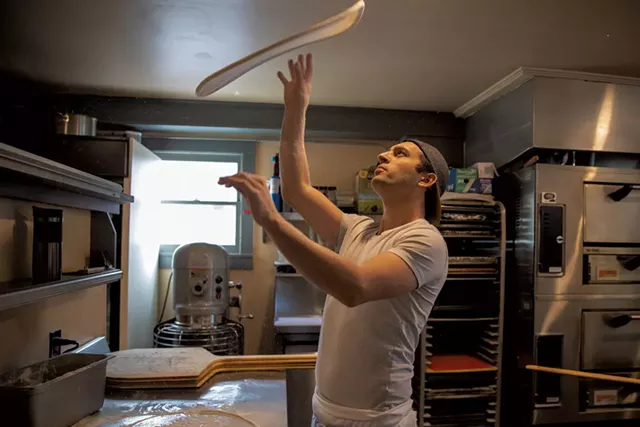 James Buck
Co-owner Tyler Stratton tossing dough
It was time to heed the call of Stratton, with whom Pollitt had opened pizza places for other owners and who'd been suggesting they return to Vermont to build a place of their own. Pollitt was also drawn back by the food scene that had emerged in Vermont since he left home. From 2,000 miles away, he observed the "reverence" with which people treated Vermont products. "Hill Farmstead [Brewery] is talked about in hushed tones across the country," he said. On a visit home, he had a meal on the patio at Waterbury's Hen of the Wood that "really illustrated what's beautiful about this state." He and Stratton saw the potential.
Stratton, meanwhile, had left Fairfax after high school for the University of New England in Biddeford, Maine, where he studied sociology and medical biology. He worked in restaurants during college, helping to turn a Biddeford café into a pizza place and opening a beachside pizza joint in Old Orchard Beach. Stratton continued in that line of work as he started a master's program in public health at UNE.
He wound up leaving the graduate program to open, in 2009, a 300-square-foot slice bar called Otto in Portland, Maine. Stratton would expand Otto to seven locations in Maine and Massachusetts, working with Pollitt on three of the openings. Later, he became a partner in All Star Pizza Bar, which has locations in Cambridge and Boston. In all, Stratton has opened 10 pizza restaurants.
"I caught the bug of enjoying the creation of a restaurant," Stratton said. "You're curating and creating an experience for somebody. It's a very encompassing, very rewarding line of work."
Two years ago, Stratton and his fiancée, Allie Duhamel, had a son, Sonder, and the time seemed right to relocate from the Boston area to Vermont. In December 2017, when Pollitt assented to Stratton's recurring suggestion that they open a pizzeria together, Stratton flew to Austin to help make the move happen. They loaded Pollitt's Honda Fit and drove to Vermont in 36 hours.
James Buck
Forager pizza with house white sauce, mushroom blend, broccolini, roasted garlic and shaved Asiago
They arrived home with a concept but not a location. South Hero and Burlington were under consideration — until last spring, when the Foothills space in Fairfax became available.
Of the 10 pizza places he's opened, none has been off to as swift a start as Stone's Throw, Stratton said. The two have already expanded refrigeration and purchased a bigger dough mixer; with their original 20-quart machine, they'd found themselves mixing 12 batches a day. They're selling pizzas at quadruple the rate they projected in their business plan.
"One of the reasons we wanted to open in a rural setting [was] to have a slower, more intimate [place]," Pollitt said. "With the volume we've seen, we might as well be in an urban setting."
Family is just a stone's throw away at Stone's Throw: Stratton's sister Elizabeth is a bartender and hostess. Duhamel, who manages the business' branding and design, says Sonder thinks he runs the place. Pollitt's father, Tom, retired from IBM and, with restaurant experience of his own, is the dough man a couple of days a week. He's the one who suggested that the dough, which is proofed for three days, be mixed with poolish, a pre-fermented starter — a step that adds depth of flavor to the pies.
James Buck
Stone's Throw Pizza in Fairfax
The elder Pollitt's crusts hold the younger Pollitt's creations: classics such as sausage and onion in a terrific red sauce, and house specials such as spinach, feta and olive enlivened by a lemony zing; white sauce, mushrooms, broccolini, garlic and Asiago; and glazed pork belly, charred peppers and grilled onions with red sauce and rosemary. (Pizza is available gluten-free.) A Caesar salad — crunchy, pungent and crowned with slices of toasty baguette — is served in a small stainless-steel mixing bowl and demands attention for its presentation and flavor.
"I've been a culinary weirdo," Pollitt said. "Pizza is a much more approachable, humble food. At the same time, it's a blank slate."
The pizzas are intriguing enough to lure this diner back from Burlington; so is the vibe of the humming little restaurant, where a framed map of Vermont hangs on the wall. The town of Fairfax is marked by two hearts.