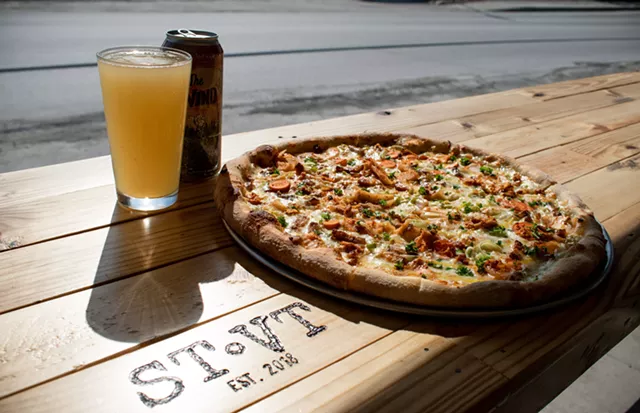 Courtesy of Stone's Throw Pizza
Pizza and beer at Stone's Throw Pizza in Fairfax
Stone's Throw Pizza
, which opened in a former bakery last November in Fairfax, will open a second restaurant this fall in Richmond. The new Stone's Throw will also occupy a former bakery — the big red building at 39 Esplanade that was built in 2007 to house On the Rise Bakery.
The site, which is adjacent to Volunteers Green, comes with a big vegetable garden out front. Stone's Throw owners — childhood friends Tyler Stratton and Silas Pollitt, who grew up together in Fairfax — plan to grow vegetables for pizza and salad in the plot.
"We think we're going to do some pretty neat stuff with that location," Stratton, 33, told
Seven Days
. "There's a world of opportunity there."
The business partners weren't looking for a second location, but just over three weeks ago they received a phone call "out of the blue" from the owners of the Richmond building, Stratton said. Raechel Barone, who owned On the Rise with her husband, Ben Bush, was calling to inquire if Stone's Throw might be interested in leasing the restaurant space. The next morning, Stratton went to Richmond to look at it and meet the building owners.
"It was perfect," he said. "A former bakery in the heart of a community in a town in Vermont. If we took our experience here and made a wish list of the things we would want and the place we'd want them, it's this place."
Sally Pollak
Site of future Stone's Throw Pizza in Richmond
Barone said she'd "heard good things" about the Fairfax pizza place, but hadn't eaten there before her call to Stone's Throw. After she connected with its owners, she went there for a meal.
"The community feel in that place was really apparent when we there," Barone said. "And that was so important to On the Rise."
The building at 39 Esplanade has housed three restaurants since Bush — a partner in
Hillview Design Collaborative
in Richmond — designed and built the structure a dozen years ago. The most recent occupant, One Radish Eatery, vacated the space in April 2019 after about two and a half years in business.
Stone's Throw plans to start minor renovations on the space in mid-August, with the intention of opening in the fall, Stratton said. One change will be replacing the brick, wood-fired oven with double-stacked pizza ovens — an innovation that Stratton called "the tragedy of this story."
"It's a charm and people enjoy the spectacle," he said of a wood-fired oven. "But the functionality and our ability to serve pizza at the rate we would need to is unfortunately diminished by using that."
The menu of pizza and salads, plus wine and beer, will be similar to the one in Fairfax. The restaurant will be open at night and for brunch on weekends.
"We will expand to whatever the hours organically become," Stratton said. "If people want lunch, we'll give them lunch."
The Richmond location, like the one in Fairfax, will showcase live music. Stratton said he's considering other kinds of entertainment, too. His wife, Stone's Throw brand manager Allie Duhamel, is a cabaret performer.
Stratton and Pollitt left Fairfax after high school
for their educations and to pursue various jobs in the food and restaurant industry; they returned to their hometown to open Stone's Throw. The pizzeria in Richmond will be the 11th pizza restaurant Stratton has opened.
"Our whole thing is trying to provide a place where people bump into their neighbor, put their cellphones down and actually engage with each other," he said. "That's what On the Rise Bakery was in Richmond. "
Barone said she and other On the Risers are tending the restaurant garden this summer and giving the food to the
Richmond Food Shelf & Thrift Store
.
"On the Rise lives on in those weeds," she said.