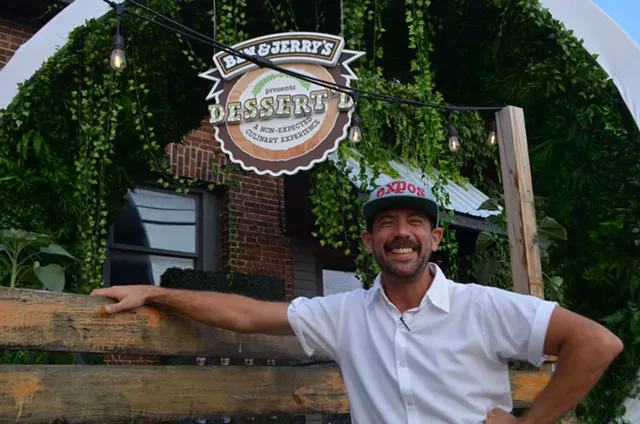 Sabine Poux
George Lambertson
The greatest challenge I ran into at Ben & Jerry's
Dessert'd: A Non-Expected Culinary Experience
on Wednesday night was that my hands were rarely free to take photos. From 5:30 to 8:30 pm, I constantly juggled in my sticky arms some combination of dairy-free hors d'oeuvres, cocktails and frozen treats, which regenerated ceaselessly on tables in the
ArtsRiot
show room like the heads of a Hydra. If the intended takeaway of the night was that there's no shortage of vegan options out there, message freakin' received.
Dessert'd (pronounced "deserted") is B&J's road-show celebration of its foray into non-dairy frozen desserts, and it is as glorious and indulgent as one would expect from a company known for its playfulness. Vermont's Queen City was the first of four event sites to host, each of which will feature the talents of a local chef in a live dessert cooking demonstration.
And each will feature heaps and heaps of vegan "frozen desserts" — the technical term for this cream-less treat — from
non-dairy Cherry Garcia
to
non-dairy Peanut Butter Half Baked
.
B&J's tapped ArtsRiot's
George Lambertson
to christen the campaign in Burlington. On Wednesday, the restaurant's performance space was converted into a non-dairy Eden, replete with plants and splattered with decorations in the company's iconic light blue and green. Fittingly, the brand's usual cow illustrations were nowhere to be seen.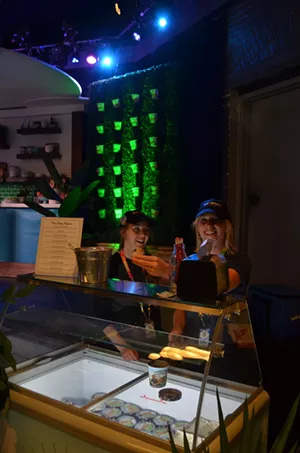 Sabine Poux
Scoopers serving up unlimited samples of non-dairy flavors
Before he took to the demo stage, Lambertson helped run food: trays piled high with vegetable dumplings, sweet bread with edamame hummus, and other meatless morsels. I usually separate my savory and sweet, but I opportunistically spaced these bites out among dessert samples so I could try as many flavors as possible. (I maxed out at five.)
Each small scoop, served from a dipping freezer that held more pints of dairy-free ice cream than I had ever seen in my life, was creamy and sweet like its dairy counterparts. I asked one of the scoopers how much supply the company had brought, and she estimated six to eight sleeves of eight pints each for each of the nine flavors.
So, like, possibly more than 500 pints.
My favorite sweet treat of the night came in drinkable form: a cocktail so surprisingly yummy that I gasped when I took a sip. (Fitting, given the tagline's emphasis on serving up the "non-expected.") The heavenly concoction was made from Fireball whiskey, whipped vodka and almond milk, poured over ice and served in a glass rimmed with cinnamon sugar. It was like the love child of a White Russian and a cinnamon bun. I'm still not over it.
Sabine Poux
My obscene dairy-free cocktail
Once the crowd was all boozed and sugared up, Lambertson, a
big baseball fan
, hopped on stage, wearing a crisp white shirt and a Montréal Expos baseball cap. B&J's "Flavor Guru"
Eric Fredette
, the mastermind behind flavors such as
Americone Dream
and
Chocolate Therapy
, joined him behind the counter.
Together, they cooked up a berry cobbler. TV screens projected a view of their hands as they mixed and mashed their ingredients into a sticky-sweet caramel-almond brittle. Later, spectators munched on the finished product to the equally sweet surf-rock tunes of Burlington band
the High Breaks
.
The crowd had already begun to peter out when representatives from Vermont's chapter of the
U.S. Committee for Refugees and Immigrants
, the night's charity, got up to speak. Each city's featured chef will have the chance to pick a nonprofit to reap the money raised from ticket sales. Lambertson picked this one to receive the night's $2,400.
USCRI director Amila Merdzanovic, who was joined onstage by some of the org's young refugee beneficiaries, said the funds will go to the nonprofit's youth mentorship program. In one of the best moments of the night, a young refugee gushed about how USCRI employees had emboldened her to pursue a career in surgery, when her high school counselor had told her to give up. The crowd hooted and hollered in enthusiastic support as she spoke.
Sabine Poux
Representatives from USCRI Vermont expressing gratitude
It was B&J's doing what it does best — serving up sweet noms in the most conscientious way possible. Marketing manager Justin Gural said the event falls in the center of the company's Venn diagram of civic responsibility and tasty, being-there fun.
"One of Ben's quotes is 'A business has a responsibility to give back to the community,' and one of Jerry's is 'If it's not fun, why do it?'" Gural noted. "So, you take those together, and we're kind of just living through that mantra with the experiential events that we do.'"
Gural will follow the event on the road to its other stops in Atlanta, Denver and San Diego. In other words, he has the coolest job ever.
As the crowd thinned and the B&J's staff took down the titanic temporary archway out front, the chef of honor and I stepped outside. Lambertson, like others I informally polled, declared
Caramel Almond Brittle
his non-dairy flavor of choice. Although, he added, he's more of a
Mint Chocolate Cookie
guy on the dairy side.
I'm partial to
non-dairy Chocolate Fudge Brownie
, but we somehow reconciled our differences.
Lambertson's restaurant serves a couple veg options on its nightly menu, including the
Impossible Burger
, offered in bite-size "meatball" form at the event. But when I asked him where he thought vegan food was heading, Lambertson was delightfully honest.
"I love vegetables, and I think that one of the mistakes in vegan cuisine is to try to make omnivore food fake this, faux that," he said. "Fuck that shit. If you like vegetables, just serve vegetables."
There you have it.
Sabine Poux
Dessert'd at ArtsRiot