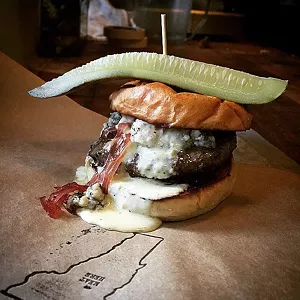 Courtesy of Prohibition Pig
Prohibition Pig
is closed Tuesday and Wednesday of this week. When it reopens on Thursday, the restaurant will do so under new ownership: Eric Warnstedt and Will McNeil, co-owners of
Hen of the Wood
and
Doc Ponds
, purchased the Waterbury brewpub on Tuesday, Warnstedt said.
The business partners purchased Prohibition Pig — a restaurant/bar and affiliated brewery and tasting room — from Chad Rich, finalizing the deal at about 1 p.m. on Tuesday. With the new acquisition, Warnstedt and McNeil own four restaurants — two in Waterbury, where Warnstedt founded the original Hen in 2005; a second Hen on Cherry Street in Burlington, and Doc Ponds in Stowe.
"I've been buddies with Chad since before all this," Warnstedt said. "It was an easy transition to think maybe we'd be partners one day. And then it came to the idea of him maybe wanting to make some changes, and I was the logical option without shopping it."
Warnstedt, who grew up in Florida and North Carolina, said the prospect of running a restaurant that serves Southern-style food appeals to him. Prohibition Pig features smoked meat plates, barbecue sandwiches, burgers and other pub fare.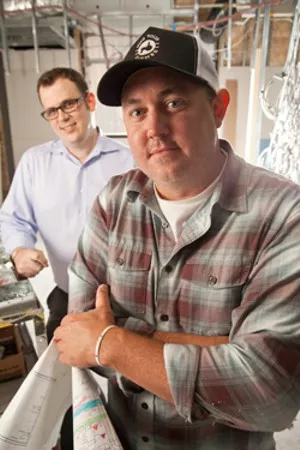 File: Matthew Thorsen
Eric Warnstedt, right, with William McNeil
"I'm really excited," Warnstedt, 43, said. "I'm born in the South, and this is everything in the world I've wanted to play in. Here we can play in our local world but with this whole southern spin, which is right up my alley."
There are no plans to make changes at the Waterbury brewpub, which employs about 50 people, Warnstedt said. The acquisition brings to 160 the number of people employed by the restaurateurs.
"It's really just getting to know everyone," Warnstedt said. "The Pig has been doing great for six years; let's set up for another six years. It's really about building up the foundation so we're setting ourselves up there to be successful in the long term."
Prohibition Pig occupies the space at 23 South Main Street in Waterbury that was the original home of the
Alchemist
, a brewpub founded in 2003 by John and Jen Kimmich. The couple later moved out of the downtown space to launch a cannery in Waterbury, where they brewed Heady Topper. In July 2016, the Kimmiches opened a brewery and visitor center in Stowe.
"I feel like we're really carrying the torch of what's been happening there, from the Alchemist to Prohibition Pig to our version of Prohibition Pig," Warnstedt said.
Since Tropical Storm Irene damaged homes and businesses in Waterbury in August 2011, the town's rebuilding efforts have come to include a revitalized downtown. Waterbury has become a food and beverage hub of the region.
"For me, I live here," Warnstedt said. "I'm not going anywhere. I feel like I want to double-down in Waterbury. We can do a lot more to the town through the Pig. It's bigger [than Hen-Waterbury]. There's more going on. It's the center of the town, physically and spiritually."
The
Burlington Free Press
reported the news of Prohibition Pig's sale
earlier on Tuesday.