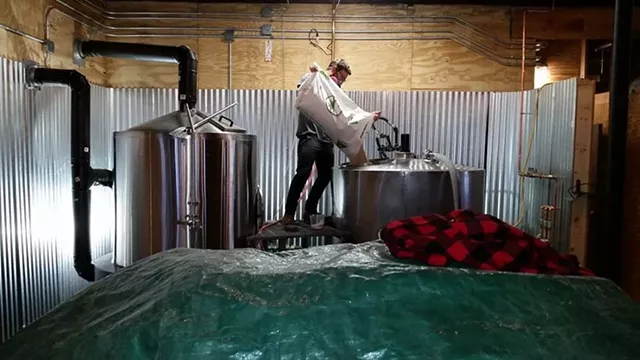 Courtesy Chad Rich/Prohibition Pig
Nate Johnson mashing in the first brew in Prohibition Pig's new brewery last Friday.
After more than seven months of building, permitting, tweaking and final-touching, Prohibition Pig's brewery and tasting room will open officially this Friday, December 26, Pro Pig owner Chad Rich told Seven Days via phone on Monday. But if you're in Waterbury or nearby, there's a pre-opening wet-run tonight — Monday, December 22 — from 4 to 10 p.m. Call it an early or late Christmas gift, depending on where you sit.


Rich and lead brewer Nate Johnson have been making beer on-site for about a year, using the old one-barrel system that John Kimmich used when the space housed the Alchemist. The new brewery — located in a historic former schoolhouse behind the original restaurant in downtown Waterbury — will increase brewing space from less than 1,000 square feet to more than 6,000. The brewery's tasting room is not directly connected to the restaurant, but is accessible via a separate entrance facing Elm Street.

Though Rich declined to give numbers, he called gut-renovating the old building — which involved jacking it up, putting in a new foundation and excavating a full basement — a "massive undertaking."
But, he said, there was much to be gained. Moving the brewery not only expanded brewing capacity from one barrel to seven, with an annual output of about 1,100 barrels per year, but also freed up room for a new prep kitchen for the restaurant. When warmer weather hits, the tasting room will double in size, adding 50 seats of outdoor space between the pub and the brewery. "The brewery is so many things to the restaurant," Rich said.
Most of the house beer will be sold at the brewery and the original pub, though Rich was quick to add that the main bar at Prohibition Pig would continue to showcase other Vermont beers, too. "We don't want to be a brewpub," the owner said. "More like a brewpub/taproom." Tasting-room brews will be available in tastes, full pints and growlers to go. Rich also plans to do limited-run bottle releases — perhaps including the Pro Pig stout that is currently aging in old Pappy van Winkle barrels.
Along with beer and wine, the 49-seat bar/tasting room will offer a selection of simple snacks from Pro Pig chef Mike Werneke. "[The tasting room] is its own restaurant," Rich said. On the menu? "Tacos will be a big part of it," Rich said. (This had us jumping for joy, because Waterbury has lacked a good taco place since Mad Taco left the Blackback Pub this past June.) "Mike and the whole [kitchen] crew here love doing so many different things, so I'm leaving it to them to do what they want to do," Rich continued.

The owner said diners can expect typical Prohibition Pig offerings in taco form. Sumptuous smoked meats will lead the charge, backed up with somewhat lighter options. While the opening is imminent, Rich said the menu should sort itself out over the next month or so.
At the outset, the tasting room's 10 draft lines will feature three house-brewed beers and seven brews from other local brewers. But in the next month — as the fermenters fill with a variety of brews — the brewery bar will become mostly dedicated to Pro Pig beers. "[Nate has done] close to 20 beers since he came on full-time," Rich said. "You'll see a lot of different beers coming through the pipeline."
Starting Friday, the taproom will be open from 11:30 a.m. to 10 p.m. daily.