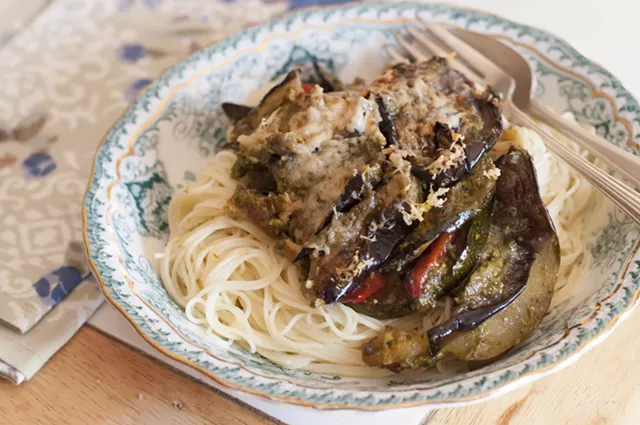 Hannah Palmer Egan
Baked veggies with pesto and Parmesan
September has to be one of my favorite months. Despite the melancholy of knowing that winter's nearly here, I love the cool, dewy mornings, the skies, churning from layered silver-gray to crystalline blue. As the leaves barely begin to crisp and color, the summer garden finally matures, singing a lavish swan song. Its lyrics: "Get thee to the kitchen, cook / Before this, too, fades away..."
Now is the time to ferment and pickle, freeze and bake, preserving the harvest for cooler days. Make pesto from those basil bushes and freeze it! You most certainly won't regret it, come January, when basil comes cased in plastic from California.
A single casserole like the one I made this morning — not quite ratatouille, nor Parmesan (as in chicken or eggplant) — can feed a small family for days and makes quick work of garden excess. Use whatever fleshy veggies you've got — I made mine with eggplant, pepper and squash (though I pined for a fat, ripe tomato). Roast them first to bring out their sweetness, then layer them into a casserole dish with pesto. Serve alone as a side, or over pasta, crusty bread or eggs or roasted potatoes.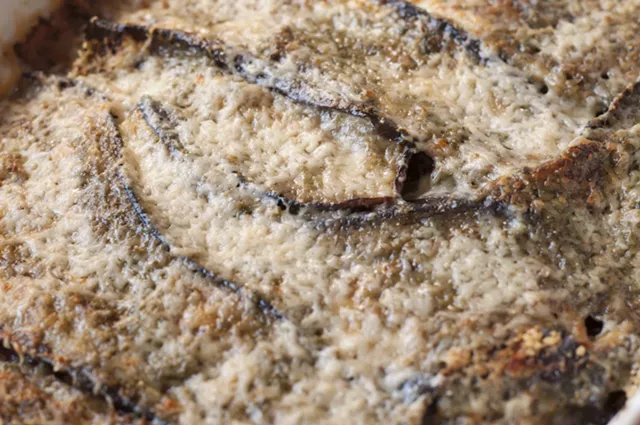 Hannah Palmer Egan
Baked eggplants
Harvest Pesto Bake
Serves 4-6, with pasta or bread
Ingredients:
Basil pesto*

2-3 medium eggplants

2-3 large bell peppers

2-3 medium summer squash

2-3 large, fleshy tomatoes (optional)

2-3 portobello mushrooms (optional)

Salt

Extra-virgin olive oil

1 1/2 cups Parmesan, grated
Preparation:
Make the pesto and reserve.

Preheat oven to 450 degrees F.

Cut the vegetables lengthwise into half-inch slices and place on a cookie sheet. Brush with just a little olive oil on both sides and sprinkle with salt. Roast all but the tomatoes in the oven 7-10 minutes. Flip and repeat.

Remove veggies and reduce oven heat to 350 degrees F.

Brush the inside of 10-inch shallow baking dish with olive oil. Line the bottom with a layer of roasted eggplants. Brush with pesto, then repeat with another vegetable, then another, until you run out of vegetables.

Top with an even layer of Parmesan about half an inch thick.

Cover and bake 20-30 minutes until the bake fills your kitchen with the smell of sweet, cheesy goodness. Uncover and broil for a few minutes to crisp the cheese. Keep a close watch on it, as, once it starts to burn, it burns quick!

Serve over long pasta or crusty bread.
*Pesto:
Makes about 4 cups

8-10 cloves garlic, crushed and peeled

4-6 cups fresh basil leaves, firmly packed

1/2-3/4 cup extra-virgin olive oil

1 cup pine nuts or walnuts

1 cup Parmesan, grated

1/2 teaspoon salt
Pulse the garlic in a food processor to break up. Add the basil in increments, processing until uniformly chopped. Add the oil and nuts and mix until well blended. Repeat with Parmesan and salt to taste.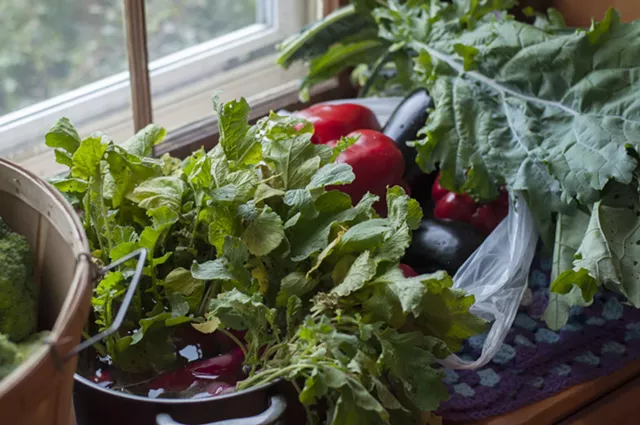 Hannah Palmer Egan
Late summer garden harvest