Alice Levitt
The new guy in Shelburne Bay Plaza
Hey, remember
Town Tavern
? How about
Flatbread Factory & Taproom
? They've both occupied the strip-mall space in Shelburne Bay Plaza next door to Bruegger's Bagels. But unless you live in the neighborhood, you may have missed the
short-lived
restaurants that preceded
Shelburne Tap House
.
New owners Ed Lambert and Sandy Maynard seek to attract diners with something more than a tap list of 11 local sips. With a Queen City Brewery Yorkshire Stout on the table, I tried to figure out the best way to taste some of the diversity of the large pub menu. Where Town Tavern kept things safe with what I then called pre-gastropub fare, Lambert embraces a more modern approach with lots of beer-based sauces and braises.
It was hard to choose. Everything sounded appealing, from an on-the-nose dish called "We Are Slow Braising Beef Brisket in Beer" to even more homespun-sounding chicken breast dredged in cornflakes and fried called "Little Slices of Love, Chicken Finger Style."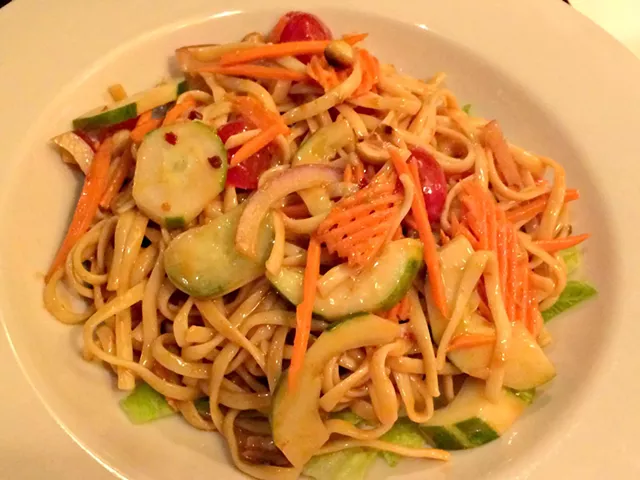 Alice Levitt
Hearty And Spicy Thai Noodle Salad, $9
It's not a veggie-heavy menu, so I tried to get some roughage as part of a Thai peanut noodle dish, one of my favorite things when done right. But this reminded me more of what I'd expect someone's grandmother to bring to a potluck. Though there are pepper flakes visible in the photo above, they were likely the only two in the sauce. The dominant flavor in the thin sauce was sugar. The vegetables within were nicely cut (including the goofy waffle carrots) and crunchy, but sparse compared to the noodles and their almost painfully sweet coating.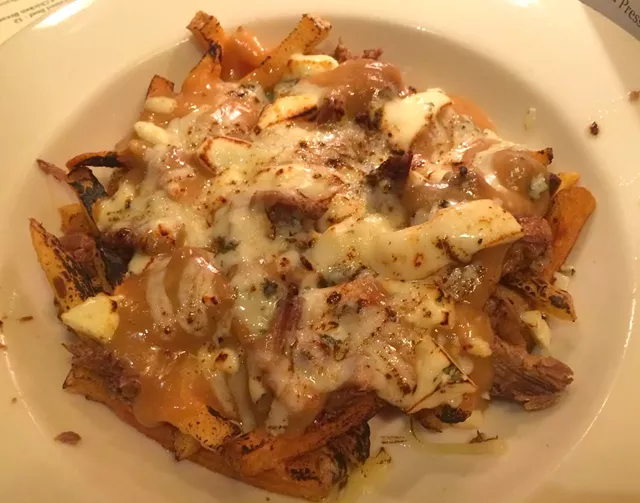 Alice Levitt
Not Your Everyday Poutine, $10
I was most anticipating the poutine, anyway. Who could resist a pile of fries topped with braised chuck and blue cheese, then torched? The diner who realizes that the torch singes more than just the cheese, it turns out. As you can see, I couldn't tell if the fries were any good because most of them tasted like charcoal.
What I did like was the gravy. Described on the menu as "a rich pan sauce," it tasted like an endearingly piquant sauce au poivre. The beef presented beneath, however, wasn't carefully cut. Some pieces melted admirably with the sauce and bruléed fromage. Others were inedible, thumb-sized wads of fat. So points for creativity, but the dish made me wish for a poutine that was a little more "everyday." Perhaps all it needed was a trip to the salamander instead of a blowtorch attack.
Alice Levitt
Not Your Mom's Macaroni And Cheese With House Made Crispy Diced Pancetta, $12
I rarely turn down any mac-and-cheese that crosses my path. At Shelburne Tap House, the promise of noodles dressed in a sauce of Cabot's extra sharp cheese and topped with cracker crumbs was enough to pique my interest. What made it irresistible was the option of adding either "house made crispy diced pancetta" or "spicy Switchback pork shoulder chorizo."
I chose the former. Eating dry-cured meat is one of this food writer's turn-ons, akin to sipping Prohibition-era hootch.
The mac itself was pleasant, even if the noodles were a bit mushy. The buttery cracker crumbs on top made it hard not to eat the whole thing from the top down. But the pink stuff inside was definitely not crisp or, for that matter, actually pancetta. Though some cubes were nothing more than soft, white fat, others were pink and fell apart into shreds when my fork hit them. My best guess? House-braised ham.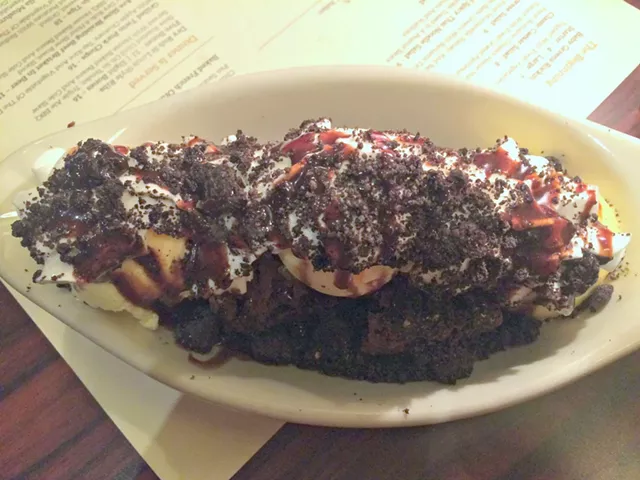 Alice Levitt
Oreo Brownie Sundae, $7
The dessert I ordered turned out to be similarly misleading. Looks like a basic brownie sundae, right? That's because it was, save a couple of crumbly, warm Oreo-based brownies at the bottom. The ice cream had a chemical taste I'm no longer used to in locavore Vermont. But the strangest disappointment was the "housemade Oreo bark."
What that description meant to me was shattered cookies bound together by chocolate or white chocolate. What I got was cookie crumbs. Throughout my meal here, I found that the menu writer's ambition outweighed that in the kitchen. The disconnect probably left me more discouraged than I might have been otherwise — the food is mostly serviceable — because it wasn't what I expected. Conclusion: Shelburne Tap House needs an editor.
Alice Eats is a weekly blog feature devoted to reviewing restaurants where diners can get a meal for two for less than $45. Got a restaurant you'd love to see featured? Send it to alice@sevendaysvt.com.