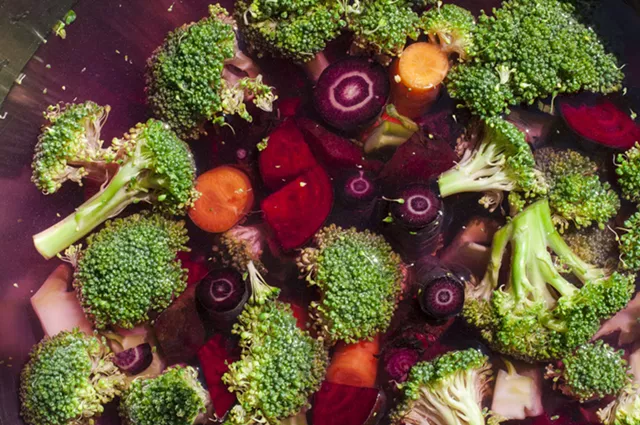 This time of year brings an excess of everything — kale and greens are still proliferating, tomatoes are in full bloom, and summer squash, eggplant, peppers and beans are everywhere. But things that take most of the summer to hatch — like broccoli and carrots — are really starting to yield, and the early pick is always the sweetest.
My fridge is just full of it. At a dinner party this past weekend, my friend Val threw together a roasted veggie dish with some gorgeous purple carrots from
Footprint Farm
, and broccoli, again from Lalumiere Farm, and it was a total hit. It took her less than 10 minutes to prepare and 20 to 30 minutes in the oven ... The better for pre-dinner cocktailing.
When I remade it today, I added in some beets from
Last Resort Farm
in Monkton.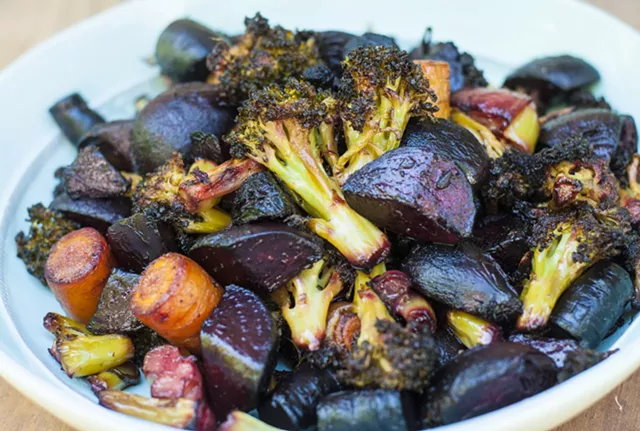 Roasted Broccoli With Root Vegetables
Ingredients:

1 clove garlic, minced
6 cups mixed broccoli, beets and carrots, cut to 1-inch pieces
1/4 cup extra-virgin olive oil
1/4 teaspoon salt, or more to taste
1/8 teaspoon pepper, to taste
Preparation:

Preheat oven to 450 degrees.
Wash and cut veggies to size in place in a large cast-iron skillet.
Drizzle with olive oil, dust with salt and pepper, and mix until the vegetables are thoroughly coated.
Place skillet on the middle rack in the oven and bake, mixing vegetables every 7-10 minutes (so they don't burn), for 20-30 minutes or until they're softened but still al dente.
Serve warm.