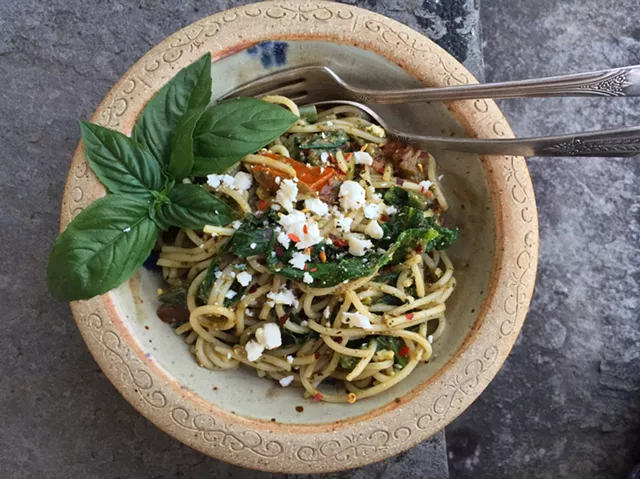 Hannah Palmer Egan
Pasta tossed with wilted kale, tomatoes, feta and pesto.
I made this pasta the other night and it was too lovely and simple not to share. I'll break it down more specifically below. But
the recipe is basically
:
Set pasta to boil. Boil chopped kale with pasta for 30 seconds, spoon kale into mixing bowl. Add crumbled feta, diced tomatoes, lots of basil pesto. Toss well, add strained pasta when ready, toss well again, garnish with more cheese and basil, crushed chiles and pepper.
The only trick is the proportions: Don't skimp! You want ample kale and lots of feta —
Maplebrook Farm
and
Doe's Leap
both make excellent for choices on the latter. You'll also need plenty of tomato and a generous scoop of pesto.
Being able to use such ingredients is one of the main benefits of having
countertops crowded
with August's
gorgeous ripe tomatoes
; of frequenting your local farm stand or market and buying with gusto. If you're one to garden, planting
lots
of the
specific things you love
imbues late summer with a glowing, if somewhat ironic-seeming, sheen of luxury.
I, for one, live and die by pesto. So I seed a whole tray — that's like 40 plants — of Genovese basil in spring. By August, it's so bountiful that I can batch-produce quarts of pesto at a time. Some of that goes into the fridge for everyday use. The rest I freeze in six-ounce plastic containers for winter.
Find a basic pesto recipe toward the bottom of
this blog post from 2015
, and fudge around with the proportions as you like. I now make it with more basil, less garlic, smaller portions of nuts and cheese, and probably more oil. And another thing: You don't need a sprawling, crazy-lady garden to do this. If you rent or live in town, a long windowbox, seeded densely and thinned once the plants start to crowd, will provide enough for summer use and storage.
But back to pasta: If you have all your ingredients on-hand, you can chop, dice and boil your way to a beautiful meal in as long as it takes to boil the noodles.
Just one final word of caution: The outcome of this dish relies heavily on the quality of the pesto you use. So it's well worth it to make it yourself or splurge on the good stuff!!
Amazing Awesome August Pasta
Serves four

Ingredients
1/2 pound thin, long pasta, such as spaghettini or vermicelli

small bunch (6-8 leaves) kale, chopped

1/2 cup (or more!) basil pesto*

2 very large, very juicy tomatoes, diced into 1 inch pieces

1cup or more crumbled feta

Salt, fresh cracked pepper and dried crushed chiles to taste
Preparation:
Boil pasta in salted water. While the pasta is cooking, add chopped kale to water and boil for 20 seconds or until it's wilted but still bright green. Remove kale with a slotted spoon and place in a large mixing bowl.

Add feta, tomatoes and pesto to kale bowl and mix gently but thoroughly.

When pasta is cooked, drain, splash with olive oil, and toss with the kale/feta/pesto mixture.

Divvy into serving bowls, garnish with fresh basil or grated Parmesan and enjoy straight away.