Alice Levitt
Lavender vichyssoise with Zerran "caviar" at the Basin Harbor Club
The impending December 23 closure of
Bove's Restaurant
has created more than a few sad faces among Vermont diners. It's not every day we get to eat at a restaurant with 74 years of history. Or is it?
On Monday night, making a rare exception to Alice Eats frugality, I feasted on the fruits of another, even more storied dining spot, the Basin Harbor Club, without even thinking about it. (Incidentally, I hit the other end of the old-fashioned spectrum eating giant sandwiches at septuagenarian Chick's Market in Winooski two days earlier.)
I was privileged on Monday night to attend the
Basin Harbor Club
's first fall wine dinner ($95 per person). The series, a collaboration of executive chef Christian Kruse and Québecois wine director Jocelyn Vandal, filled up with resort guests when it premiered this summer, but in autumn there is plenty of room for locals to score seats. When they do, they're taking part in a 133-year-old tradition of dining at the property.
The dinner began with a glass of iced Lillet, fruity with a cube of pineapple resting at the bottom. Vandal then led the small group of diners and kitchen staff through six courses (not including the honey-ginger sorbet intermezzo) of food whose flavors melded, Gobstopper-like, with tastes of the selected wine.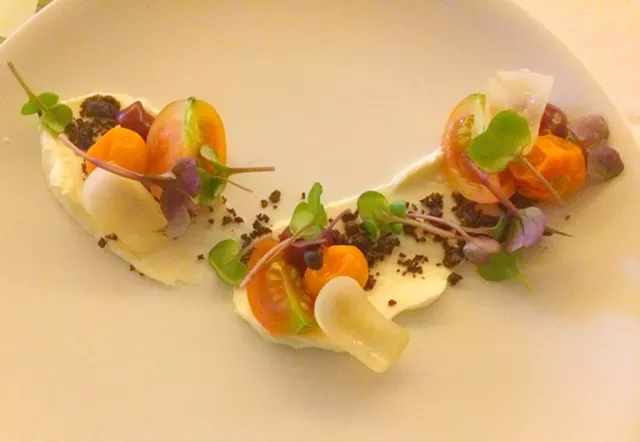 Alice Levitt
Fresh Food Farm tomato salad
Kruse's culinary creations are perhaps the most overlooked in the state. Not only can the guy build Rubenesque (read: big and beautiful) flavors, he plates them with the eye of a Dutch Master, too. Winters off from the resort afford him time to refine his chops outside of Vermont. He told me that last night's meal was heavily influenced by California cuisine.
One bold example was the above arc of raw and confit tomatoes, pickled cipollini onions and microgreens, presented on a bed of tangy chèvre, saline "black olive crumbs" and dots of concentratedly sweet blackberry lacquer. Nearly everything was grown at Basin Harbor's own farm, bien sur.
Alice Levitt
Vermont trout confit
The most effective pairing was Vandal's choice of New Zealand's Cloudy Bay Sauvignon Blanc, whose spicy notes of grapefruit and celery cut through the rich trout confit with fresh, fruity aplomb. Cranberry beans and a chile-oil-inflected turnip purée were brightened by tomato powder and a single slice of starfruit. With each bite and sip, food and wine slowly transformed and made me rethink what a perfect pairing can do for both parties.
Alice Levitt
Sous-vide local lamb
Vandal has a palate for quirky wines. The 2012 Domaine Cheveau Chardonnay, served with butter-poached scallops and indulgent asparagus foam, was uncommonly smoky, while the Carménère grown at Chilean vineyard Marchigüe was rich, deeply herbal and bloody. It paired brilliantly with a similarly sanguine slice of sous-vide-prepared lamb, served with a single gnudo, a sliver each of tender beet and Brussels sprout and charred scallion vinaigrette.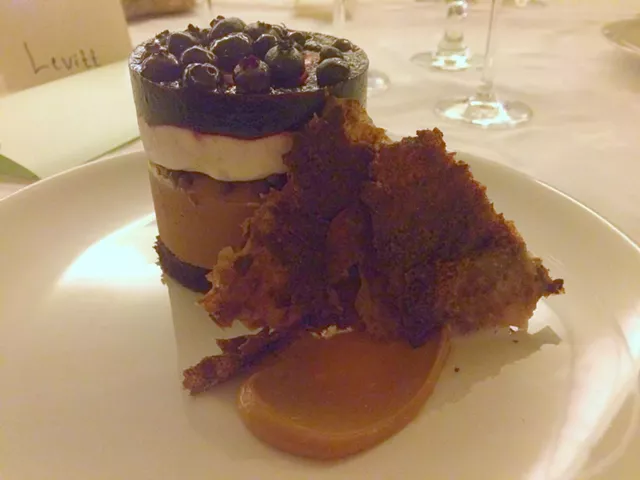 Alice Levitt
Lavender chocolate mousse with blueberry gelée
The bacchanalia ended with an extra-large stack of lavender chocolate mousse. Atop the mousse, chocolate crunchies, blueberry whipped cream and blueberry gelée formed a tower leading up to ecstasy. Crunchy layers of chocolaty puff pastry (think dessert cracklings) and a puddle of roasted white chocolate sauce completed the effect.
It's a shame that the Dining Room at the Basin Harbor Club isn't at the tip of diners' tongues when discussing upscale spots. Kruse will probably never earn a James Beard nod for his work at the resort, though his cooking is every bit as good as it is at Vermont's oft-nominated big boys, such as Hen of the Wood and Kitchen Table Bistro. But perhaps that means his loss is our gain, and his work can become an open secret for locals in search of a hidden treasure.
Alice Eats is usually a weekly blog feature devoted to reviewing restaurants where diners can get a meal for two for less than $45. Got a restaurant you'd love to see featured? Send it to alice@sevendaysvt.com.