Luke Awtry
Mayor Miro Weinberger gives his victory speech Tuesday.
Updated March 7, 2018.

Incumbent Burlington Mayor Miro Weinberger sailed to a third term Tuesday night, capturing about 48 percent of the vote to defeat
Carina Driscoll
and Infinite Culcleasure.
Weinberger, a Democrat, tallied 5,749 votes, compared to 4,155 for the Progressive-backed Driscoll and 1,910 for Culcleasure, an independent, according to
unofficial election results provided by the city
. Driscoll earned 35 percent of the vote, while Culcleasure picked up 16 percent.
The 11,884 voters far surpassed turnout in 2015, when 7,865 voters cast ballots, and 2012, when 10,129 people showed up at the polls.
Weinberger showed up to an Election Night party at Nectar's around 8:20 p.m. to chants of "three more years!" Democratic City Councilor Karen Paul, who won her reelection bid in Ward 6, entered to cheers, as did Adam Roof, an independent incumbent in Ward 8 who won his race by 113 votes.
During his victory speech, Weinberger invited his parents up on stage and thanked them for "raising me right."
"Today's vote was a test of our commitment over the past six years to strong fiscal management, community vibrancy, responsible growth and investment in new downtown jobs and housing," Weinberger told his supporters. "I am honored to have served these past two terms and will do all I can to continue to move Burlington forward over the next three years."
He also gave a tip of the hat to the other candidates.
"I've learned from each of them and I'm heading into my next three years as mayor better equipped to serve the Burlington community because of our spirited debate over these past two months," Weinberger said. "This election represents the best of what democracy looks like: no angry late night tweets, no sharp sticks, but rather committed candidates discussing real issues in a productive debate on a future worth fighting for."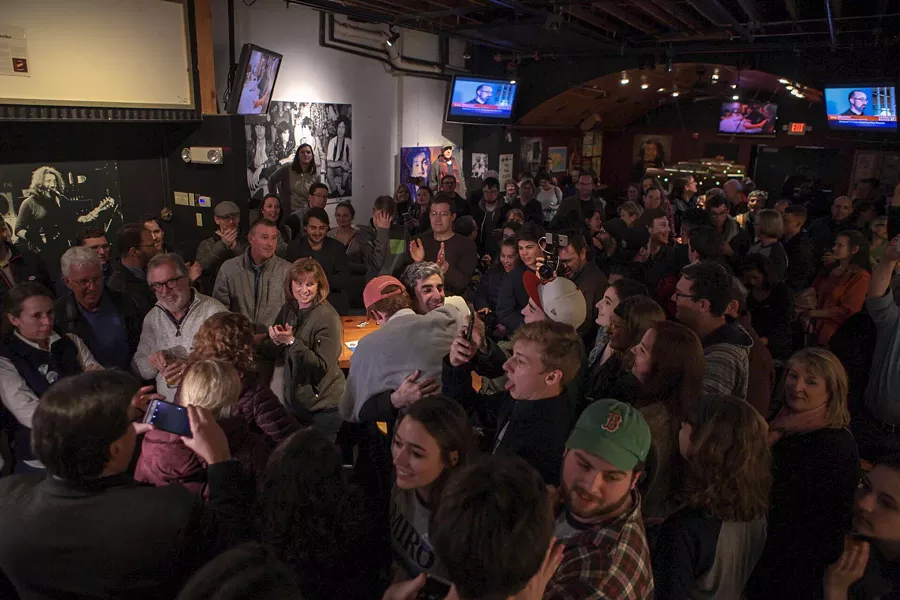 Luke Awtry
Weinberger hugs a supporter (center, red hat) at Nectar's.
At his campaign party at Three Needs Taproom & Brewery in the Old North End, Culcleasure said in an interview that he was proud of his team's effort during the campaign despite the result. He added that Weinberger should "have heard loud and clear that people want to be involved, people want to know what's going on and not through some glossy ads or through some PAC."
Does Culcleasure think a single candidate would have dethroned the incumbent?
"Yeah, Carina shouldn't have run," Culcleasure said. "I announced first."
Supporters were enthusiastic that Culcleasure garnered 16 percent of the vote and made the case that he brought out voters who wouldn't otherwise have participated.
"Miro does not have a mandate," concluded Culcleasure's treasurer, Margaret Joyal.
James Buck
Infinite Culcleasure addresses supporters Tuesday night.
The crowd continued to grow, even after the results came in. By 8:30 p.m. there were roughly 35 people, most of them young, eating pizza, loudly conversing and not paying much attention to the television airing results. Several came donning elaborate handmade signs professing support for Culcleasure, made of cloth and lights.
During a speech of his own, Culcleasure thanked his team, saying "so much integrity right here" as he gestured to the crowd.
"Fuck yeah!" responded one supporter.
"This has been the most important week of my life," Culcleasure continued, noting that his son, Izra, was born on February 27. Since then, "I've been smiling and crying the whole time."
"We knew that we were the underdogs," he added.
The crowd cheered loudly when Culcleasure said, "We split the vote!" He pointed to turnout numbers as a sign of success.
"We believed in each other and it was contagious," he said. "We actually increased participation. We really did win."
Driscoll held a party at Smitty's Pub in the New North End. She told supporters that her campaign sent a message that "the status quo is not acceptable."
"Infinite and I together defeated Miro," she told the crowd. "I think keeping him under 50 percent sends a clear message to him."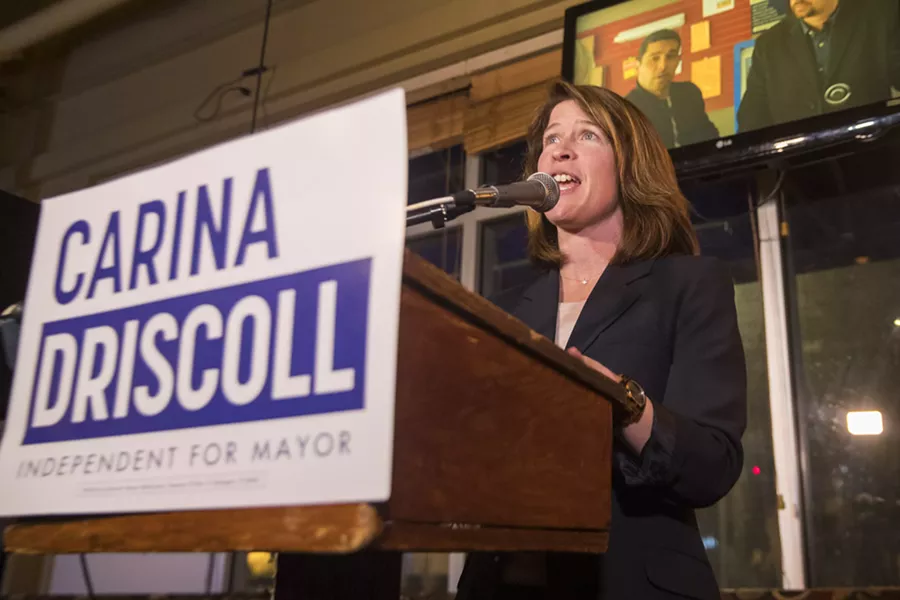 James Buck
Carina Driscoll gives her concession speech.
After her concession speech, Driscoll said she would consider running again, although "three years is a long time."
She spoke to
Seven Days
as she sipped a beer near the bar. What kind? "This is a Switchback and I did not drink beer during the entire campaign, so that tonight, I can enjoy this beer. And I am," she said.
Her mother, Jane O'Meara Sanders, attended the party but stepfather Sen. Bernie Sanders (I-Vt.) was in Washington, D.C. He voted for her, Driscoll said.
The crowd was disappointed in her defeat. "It would have been great to have a woman mayor for the first time," said Jennifer Ely, a Ward 7 resident who voted for Driscoll and said she is well-informed, inclusive and would collaborate with her staff.
Weinberger "had a lot more money" in the campaign and that probably made a difference, Ely added.
While the defeat was disappointing for many in the crowd, it wasn't for everyone. Before Driscoll arrived, City Councilor Dave Hartnett (D-North District) popped into Smitty's for a Corona.
"It's a tradition after every Town Meeting Day — I always come home to Smitty's," he said of the North Avenue watering hole.
It was a "bit awkward" to be there Tuesday given the bar was Driscoll's election night party site, he said. But Hartnett planned to go to Miro's party and celebrate the incumbent's victory. "I'm excited ... When you look at the big picture and you look at how far we've come in the last five years, it was easy to support Miro," Hartnett said.
The mayor campaigned hard: "He never takes anything for granted, right from the beginning he ran nervous and that's a good way to run," Hartnett said. "He's a workaholic."
All three mayoral candidates spent the day visiting the city's eight polling places, holding signs and chatting with voters. Members of Culcleasure's campaign decked out a small bus with streamers and signs and cruised the streets, honking and urging passersby to vote.
An hour before the polls closed, Driscoll expressed cautious optimism. "We feel a lot of support. Whether or not it's enough, we'll have to see," Driscoll said after visiting each polling place. "We feel really good about the campaign we ran."
Burlington voters expressed strong support for incumbents up and down the Town Meeting Day ballot.
In one of the most closely contested races of the day, Roof beat out
UVM student Carter Neubieser
, a Progressive, in the Ward 8 contest. Roof earned 488 votes to 375 for Neubieser. Turnout was more than double that of the last Ward 8 race, which brought out 325 voters in 2015.
The only new face on Burlington's city council will be Progressive
Brian Pine in Ward 3
. Pine, who bested Democrat Lizzie Haskell and independent James Lockridge, will replace Progressive Sara Moore, who did not run for reelection.
Incumbent Ali Dieng (D/P-Ward 7) took 59 percent of the vote to beat James Loop. In the South End, incumbent Democrats Chip Mason and Paul won their races in Wards 5 and 6, respectively. Paul bested Progressive Charles Simpson and
Republican Joel FitzGerald
with 66 percent of the vote. Mason earned 58 percent of the vote in defeating Progressive challenger Jesse Warren.
Max Tracy (P-Ward 2), Sharon Bushor (I-Ward 1) and the
council's sole Republican Kurt Wright
(R-Ward 4) all ran uncontested reelection bids.