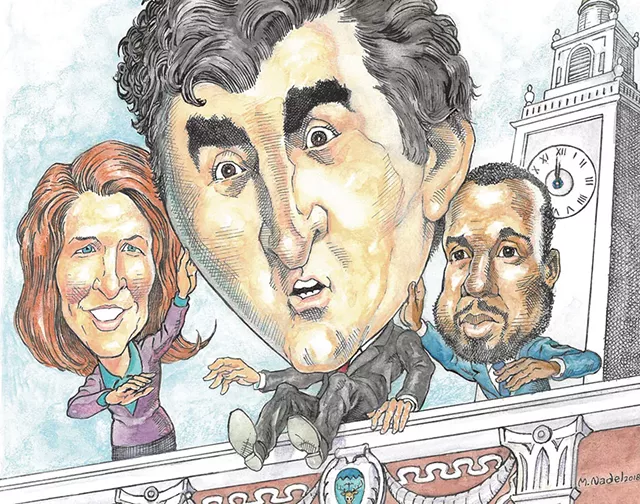 Yes, Bailey Osborne did have feedback for Miro Weinberger, she said, when the Burlington mayor came knocking on a January afternoon in the city's South End Lakeside neighborhood.
She suggested the mayor come inside and take a seat.
Osborne, a single mother and a paraeducator in Burlington schools, said she felt as though officials in city hall weren't listening to "people like me."
"It's, like, really big things you're doing," Osborne said, praising Weinberger for his work on the redevelopment of the Burlington Town Center mall and with the University of Vermont on student housing. "I just want to know that people in the political realm will look out for the workers," she said, meaning the city's working-class residents.
Perched on the couch in a jacket and wind pants, Weinberger listened for nearly 25 minutes, interjecting occasionally to ask for clarification and once to mount a defense of his work on affordable housing and attracting jobs.
It was "a little painful" to hear the criticism, Weinberger conceded, and he did ask Osborne what she would like him to do differently.
"I can't think of anything right now," she replied.
In the end, the 47-year-old Democrat handed Osborne a glossy campaign flyer and asked for her support.
Osborne told Weinberger she'd voted for him in 2012 and 2015, "but," she added, "you're going to have to work for it this time."
Weinberger is doing just that.
The two-term incumbent is facing his first credible challenger in independent Carina Driscoll, a native Burlingtonian. The former city councilor, school board member and legislator also has the advantage of being the stepdaughter of Vermont's greatest political success story: U.S. Sen. Bernie Sanders (I-Vt.).
Driscoll, who once worked for Weinberger, is portraying her former boss as an out-of-touch elitist administrator who may be able to balance a budget but isn't governing effectively on behalf of a majority of Burlingtonians.
One of her slogans — "Burlington is not for sale" — is vintage Sanders.
She criticizes the current mayor for catering to business and development interests and maintaining a top-down approach to government that precludes real citizen involvement. "There is a hunger for engagement in Burlington right now," Driscoll said.
Similarly, and even further to the left, Infinite Culcleasure is running a campaign that is light on policy and heavy on idealism: He's calling for an inclusive, collaborative form of government that would give disenfranchised communities a voice.
Who's backing whom? Former mayor Peter Clavelle, who once worked for Sanders, is supporting Weinberger. Pro-development City Council President Jane Knodell (P-Central District) is in the Driscoll camp. And Genese Grill, a fierce critic of the downtown mall redevelopment project, supports Culcleasure.
If Culcleasure and Driscoll split the opposition, Weinberger will surely win. But if they combine forces — which both have hinted may be a possibility — and mobilize reluctant voters, their shared vision could give the mayor a run for his money.
Both challengers have pushed Weinberger to defend not only his record on city finances and development projects but also the ways in which working-class residents have benefited from his tenure. His fate on March 6 may depend on his response to the Bailey Osbornes of the city — those who feel they're being squeezed out of a rapidly changing Burlington.
Hardworking Mayor
Matthew Thorsen
Mayor Miro Weinberger talking with constituents at the Democratic Caucus
Weinberger was a political novice when he became Burlington's 42nd mayor in 2012. His only previous public service experience was serving on the Burlington Airport Commission.
To make up for that deficit, he's devoted himself to mastering the ins and outs of municipal bureaucracy, according to advisers and elected officials.
In the beginning, he used to bring home the city charter for after-hours reading, said Mike Kanarick, a friend of Weinberger's who also served as his chief of staff from 2012 to 2015.
"He's a policy wonk," said Kanarick. "He wants to be fluent in every way on every issue ... He has a tremendous command of how the city works."
One example: Weinberger said he spent a week regularly checking RouteShout, the Green Mountain Transit bus tracking app, on his phone after a constituent complained that it wasn't working properly.
Weinberger said he thrives on the nitty-gritty tasks of the office. "I like the day-to-day role of being mayor because it's about making tangible, positive changes in the community," he said.
By many measures, the Ivy League-educated real estate developer has been successful.
With diligence and discipline, Weinberger has kept the city's spending within its budget and lobbied for successful passage of a fiscal stability bond to refinance its debt. Burlington's credit rating has risen from Baa3, almost junk bond status, to A2, with Weinberger celebrating each upgrade with a news release.
"If we don't stay focused on the finances, we'll quickly fall back to where we were six years ago," he told reporters at the city's Democratic Caucus in early January. "I'm not going to stop talking about that."
During his six years in office, Weinberger has invested in infrastructure, and he likes to brag that he has tripled the miles of sidewalk repaired each year. He's launched data initiatives to better measure his government's effectiveness and improved local opiate treatment options. Although he's not a natural public speaker, Weinberger has improved at the podium. He's spoken out against federal immigration policy and President Donald Trump, making Burlington a de facto "sanctuary city."
All 17 of the ballot items he has put to voters have passed.
Burlington native Marty Lafayette is sold. "The Progressives stole our money," said the New North End resident, who stopped by his neighborhood Jolley convenience store to talk politics with owner Dave Hartnett (D-North District), a city councilor. Lafayette is still rankled by former Progressive mayor Bob Kiss' administration, which secretly diverted $17 million in city funds to a failing Burlington Telecom. When Kiss left office in 2012, the city's finances were in shambles and public trust had dropped to an all-time low.
"We can't go back," agreed Hartnett, a Weinberger supporter.
Getting Burlington's finances in order has enabled the city to borrow money for street and sewer upgrades, bike path improvements, and long-stalled building projects such as the downtown bus station.
Weinberger has personally worked with developers to pave the way for new housing in the city and to redevelop the downtown mall into the 14-story City Place Burlington that is currently under construction.
Council President Knodell described Weinberger's relentless work to advocate for a public "yes" vote on that project as the "high point" of his last six years. "He worked hard; he was really a maniac on it," Knodell said.
Her views reflect the prevailing opinion of Burlington business owners that the city needs to grow — up.
In the Lakeside neighborhood, 95-year-old Cliff Allis wants it all to happen faster. He recalled a neighbor who decades ago was concerned that the Champlain Parkway would endanger her children. "The kids they were worrying about? They've got kids and grandkids," he told the mayor with a chuckle. The Champlain Parkway proposal has been on the table since 1974 — nearly 44 years.
"If I get another three years, you will see that highway built," Weinberger promised the old man, who agreed to vote for Weinberger and posed for a Facebook photo with him.
Burlingtonians are deeply divided on development — the issue Weinberger is most identified with — and there's no shortage of passion on the "anti" side.
"I don't really trust the mayor. He's too corporate," said John MacLean in a conversation at Barrio Bakery & Café in the Old North End. MacLean pointed to the development of market-rate housing and lack of support for the co-op Keep BT Local as reasons he did not plan to vote for Weinberger in March.
"I want to see Miro defeated," said Barbara Wynroth, a member of the Coalition for a Livable City, a group that battled for months, and even filed a lawsuit, against the mall redevelopment.
Wynroth also advocated against a proposed redesign of City Hall Park. She called the development process "undemocratic"; Weinberger "blocked us out every inch of the way."
Such dissent is inevitable, said Clavelle, a Progressive who has served as an unpaid adviser to Weinberger on some of the city's large development projects.
He listed a few of the controversies during Weinberger's tenure: the Moran plant, Burlington Telecom, the New North End bike lanes, the mall.
"The longer you've been in office," Clavelle said, "the more people you're going to piss off."
The Challengers
James Buck
Carina Driscoll meeting community members at a house party
Driscoll and Culcleasure are crafting their respective messages to reach and motivate the discontented.
There were no suits and ties at Culcleasure's first organizing party at North End Studios — the candidate has no formal campaign headquarters. The event attracted a crowd of people sporting jean jackets, body piercings and scruffy beards.
The 44-year-old, who has a master's degree in urban policy analysis and management, told the roughly three dozen supporters gathered that he aimed to use his campaign to elevate marginalized voices, including the homeless, the trans community and people of color. "I don't think our government is ever going to get it right until there's a real, authentic bottom-up type of approach," he said. "That includes everything from how the city hires to the F-35s."
Culcleasure supporter Grill, who fought the mall redevelopment project and challenged Knodell for a city council seat last year, said she grew frustrated with the "conflicts of interest, the influence of money, the charades of 'public process,' the lack of transparency" in city government.
Culcleasure "walks this walk" of democratic involvement, Grill said, pointing to his work as project manager of Parents and Youth for Change, a nonprofit that does organizing and advocacy in Burlington and Winooski schools.
In contrast to his opponents, Culcleasure described himself as a man of the people who has struggled to pay the rent on his Old North End apartment.
He also fessed up to run-ins with police as a young adult, when he was convicted of two felonies. The crowd laughed with him when he said, jokingly, "I don't mean to overembellish my street cred."
Meanwhile, Driscoll has been working a different crowd. At a house party in mid-January, she made her pitch to about 15 attendees — mostly longtime Progressives —at Burlington Co-housing East Village.
As they sipped cider in armchairs, she expounded on increasing affordable housing, improving access to childcare and creating more senior housing to provide for those most in need. In between, she aimed not-so-subtle jabs at Weinberger.
"The current policy is, if we build more market-rate condos and more high-end condos for rent or sale ... we'll magically have affordable housing," she said to chuckles from her audience. "I'll tell you, it's not working."
The vagueness of the message was strategic. Driscoll must cast a wide net for voters if she wants to win, according to Knodell.
"She needs to run her campaign from a center-left position, put together different groups that are unhappy with the mayor and convince voters that she can run the business of government well," Knodell said.
So when an attendee asked about Driscoll's stance on banning F-35 fighter jets from being based at Burlington International Airport, the candidate hedged, saying she keeps "a very open mind."
She supports a referendum on the issue, Driscoll said cautiously: "Having good public process engagement should always be a 'yes.'"
"It's time for our city to have a mayor who will return power to the people of Burlington" is how she put it in her campaign announcement.
It's not a coincidence that much of Driscoll's language harks back to the days when her stepdad ran Burlington City Hall.
"So many people see Carina having a good shot of reasserting the Progressive Party as a pretty strong force" in Burlington politics, said Josh Wronski, executive director of the Vermont Progressive Party. She's already earned an endorsement from Our Revolution, an organization launched by Sanders.
Knodell's hope: "I think she'll bring a new take on what it means to be a Progressive city in the 21st century, but it will be very much informed by what Progressives have done over the last 30 years."
Driscoll grew up in Burlington — at age 11, she moved from the South End to the Old North End, and she later spent her high school years living in the New North End. In the early 2000s, she won a seat in the Statehouse and then represented the Old North End for one term as a city councilor.
Former Democratic rep Mark Larson served alongside Driscoll for the two years she was in Montpelier. Now he's her volunteer campaign treasurer.
Driscoll has "the ability to bring folks together and empower people to be part of city government," Larson said.
Door-knocking in the New North End, she worked all of her connections. Driscoll asked some longtime residents when they graduated in hopes that they shared mutual high school acquaintances. At one door, she informed the current occupant, a potential supporter, that her childhood friend had once lived there.
In 2015, 7,600 Burlingtonians cast ballots in the mayoral election. By her own calculations, Driscoll needs to get 10,000 to the polls on March 6 — and earn the support of 5,001, she said.
Emphasizing her "ground game," Driscoll said she's reaching out to residents in their homes and has trained volunteers to help her do so. She's hoping to fill 500 three-hour door-knocking shifts before the election.
Driscoll will have to make inroads in the South End, traditionally a Weinberger stronghold, as well as get substantial support in the New North End, which has the highest voter turnout.
Culcleasure is expected to do best in the traditionally progressive Old North End. He acknowledged he would have to "hit the lottery" to win the election but offered his own assessment: "In the last mayoral election, 23,000 people didn't vote," he told supporters at his organizing party. "Who's splitting that vote?"
Driscoll is hoping she and Culcleasure "can come together before the election and merge energies," she said in an interview in her North Street campaign office.
Culcleasure hasn't ruled out that possibility, but he told Seven Days later that the final decision about whether to join ranks with Driscoll would be made in conjunction with his campaign team and supporters.
All Opposed
File: Luke Awtry
Infinite Culcleasure speaking at a campaign stop in the Old North End
Has Weinberger alienated enough antidevelopment types and Bernie-era Progressives that they could unite and vote him out of office?
As Clavelle pointed out, having a record can be a liability.
Jim Holway, a longtime community organizer from the New North End, turned against Weinberger after Holway organized a citywide public meeting last September to discuss the future of the derelict Memorial Auditorium.
Weinberger refused to help facilitate a conversation around the building and, in one conversation, raised his voice, saying that the city "didn't have the resources," according to Holway.
"Back since Bernie's day, I've been working on public issues. I've never seen a mayor who's sort of anti ... public voice," he said.
Weinberger disputed Holway's characterization of the conversation, saying that he reassured Holway that the city would soon prioritize the project.
Nonetheless, it was the last straw for Holway: He resigned from his ward's Democratic organizing committee and, on a Thursday in mid-January, showed up at Driscoll's office to start volunteering for her campaign.
"I see, in many corners of the city, a similar sentiment growing as once-Miro supporters take the time to set aside partisan politics, meet with Carina, and see a different and more positive civic partnership in city hall's future," Holway wrote in a follow-up email to Seven Days.
More recently, the sale of Burlington Telecom — with its convoluted narrative of spurned bidders, multiple delays, councilors behaving badly and a final decision made at 2 a.m. — didn't put Weinberger in the best light.
He lobbied hard for his choice — a Canadian telecom company called Tucows — but the contract went to Schurz Communications.
Some councilors, including Knodell and Kurt Wright (R-Ward 4), recalled a Sunday night meeting in late October, when they met with Weinberger, Hartnett and Chip Mason (D-Ward 5) to discuss what would happen if the council reached a tie vote.
Wright and Knodell both said Weinberger raised his voice and refused to discuss the possibility that Tucows wouldn't be selected. After 10 minutes, they walked out with Hartnett.
"Miro didn't want to hear what we had to say," Wright said.
"It was not a good meeting," Knodell agreed. Rather than helping the council find a path to consensus, "he took the approach of basically trying to ... berate me into submission."
Driscoll has taken note. "Nothing illustrates better the need for new leadership than the division that has come out of the Burlington Telecom sale," she said in her campaign launch speech.
Wright, who ran against Weinberger for mayor in 2012, said he hasn't endorsed any of the candidates. He voted for Weinberger in 2015 and often aligns with him on policy but said more recently that he has had "major differences" with the mayor.
So do councilors on the other end of the political spectrum.
"What we continue to see is a Miro-knows-best way of doing business," said Max Tracy (P-Ward 2), noting a lack of transparency, accessibility, civic engagement and open process "within the BT conversation, the mall conversation ... I don't think that's the best way for getting the results for the community."
Clavelle noted that a lack of transparency is a perpetual concern in Burlington politics and called the accusation "unfair." Queen City residents have "an insatiable appetite to be involved and be engaged," he said.
And the third race can be difficult, Clavelle acknowledged. The seven-term mayor of Burlington lost his third bid, in 1994, because he had pushed the city to cover health insurance for domestic partners, including gay and lesbian couples, before same-sex marriage was legal. "The quite significant opposition turnout" surprised most people, he said — including his opponent, Peter Brownell.
Clavelle won back the mayor's seat from Brownell in the next election but said the history lesson may prove valuable for Weinberger. "You can't become complacent; your supporters cannot become complacent; you can't take voters' support for granted," he advised. "Miro needs to be out there, and I know that he is, knocking on hundreds, if not thousands, of doors."
Incumbent Advantage?
Weinberger supporters assert that he is well positioned to win a third term in Burlington City Hall.
The city is growing, there are no major financial issues and, in spite of a few stumbles on development, the mayor has had no precipitous falls.
"This election cycle is going to be moving forward in a city that's doing well," said Andy Montroll, who serves on the city Planning Commission and was a Democratic city councilor from 1994 to 2009. "At the surface level, it does favor the incumbent — and rightly so." Even though Montroll headed up the effort to get Keep BT Local to buy Burlington Telecom, he said he'd still cast his ballot for Weinberger. "I don't look at just an isolated issue; I try to look at the whole scope of it," he said.
Weinberger is "still clearly the favorite," opined Wright. "I think he'll leave no stone unturned in his push to get reelected."
That was evident during a week in January when the incumbent hopped from event to event, highlighting his accomplishments in a speech to the Burlington Business Association, making his pitch for the endorsement of UVM College Democrats (they eventually backed him), knocking on doors in his spare time, and handing out campaign literature at every turn.
"He's a workhorse," said City Councilor Adam Roof (I-Ward 8), a Weinberger supporter. "He works his ass off."
Weinberger also knows how to get supporters to open their wallets. He spent more than $90,000 in his last race, raising money from local and Washington, D.C.-based friends.
He expects to spend a similar sum this time around, he said as he sat in his College Street campaign office at a table piled with papers and leftover pastries from a recent phone-banking session. In one weekend in mid-January, he raised $10,000 through an email campaign to supporters. Last weekend, former United Nations ambassador Samantha Power, who was Weinberger's college radio talk-show cohost at Yale University, headlined a fundraiser at Nectar's.
A shift in Weinberger's rhetoric suggests he isn't taking anything for granted.
He's adopted more Progressive-type talking points, referring to his work preventing Burlington from becoming "a boutique city" and "protecting the city's most vulnerable residents."
Knodell said she had heard Weinberger speak more about "equity and inclusion" than ever before — because "Carina is very strong on equity and inclusion," she guessed.
"It's hard to say that equity and inclusion have been a big part of what he's been about in six years," Knodell said.
The typically reserved Weinberger has also started allowing voters glimpses into his personal life — no doubt to humanize the candidate often characterized as a developer.
At the Democratic Caucus, his wife, Stacy, offered the nomination speech and told the story of how the couple met at a daycare where she was working.
When door-knocking, the mayor mentioned his 11-year-old daughter Li Lin's transition into middle school, and he's taken to dropping references to the challenges of juggling work-family balance. On Martin Luther King Day he framed his work on equity and inclusion, in part, in terms of raising two adopted daughters of color.
For the most part, Weinberger is sticking to his message and promising more of the same: moving forward on his plans to make Burlington a net-zero energy city, continuing housing development, and advancing public projects such as City Hall Park and Memorial Auditorium.
According to Councilor Roof, the election boils down to whether or not voters align with his vision for the city's future.
"Nostalgia can be seductive," Roof said. "That is not Miro's promise ... He's promising a future. Whether or not you agree with that future and all its detail and scope, well, that's a decision that each individual Burlingtonian will have to make."
Driscoll, meanwhile, has five weeks to make the case for her alternate vision.
On a Sunday in mid-January, she tromped purposefully along a sidewalk in the New North End in an effort to get to as many doors as she could between morning meetings and her afternoon house party. She's attended up to four such gatherings per weekend.
Driscoll got Dan Mintzer's vote before she could say a word. As Mintzer got out of his car in front of his ranch-style home, he announced that Weinberger had made "one too many backdoor deals," referencing a livable wage exemption at the airport and a lack of intervention in the school budget — which is not the mayor's purview.
Driscoll hit all her talking points, detailing the need to "bring people to the table" before plunging into a nuanced description of her plan to divert payment in lieu of taxes to after-school programs. She learned that Mintzer's son, who fidgeted nearby, attended school with her nephew.
Driscoll was on the way to the next house when Mintzer called after her, asking for a yard sign.
Correction, February 3, 2018: A previous version of this story misrepresented Culcleasure's criminal history.