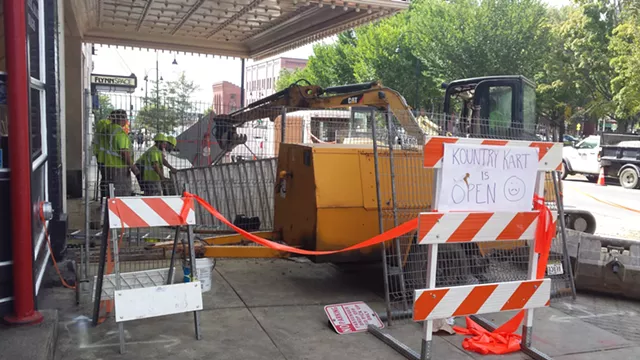 Kymelya Sari
Repair work outside the Flynn Center
The Flynn Center for the Performing Arts
is in a race against time to ensure that the flooding repair work in the FlynnSpace is completed before the upcoming performing arts season.
A water main pipe, located under the marquee, burst early Monday morning, causing water to flow into the downstairs venue and a storage area where production equipment, including lighting, was kept.
"We are too early on in assessing the damage," said
Anna Marie Gewirtz, who assumed her new role
as executive director of the Flynn just six weeks ago. "We are doing everything in our power to get things back in pristine condition and working order."
Gewirtz said the pipe and decorative sidewalk outside the Flynn, as well as the flooring in the FlynnSpace, will have to be replaced. Most of the costs will be covered by insurance, she added.
The executive director is hopeful that the repair work will be completed before the first show in the FlynnSpace on September 20 — an evening with local comedian
Josie Leavitt
. "It's a very, very tight turnaround," Gewirtz noted.
The historic parts of the theater, including the auditorium and lobby, which date back to the 1930s, were untouched.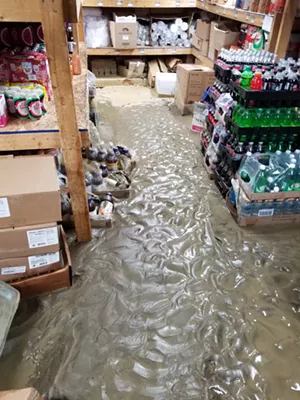 Courtesy of Mike Williams
Flooding at Kountry Kart Deli
Gewirtz said she's in constant communication with Cristina Alicea, producing artistic director at
Vermont Stage
.
The production company, which is based at the FlynnSpace, will have its final season there before
relocating to the Main Street Landing Performing Arts Center
this winter.
The neighboring
Kountry Kart Deli
, which is open daily, had to close on Monday after the flooding left 12 inches of mud in its basement.
The deli opened for business on Tuesday, however, after owner Mike Williams was able to order fresh products.
Williams said he'll probably have to close the store for a couple of hours each day to install new flooring in the basement. In 29 years, the deli has never experienced disruption to such an extent, he said.

"I hate closing," said Williams, "[but] it could have been worse. It could have been a fire."


According to Gewirtz, the Flynn Center's annual fundraiser, Over the Edge, will take place as scheduled on Saturday, September 1, at the Courtyard Marriott in Burlington. The event raises money for the center's arts education program.

"The show must go on," said Gewirtz.

UPDATE Friday, August 31: Reached via email, Gewirtz gave Seven Days this report:
"We have a new floor for FlynnSpace being put in starting on Tuesday, plus new carpets, painting, sheet rock and replacement production equipment. We've been working around the clock, but it's coming together, piece by piece.
"The water main pipe that burst was on the sidewalk under the Flynn's marquee, and it was our pipe (the part that connects to the city's water main). It turns out the pipe was over 60 years old."