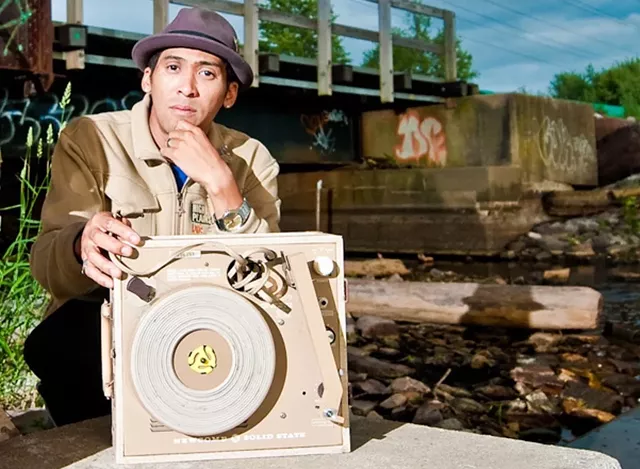 Courtesy of Ben Sarle
Andy "A_Dog" Williams
One of the most important days for Burlington's hip-hop and skateboard community is upon us. Now in its fifth year, the annual A_Dog Day celebrates the life of DJ, artist and skateboarder Andy "A_Dog" Williams,
who passed away
nearly five years ago. The
multifaceted memorial event
kicks off on Saturday, August 25, with a multitude of artsy happenings at various locations in downtown Burlington.
Williams passed away at the age of 38 on December 26, 2013, after a yearlong struggle with leukemia.
Known as much for his turntable skills as he was for his kindness and generosity
, Williams
inspired his close friends
and community to immortalize his legacy with the
Friends For A_Dog Foundation
. The nonprofit group specializes in arts education initiatives as well as support for ongoing cancer research.
With so much to see, hear and do, it's difficult to sum the event up in a neat little package — though
Seven Days
' Eva Sollberger expertly recapped 2017's event for an episode of "Stuck in Vermont." Watch below.
This year's celebration is a similarly action-packed day full of live music, dance, art and hitting the decks — both the skateboard and DJ varietals. Here's a (very) quick rundown of this year's festivities.
1 p.m.
Pro and amateur skateboarders carve up the
Andy "A_Dog" Williams Memorial Skatepark
on Burlington's Waterfront Park. DJs
Es-K
, C-Low, Crusty Cuts,
Mashtodon
and Rugger keep the beats going, and New York City-based hip-hop collective
Loaf Muzik
drop by for a live performance.
4 p.m.
It's only a quick jaunt from the skate park to Foam Brewers, where Burlington's
Rhythm Riderz Crew
host a breakdance battle.
A2VT
, DJ Infinite, King LA and Knights of the Round Table featuring
DJ Transplante
take the stage, as well as DJs
Kanganade
, Mashtodon, Big Dog, Crusty Cuts,
Killa Jewel
and Sharkat. Plus, street-art aficionados
Anthill Collective
will be on site working up a large-scale graffiti project.
7 p.m.
Jeh Kulu Dance & Drum Theater
lead a candlelight processional from the waterfront to Nectar's and Club Metronome, a nod to the
vigil
held in Williams' honor after his passing, which processed from the top of Church Street to the old Waterfront Park skate park..
8 p.m.
Both Nectar's and Club Metronome get poppin' with six continuous hours of back-to-back DJs and MCs, including a full-band set from
Mister Burns
and the Hounds, the
Spielpalast Cabaret
,
99 Neighbors
,
Jarv
and a
Sunday Night Mass
"mega mix" featuring DJs Aqua, Chris Pattinson and Justin R.E.M.
Of course, the best way to experience the event's magnitude is to immerse yourself in all it has to offer. Check out the
Facebook event page
for more details and the full, extensive list of performers, DJs and artists.