Margot Harrison
Mural by Kristin Richland at Phoenix Books Burlington (detail)
Ludwig Bemelmans'
Madeline
marching in front of Edmunds Middle School.
Frog and Toad
in City Hall Park.
Dragons who love tacos
catching a bite on Church Street.
Stephen Huneck
's Sally getting a walk — from a cat! — near the Winooski Bridge.
These are some of the whimsical details that careful observers will spot in the mural by Underhill artist
Kristin Richland
that was officially unveiled last night in the children's section of
Phoenix Books Burlington
. It's part of
Children's Book Week
(May 1 to 7), which the store will also celebrate with a special
story time
on Saturday devoted to Adam Rubin and Daniel Salmieri's
Dragons Love Tacos
.
"I'd been thinking about murals since we opened the store," said co-owner Michael DeSanto, who
opened Phoenix in 2012
with his wife, Renée Reiner. But it wasn't until he visited Bemelmans Bar in
New York's The Carlyle
, and saw the beloved illustrator's murals of Central Park splashed across its walls, that he said, "
That's
what we want to do!"
Margot Harrison
Kristin Richland, atop her scaffolding
DeSanto asked Richland, whom he had known "for quite a while," to show him some drawings. The artist, 40, had never done a mural before, but her fanciful prints of animals, which she sells under the name
Sweet Enemy Art
, have made "people say I should illustrate children's books," she said.
Richland designed the mural last summer and began painting in October, perched atop a scaffolding 10 to 12 feet high. She took a break for the busy holiday season and finished by March.
Margot Harrison
Some of Richland's sketches for the mural, displayed at the May 4 reception
Although she's not
really
finished — a mural of a fiery phoenix for a different wall is still to come. And Richland is now on the Phoenix staff, as a bookseller at the local chain's Essex store.
Winding across the three walls enclosing the store's section for younger readers, the mural consists of six separate scenes. Two are pastorals, in which animals enjoy books with views of trees and Camel's Hump. The others depict prominent Burlington locations: the Winooski Bridge (with the Champlain Mill, once home to DeSanto and Reiner's store the Book Rack and Children's Pages, in the background), City Hall Park, the Church Street Marketplace and Edmunds Middle School.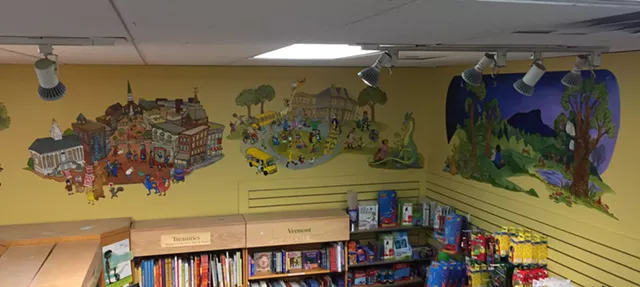 Margot Harrison
Mural by Kristin Richland at Phoenix Books Burlington (detail)
In the Church Street panel, protestors in front of City Hall bear signs touting the importance of reading and supporting indie stores. It's a fitting message for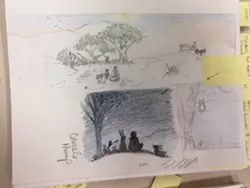 Margot Harrison
More drawings for the mural
Phoenix, which has expanded to two more locations (in Rutland and Chester) since the Burlington store opened and
was a finalist
for Publishers Weekly's Bookstore of the Year award in 2016.
"You read it like a story," said Richland of her mural. "I'm basically illustrating a book right here."