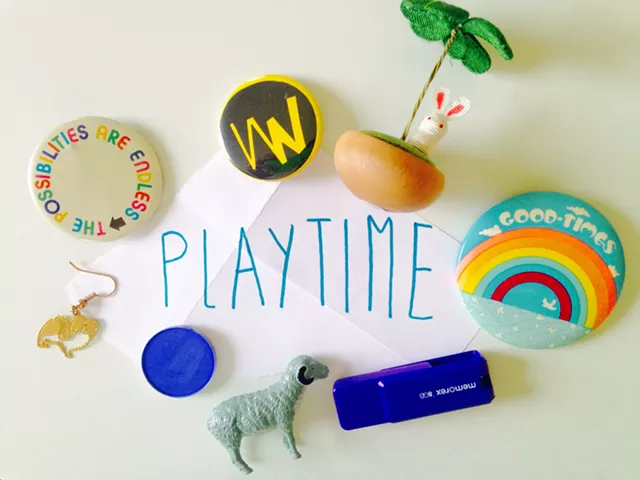 Hey, dudes. I have to admit that I possibly drank too much coffee before writing this post. I'm trying to sit here and write about my personal must-see bands appearing at
Waking Windows
in Winooski this weekend, but it's taking forever. Each time I listen to a band in the line-up, I literally get out of my chair and start dancing like the
woodland montage in Hot Rod
.
My top strategy to ensure that I have the best weekend ever is to program reminders in my phone for the bands that I consider a "must see." My
other
strategies for the weekend include asking friends that live in Winooski for emergency bathroom access so I don't end up peeing in someone's backyard. I also put ear plugs in my pocket.
Because I am a nerd, I label my reminders with different emojis denoting level of attendance importance. I'm going to share five reminders with siren emojis next to them, the highest level of honor in my lexicon.
Friday, 6pm, Main Stage: Kikagaku Moyo
Kikagaku Moyo are a Japanese psych-rock band that sound like the cosmic love children of the Grateful Dead and Flower Travellin' Band. I can't wait to get out of work and lay in the grass, absorbing what Kikagaku Moyo describes as "feeling good music." I refuse to believe in Friday's chance of rain. But this band will surely chase it away it it comes.
Saturday, 11pm, Waterworks: MNDSGN
My eyeballs popped out of my little noggin when I saw Stones Throw Records' MNDSGN on the WW flyer. Expect cosmic West Coast art funk basslines backed by hip-hop beatmaking in the realm of Dam-Funk. The tone is smooth and empowering, with Zen lyricism. It will be the perfect environment for a late night sway.
Sunday, 6:30pm, Monkey House: Beth Head
Alexandria Hall's last musical project,
tooth ache.
, blazed the trail for female electronic artists in Vermont. Hall now resides in New York as a poet and editor, and produces music as Beth Head. Hall sets her poetry to beautifully composed synths and drum programming. Definitely for fans of FKA Twigs' artful futurism.

Sunday, 7:30pm, Rotary Stage: Downtown Boys
Representing Providence, RI, Downtown Boys are punk the way it should be. One of the most hardworking bands in the touring scene right now, Downtown Boys' horn-punctuated, bilingual shred and righteous politics make them a standard-bearing band of the millennial generation. You may have caught a glimpse of their activism in the press during South by Southwest this year. They were part of a group of musicians to sign an open letter demanding SXSW rescind the deportation clause in their contract. Basically, if I had children, this band would be their role models.
Sunday, 10pm, Lucky Cloud: Nerftoss
The NNA Tapes Showcase is always 100-percent quality. But this year's line-up is next level. I've been hoping for a chance to catch Baltimore's Nerftoss and now I finally get my wish. Genius, house-influenced rhythm arrangements of live percussion samples vividly plunge into trance inducing synth vortexes. Nerftoss is on the hyper modern wave of dance music, engaging the audience with textural pauses, with a sound both relatable and challenging.
I'm going to restrain myself from sharing more festival favorites and let you all choose your own adventure. If you see me at the front-left stage of any of these performances, slip me a low five and your mixtape!
Also, here's one last word of festival advice from my mom: Hold on to your friend's belt loops when you walk through the crowd so you don't get separated. And
hydrate
!
(Disclaimer: Amelia Devoid is performing at Waking Windows)