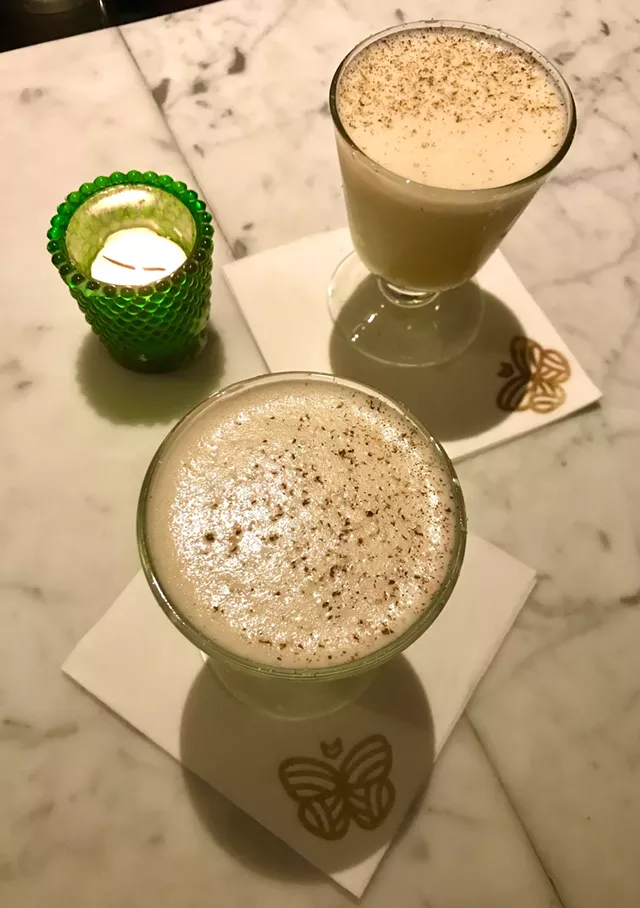 Sally Pollak
Eggnog at Monarch & the Milkweed
Stevie Wonder was singing "Don't You Worry 'Bout a Thing" when I arrived at Monarch & the Milkweed on a recent evening. If I'd been worrying, Stevie's Latin-funk groove and inspired intro ("Paris, Beirut, Iraq, Iran ... I speak very very, um, fluent Spanish"), would've chilled me out and lifted me up.
I wasn't worried about the parking meter: It's free holiday parking season in Burlington, even if some shoppers are at their computers. And after an eggnog hunt conducted mostly by phone, I was no longer worried about finding the seasonal cocktail that delivers spirits as a liquid dessert.
I zeroed in on Monarch after calling eight or so bars to ask if they serve eggnog. "No, but it's a good idea," was the standard reply. (A few bars offer variations on the theme, including a vegan version and one with coconut milk.)
A friend was waiting at Monarch's marble bar when I walked in singing along to Stevie. ("Everybody's got a thing / but some don't know how to handle it.") We ordered our eggnogs; bartender Ronan Gavin, originally from County Mayo in Ireland, pulled a recipe book from a high shelf.
He checked to make sure we eat eggs (raw, I presumed). We said yes, and Gavin mixed a frothy concoction with a blend of three rums — white, amber and dark. The cocktail also contained a whole egg, cognac, brown sugar syrup and crème de cacao, topped with a sprinkling of cinnamon and nutmeg. (I learned the next day from Monarch's owner that this isn't the usual eggnog served at the bar, but that night we weren't worried 'bout a thing.)
My friend, getting into the spirit, took a sip and announced: "This is the best thing that's happened to me today." His comment was timed to a new song on Monarch's sound system, "You're the Best Thing That Ever Happened to Me," by Gladys Knight & the Pips.
I asked Gavin if people in Ireland drink eggnog at this time of year.
"Absolutely not," he proclaimed. "Whiskey and beer." In particular, he said, hot Irish whiskey.
It was hard to argue with that, but the eggnog presented its own best defense.
The cocktail, which Google says has centuries-old ties to Britain (as a drink called posset), is probably not typically paired with venison chili and deviled quail eggs. It worked for us.
Eggnog can inspire a range of activities, from singing "Good King Wenceslas" around the hearth to drinking another round. That night at Monarch, we partook of another round. This time, we asked Gavin to please make an Irish holiday favorite of his choosing.
He mixed us each a "classic West Ireland hot toddy" with Tullamoore D.E.W. whiskey. The lemon round in our drink, which was served in a mustardy mug that complemented the cocktail, was studded with cloves. By now, the Rolling Stones were singing "Shattered" and Christmas had come early.