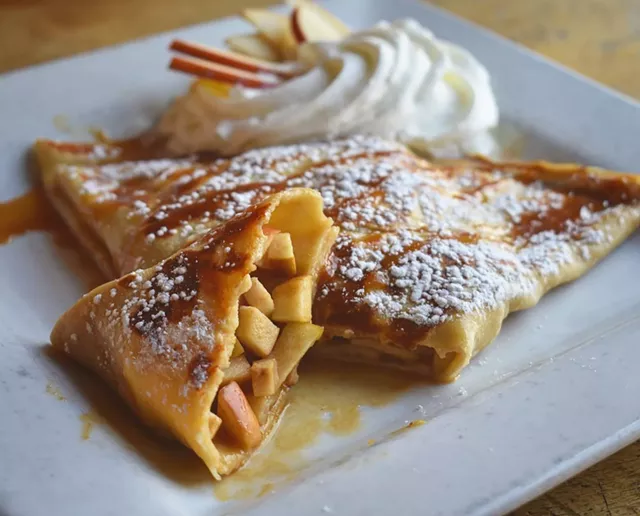 Courtesy of the Skinny Pancake
Apple caramel crêpe
The Skinny Pancake
will open its 11th branch in the spring of 2020, when the crêperie that was founded as a food cart opens a restaurant in Stowe, co-owner Benjy Adler told
Seven Days
.
The newest Skinny will be at 454 Mountain Road, site of the former McCarthy's Restaurant, which closed in the fall after 45 years in business.
"It's pretty cool," Adler said. "They're passing the torch."
The Skinny Pancake purchased the restaurant space and commercial equipment, Adler said. The Stowe restaurant will have a fireplace, a kids' play area, a bar and a seasonal patio. It will be open seven days a week, serving four meals a day — breakfast, lunch, dinner and dessert — Adler said.
"We're a modern-day diner," he added.
Skinny's roster includes three seasonal locations: Stowe and Sugarbush ski resorts and the University of Vermont. Some former employees of McCarthy's are joining Skinny's staff, working at the ski resort venue before the Mountain Road restaurant is renovated and open, according to Adler.
He owns the restaurants with his brother, Stowe resident Jonny Adler. The Skinny Pancake, conceived in a dorm room at Middlebury College, where Benjy Adler majored in music, launched in the summer of 2003 as a Burlington crêpe cart.
A priority of the business is purchasing local food. In October, 74 percent of the food purchases made by the original Skinny Pancake restaurant — which opened on the Burlington waterfront in 2007 — were local, according to the company's audit.