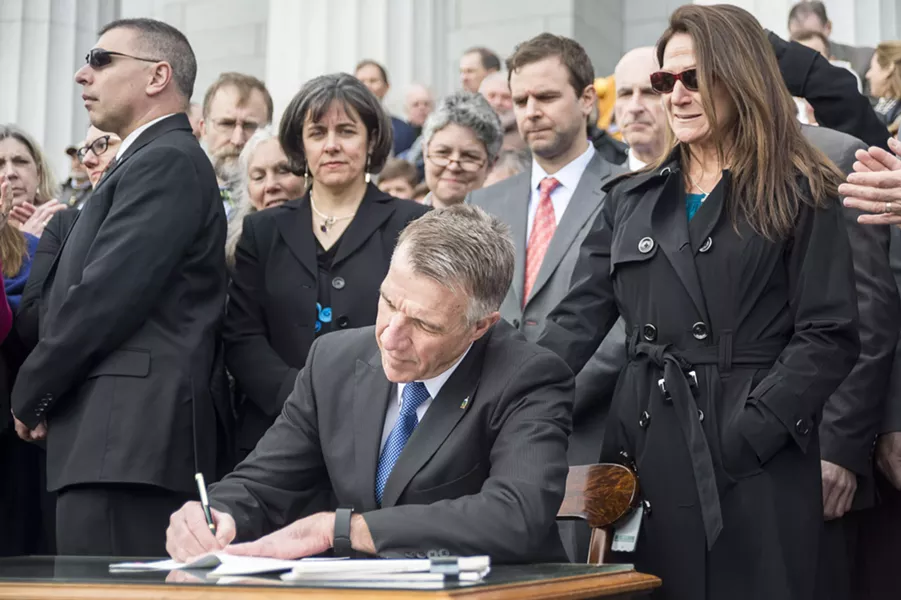 Josh Kuckens
Gov. Phil Scott, joined by his wife Diana McTeague Scott, signs the bills into law amid a mixture of applause and jeers.
Updated at 8:30 p.m.
Gun rights supporters shouted down Vermont's Republican governor Wednesday as he signed a trio of gun-control bills into law, transforming the state from one of the most gun-friendly in the nation to one of the least.
Standing on the steps of the Statehouse, Gov. Phil Scott told a crowd of hundreds that it was incumbent upon the state to combat the epidemic of mass shootings that has swept the country in recent years.
"That's why today we choose action over inaction — doing something over doing nothing — knowing there will always be more work to do," he said. "But today we choose to try."
Scott assured his audience that the legislation would not infringe upon Vermonters' right to bear arms. "What it does not do is take away your guns," he said. "Period."
But the dozens of gun-rights supporters decked out in blaze orange disagreed. "Bullshit!" one responded.
"When is that gonna happen?" shouted another. "Next year?"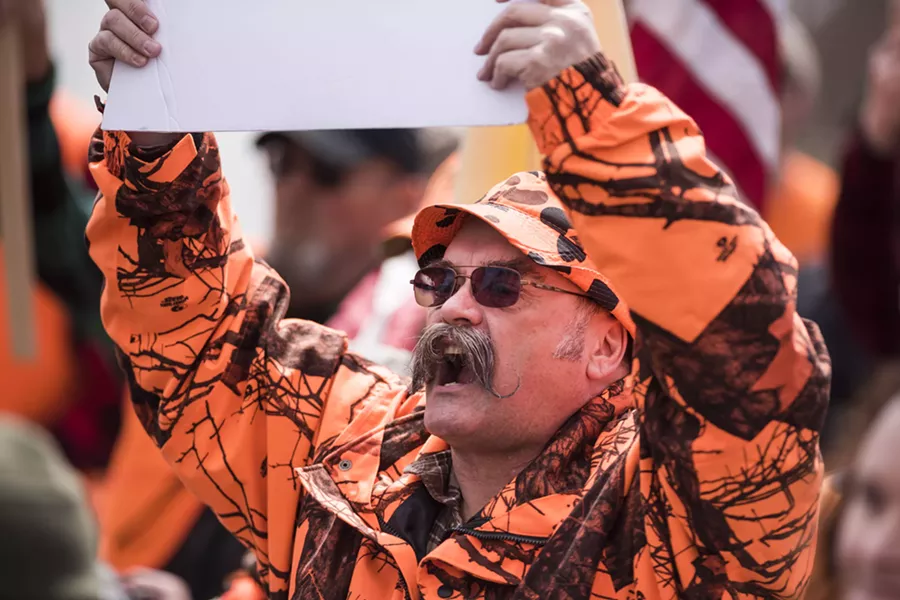 Josh Kuckens
Ben Tucker of Tunbridge voices his displeasure with the governor.
From the moment Scott took his place at the podium, standing beside his wife, Diana McTeague Scott, protesters booed and heckled the first-term Republican. They held signs reading "ONE TERM GOV" and "NOT MY GOVERNOR."
"Traitor! Traitor! Traitor!" they chanted as Scott began his remarks. For the next 25 minutes, they repeatedly interrupted him, shouting, "Liar!" "Resign!" and "Tyranny will not be tolerated!"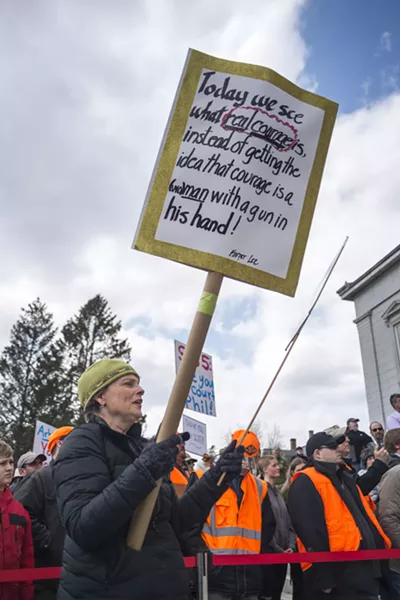 Josh Kuckens
Jean Markey-Duncan of Burlington shows her support for the governor and for the new gun legislation with a Harper Lee quote.
Scott plowed forward nonetheless, sometimes shouting over the protesters and, at one point, admonishing them. "Be careful what you're booing out there," he said, pointing at his detractors as he recounted his efforts to obtain funding for school safety improvements. "If you want to boo on that, go ahead and boo."
While opponents of the legislation made the most noise, supporters also turned out in droves. Scott was surrounded at the podium by Democratic and Progressive legislative leaders, cabinet members and his executive office staff. Rank-and-file legislators lined the steps behind him leading up to the Statehouse.
When one group chanted, "Traitor!" the other chanted, "Thank you!"
The legislation Scott signed included S.55, which mandates background checks prior to all firearm sales, raises the minimum age to buy a gun from 16 to 21, and bans bump stocks and high-capacity ammunition magazines.
It also included two measures targeting those the authorities deem dangerous. H.422 allows police to confiscate guns from people cited for domestic violence, while S.221 allows judges to remove them from those who pose an imminent threat to themselves or others.
Josh Kuckens
Gov. Phil Scott delivers remarks at Wednesday's bill signing outside the Statehouse.
Wednesday's signing ceremony came eight weeks after a gunman killed 17 people at Marjory Stoneman Douglas High School in Parkland, Fla. That shooting and a near-miss at Vermont's Fair Haven Union High School prompted Scott, a gun owner and lifelong proponent of gun rights, to reverse his position. Days after those events, he summoned reporters to his Montpelier office to declare that "everything should be on the table."
Democratic leaders of the Vermont House and Senate agreed. They fast-tracked H.422 and S.221, which had already been under consideration, and allowed, for the first time, a vote on universal background checks. As S.55 moved from the Senate Judiciary Committee to the Senate floor and then to the House, legislators piled on gun-control provisions that, just months ago, would have gone nowhere in a legislature that has long resisted new gun laws.
During Wednesday's signing ceremony, Scott recounted the transformation he underwent following the Parkland shooting and the Fair Haven incident.
"The reality of how close we came to a tragedy like Florida forced me to do some soul searching," he said. "I have hunted and fished my entire life. I've got a safe full of guns, including the one I got when I was 13."
Throughout his political career, the governor continued, he had thought that Vermont was "somehow insulated from the violence the rest of the world is seeing."
Scott acknowledged that his decision carried great political risk. Some Vermont Republican Party leaders have criticized his change of heart, and one conservative Democrat from the Northeast Kingdom, Sen. John Rodgers (D-Essex/Orleans) has threatened to oppose him in this fall's election.
"I recognize how hard it is for some to understand my change of heart on our gun laws, let alone come to the same conclusion I've reached — and that many who voted for me are disappointed and angry," Scott said. "I understand I may lose support over the decision to sign these bills today, and those are consequences I'm prepared to live with."
But, he continued, if he had not tried to avert a potential mass shooting in Vermont, "That would be hard to live with."
Even as he explained and defended Vermont's new gun laws, Scott sought to deliver a broader message: that political discourse in America had grown "intensely and unduly personal — sometimes downright hateful." Too many people, he said, "have given up listening," reducing the conversation to "angry, hateful social media posts."
"I believe our violence issue is fueled by our anger issue," he said. "As governor, as a Vermonter, as an American and as a dad, I'm not willing to accept any of this. We have got to do better."
Josh Kuckens
Jennifer Tedesco, 17, of Woodbury, joins other opponents of the new gun legislation.
House Speaker Mitzi Johnson (D-South Hero) and Senate President Pro Tempore Tim Ashe (D/P-Chittenden) joined Scott at the podium and delivered brief remarks of their own.
In a nod to the protesters who interrupted her with shouts of "Bye, bye, Mitzi!" and "Shut up!" the speaker asked the crowd, "Who else here is grateful that we live in a country where we can exercise our right to free speech?"
Through a chorus of cheers and boos, one man shouted, "You silenced us!"
"We live in a place where you can freely criticize the legislature, the governor, the president — and that's critical to an open democracy," Johnson said.
In his remarks, Ashe mentioned Vermonters he said would benefit from the bills.
"My colleagues in the Senate have heard from victims of domestic violence whose abusers used firearms to exert control over them. We passed these bills for you," he said. "We've heard from constituents whose families have been rocked by suicides. We've heard from the pediatricians and trauma surgeons who treat victims of self-inflicted and other gun violence. We passed these bills for you."
And, he concluded, "We heard from teachers and students and parents who deserve to feel safe when
 they walk through a classroom door. We passed these bills for you."
Josh Kuckens
Opponents of the new measures look on as the governor delivers his remarks.
After the speeches, Scott walked down the Statehouse steps and took a seat at a table to sign the three bills.
"You lied to me, Phil!" one man yelled.
"You lied to all of us, Phil!" a woman added.
Standing behind the stone-faced governor, McTeague Scott patted her husband's back several times to comfort him. After signing the bills, Scott stood and shook the hands of his allies.
"It's a sad day for Vermont!" an opponent shouted as the governor walked away, accompanied by his wife, staff members and security detail.
After the event concluded, Ben Tucker of Tunbridge explained why he'd come to the bill signing — and why he had interrupted it with shouts of opposition. Tucker explained that three years ago, he had queried Scott on his support for gun rights during an event in Barre.
"I came right out and asked him, 'If gun control measures come to your desk, will you sign them?' And he says, 'Absolutely not,'" Tucker recalled. "So as far as I'm concerned, that traitor lied to me, and he will not get my support in the next election."
Mike Channon of Newark attended the event wearing a fake sword that appeared to be stuck in his back. It read, "Flip flop, Phil Scott."
"How did I get that on me?" he asked rhetorically about the sword. "I voted for Phil Scott. Phil has betrayed us all. He's a traitor, as far as I can see."
Josh Kuckens
Gov. Phil Scott and his wife, Diana McTeague Scott, leave the Statehouse after Wednesday's bill-signing ceremony.
But the governor's move earned him the support of some Democrats. Jean Markey-Duncan of Burlington held a sign that read "With you in 2018."
"That's for the governor and all the legislators who worked so hard on this," Markey-Duncan explained. She said that she had not supported Scott in the 2016 election, but, "I will this time."
Jud Lawrie of Essex Junction wore a green Gun Sense Vermont shirt to the bill signing. He said that he had campaigned for new gun laws after the Sandy Hook Elementary School shooting in December 2012, but he had since stepped back from the cause.
"I'd frankly given up," he said. "I just didn't think it was going to happen here."
Lawrie said he wanted to "honor Gov. Scott for the courage he's shown."
"He's made a lot of enemies," Lawrie said. "I'm a Democrat, but I think I'll be voting for him in November."


Taylor Dobbs contributed reporting.
Disclosure: Tim Ashe is the domestic partner of
Seven Days
publisher and coeditor Paula Routly. Find our conflict-of-interest policy here: sevendaysvt.com/disclosure.