Dave Lloyd
The saturated laboratory at the Center for Cartoon Studies
Updated February 5, 2020.

If the fire doesn't get you, the water does. That's what the
Center for Cartoon Studies
in White River Junction learned the hard way last month.
On January 3, when the school was on break, an accidental fire broke out in an apartment over its offices and lab space, in a former department store called the Colodny Building. (CCS' classrooms and extensive library are in a second building, the former post office, just down the street.) The apartment was unoccupied and being worked on when a fire started and was quickly contained.
But not quickly enough to prevent the sprinkler system from doing its job, which was to saturate everything in sight.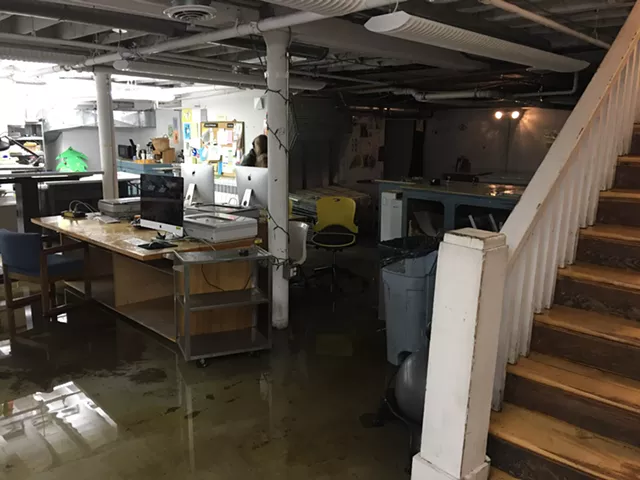 Dave Lloyd
The saturated laboratory at the Center for Cartoon Studies
"I got a call to come down — I live a block away," said Michelle Ollie, cofounder and president of CCS. "The fire examiner said it was an accident — something sitting on top of a stove or something. "
A basement-level laboratory filled with computers, printers and other equipment was drenched. "We couldn't work in the lab because the air was so thick with humidity [from the water]," Ollie said. "School was starting the following Monday, and we were in the middle of an annual fundraising campaign."
In addition to heavy-duty fans from Servpro drying out the premises, the bright side has been an outpouring of support and practical assistance from the community, from carting away sodden items to a rapid restoration of computers. On the other hand, the Colodny "is an older building, so lots of TLC is needed," Ollie observed.
"I wouldn't wish this on anybody," she added. "But repairmen are in there now and we're moving on."
Upper Valley videographer Eric Francis captured the initial cleanup and shared his
video
with
Seven Days
.
Disclosure: The Center for Cartoon Studies is a partner in the Good Citizen Challenge, a youth civics initiative developed by
Seven Days
and
Kids VT
.