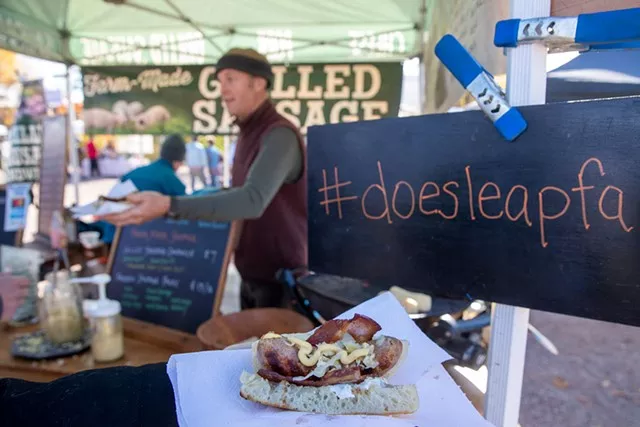 File: James Buck
Does' Leap Farm at the 2019 Burlington Farmers Market
The Vermont Agency of Agriculture, Food & Markets issued
detailed guidance
for the state's farmers markets on Friday, allowing them to open May 1. They were
previously shuttered
under Gov. Phil Scott's "Stay Home, Stay Safe" order.
In a press conference earlier in the day,
Scott emphasized
that the guidance would "focus on food distribution, not a social gathering."
Market managers, advisory boards and farmers have anxiously awaited guidelines from the state on how they can adapt their operations for the summer season. Originally expected last Friday, today's guidance specifies general operations procedures, social distancing requirements, proper cleaning and sanitary protocols, and increased communication strategies that markets must follow while the stay-at-home order remains in effect.
The guidance notes that it is "intended to help farmers markets serve communities and provide direct access to healthy, nutritious foods, while also supporting local farmers and food businesses."
In a post sharing the guidance on
social media
, NOFA-VT thanked Scott and VAAFM "for issuing clear, thoughtful guidance for farmers markets to operate safely, while enabling customer[s] to spend 3SquaresVT/SNAP benefits to buy food from their local farmers."
In order to operate safely during the COVID-19 pandemic, farmers markets will need to redesign their layouts and operating procedures to enforce social distancing and limit person-to-person contact. These measures will create an increased need for sanitizing and protective equipment and will require extra staff.
Markets across the state are working to cover those costs without passing the burden on to farmers and vendors. The Burlington Farmers Market, going into its 40th season, has launched a
fundraising campaign
to offset those costs and ensure that it can operate in accordance with the new guidelines.
Farmers markets provide centralized access to local food; they've also traditionally served as cultural hubs. While things like live music, cooking demonstrations and children's activities are now off-limits, the guidance from VAAFM allows the markets to continue safely connecting farmers and consumers, albeit at a six-foot distance.
Scott also announced further
loosening of business restrictions
on Friday, allowing outdoor retail facilities such as garden centers and greenhouses to start providing in-person service on April 27.
As the weather warms and food truck season approaches, Seven Days reached out to the Agency of Commerce and Community Development to seek clarification on how the guidance around bar, restaurant and food service applies to food trucks.

An email response from the agency clarified that since most food trucks, snack stands and food carts have takeout and curbside capabilities built into their business models, they are permitted to operate under the "Stay Home, Stay Safe" order, as long as they are not part of a festival or large food truck gathering.