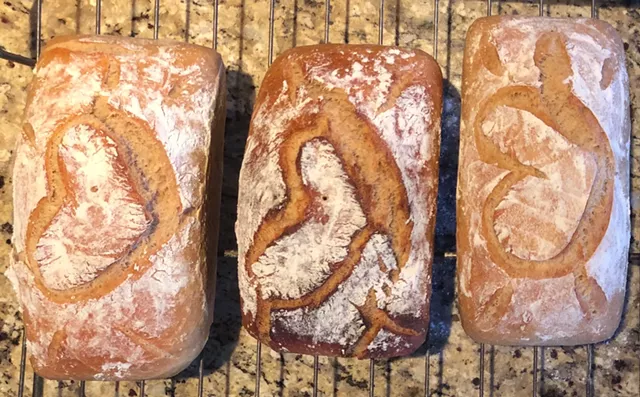 Courtesy of Mary Jane Dieter
"Bread Fairy" loaves ready for delivery
About a month ago, Mary Jane Dieter decided to start baking bread for her neighbors. Dieter was looking for a way to help her Williston community during the COVID-19 crisis and realized that her skills as an avid from-scratch home baker were a perfect way to help those feeling the impacts of social isolation.
Dieter is a social worker by training and a facilitator for creating positive change in organizations through her business
Appreciative Pathways
.
"I can't offer facilitation skills right now, as most people aren't working or are working remotely, but helping people is my happy place," Dieter told
Seven Days
over the phone. "So I thought,
I can make bread.
It's my way to show my gratitude for all of my good fortune and to connect with people; it's just another appreciative pathway."
As with many heartwarming stories of community connection during this crisis, Dieter took to
Front Porch Forum
to make her offer. On March 23,
her post
in the Williston forum let neighbors know that she and her husband, Steve Kuhn, "would love to make homemade bread for those not able to get to grocery stores easily."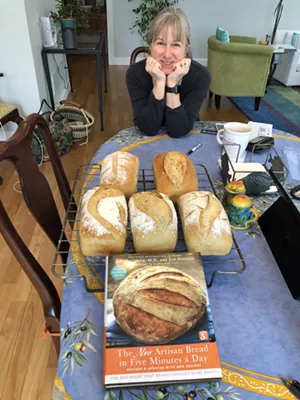 Courtesy of Mary Jane Dieter
Mary Jane Dieter with loaves of bread ready for delivery
They made nine deliveries in the first three days; a month later, Dieter said they've delivered 58 loaves of bread.
According to a
statewide survey
conducted by the University of Vermont at the end of March, food insecurity in Vermont has increased by one-third during the coronavirus pandemic, from 18.3 to 24.3 percent, and that insecurity is strongly tied to employment status.
The survey also revealed an increase in the percent of Vermonters reporting that someone brings them food, which doubled from 10 to 20 percent since the beginning of the outbreak. Dieter's "Bread Fairy" deliveries are among myriad ways in which individuals and organizations throughout the state are helping to
feed their communities
.
Dieter has since broadened the post to include people who are simply craving a loaf, too — offering
white
or
wheat
, dabbling in sourdough, and even figuring out a gluten-free recipe to meet several requests.
"It's not always just physical, sometimes people need something that feels comforting," Dieter said.
She does her best to deliver loaves while they're still warm, coordinating with the recipients by email, text or phone to let them know when the freshly baked bread will appear on their doorstep.
Dieter had experimented with bread making in the early 1980s, tackling the labor-intensive
Tassajara
recipes. The process she's relying on now — from a book called
Artisan Bread in Five Minutes a Day
by Jeff Hertzberg and Zoë François — is much simpler.
"There's no kneading. Just mix it and flop it into a tub or a bowl, and within two hours you can bake it," Dieter said. "It's fast and easy."
The book has sold hundreds of thousands of copies since it was first published in 2007, thanks largely to its accessible bread-making method. Dieter discovered it through a friend three years ago, and she and Kuhn have made all their own bread ever since.
"The simplicity of it makes me think that anyone could do it and would want to do it," Dieter said. "If you make one loaf for yourself, you can make enough to make one for another person."
Sourcing flour during the pandemic hasn't been a problem, she said, noting that Costco was well stocked with 25-pound bags, as well as large bags of yeast. She also connected with the cook at Williston Central School for a 30-pound bag of flour after the state's schools closed.
Dieter's delivery route throughout Williston takes up to half an hour, and to keep things manageable, she's planning to keep her Bread Fairy duties contained to her local community.
Courtesy of Mary Jane Dieter
Bagging up a "Bread Fairy" delivery
She sees the need throughout the state, though, and hopes to encourage other bakers to follow her lead.
"I know that there are other people out there for whom this would be a great match of things they intrinsically enjoy and things that are so wonderful for the recipients," Dieter said.
To help aspiring Bread Fairies get started, Kuhn
created a website
that offers Dieter's recipes, the wording of her Front Porch Forum announcement, the spreadsheet she uses to keep track of orders, her list of ingredients and supplies, and ways to contact her.
"My wish is that people around Vermont will know about the website, be able to access it and know that I'm a resource if they need help getting started," Dieter explained. "It can be really simple and personal, and it doesn't have to be perfect. Whatever you make of it is what it's supposed to be."