Sally Pollak
Kris Nine at City Market
We needed garlic, lettuce and beer, and the cats and dogs were running low on kibble. Also, we had to re-up our supply of household essentials: ginger ale and vanilla ice cream. In other words, it was time for a trip to
City Market
.
The store opens at 7 a.m., with the first hour designated for people 60 and older and "those who identify as at-risk." I don't identify as 61, but I am 61. So I set out for the South End store at 6:55 on a recent morning.
Before I left the house, I spread a towel on the floor of our glassed-in front porch, left a pair of leggings there and set out a bowl of soapy water. Even as I made these strange moves, I could barely make sense of them:
Would I change my clothes on the porch or in the house
?
Before or after I washed my hands
?
More broadly: What was the point? Was this to subdue my psyche or the virus?




The only answer was to go back to bed. But mission called.
A few people were waiting outside the store when I got there, and we were soon let in with appropriate spacing. (The member-owned co-op has since implemented a 60-person limit at the South End store; 50 downtown.) I wore latex gloves and a mask, and I paused in the vestibule to clean the handle of my shopping cart with a store-provided sanitary wipe.
This was to be an efficient and focused trip, a one-person race. The list in my head zeroed in on a few things, but I planned to load up: fruit, yogurt, coffee, toilet paper, apple cider, frozen pizza, cheese, cookies and pasta.
I hit a few stumbling blocks: My coffee bag ripped, and I wasted precious moments fussing with that at the grinder. The beer cooler was being stocked; the last thing I'll do in a pandemic is say "excuse me" to a grocery clerk, claim six feet of space and find my preferred brand. Instead, I walked to the end of the case and grabbed a six-pack of Sierra Nevada.
In the toilet paper section, the shelves were bare. I'm OK using leaves on the Long Trail, but I'm not hiking the Long Trail. In any event, the leaves in our neighborhood aren't out yet. ("Nature's first green is gold," the poet tells us.)
At the dairy case, I took a few awkward steps, negotiating terms of engagement with other masked old folk. "After you," I said from afar-ish, with a nod to the yogurt. "No, after you." ("One step up and two steps back," the songwriter says.)
The floor at City Market is marked with directional arrows and social-distance measurements. Still, I thought it might make more sense to look ahead, not down, for a sign of approaching danger: a person, a vector. Is it me?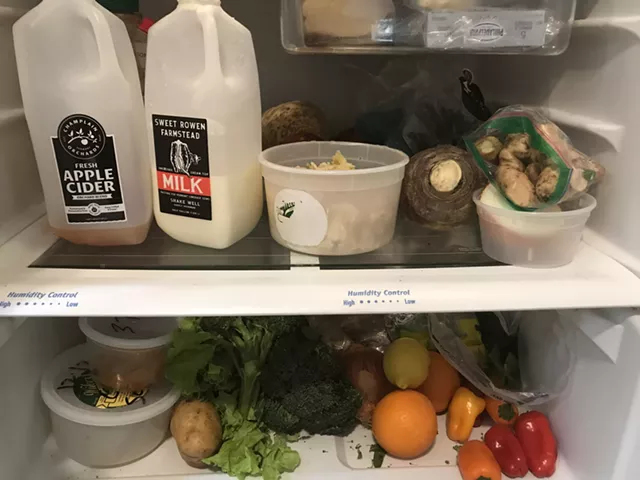 Sally Pollak
No ginger ale in the refrigerator
At the register, I was pleased to see cashier Kris Nine, recognizable beneath his mask and behind a Plexiglas shield. He gave me the go-ahead to move forward; I stepped off the marker as if leaving a game of upright Twister.
I always enjoy being in Kris' line, but never more than in this time of mortal peril. He makes everything seem OK. A junior at the University of Vermont, Kris should be studying in Germany this semester. But his trip was canceled due to the coronavirus, and he's taking the semester off.
Our grocery-line chitchat is brief these days, but Kris took the time to give me a toilet paper tip: He said it's usually stocked around 9:30 a.m., but it could be as late as 11. He also suggested I try Cumberland Farms. (In the olden days, we talked about more interesting things.)
At home, I washed my hands, took a shower and threw my clothes into the washing machine. I went onto the porch, added a capful of Clorox to the bowl of soapy water I'd left there, and used a Handi Wipe to wash the packaging of our food. Then I washed off the washing because it seemed odd to use poison for this purpose. (I know nothing; I'm just a Clorox rookie.)
The simpler and more appealing measure is to leave stuff — rice, beans, nuts, Oreos — on the porch for a few days. If the virus is haunting our food, it'll die. Finally, I washed the fruits and vegetables with water — water only! — and put them away. I'm aware of our good fortune that we can do any of this, and I'm super thankful to Kris and his coworkers for keeping the store going.
By the time this home-front grocery routine was over, toilet paper was due back on the shelves at City Market. I returned to the store around 10, but it was sold out.
I'd forgotten garlic on my first trip, so I hoarded bulbs and bought some pesto. On my way home, I stopped at Shaw's to look for toilet paper. No luck. I did, however, feel somewhat lucky that the man having a coughing fit in the aisle was a solid 15 feet in front of me and not shooting his spray my way.
I arrived home with a new-old way of thinking. If soap and water is good enough for my hands — and that's the public-health mantra — it's good enough for pesto.
A day or two after that shopping trip, I read a
COVID-19 Q&A with Tim Lahey
, an infectious disease specialist and professor of medicine at UVM. This line rang out: "After returning from errands, I wash my hands, I wash vegetables and fruit from the market."
If it were permitted, I'd hug him.
The other day, I called Kris and asked about his routine when he gets home from work. He said he washes his hands right away, boils his masks in water (he uses two per shift), and takes a shower.
"At least it makes me
feel
clean," he said.