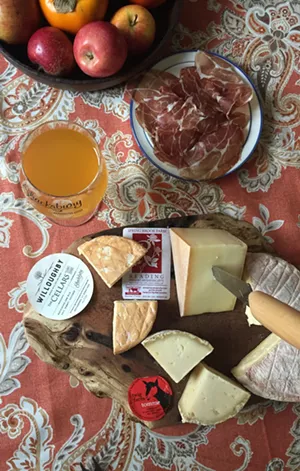 Jordan Barry
A Vermont cheese plate
How did the sudden closure of restaurants in New York City affect artisan and farmstead cheese producers in Vermont? In a word, poorly. But the loss of that major market and others has led to the creation of a new
online resource
, designed by the Vermont Cheese Council, to connect local cheesemakers to consumers in Vermont and beyond.
Vermont's cheese industry — valued at $650 million, according to the council — is experiencing significant impacts from the COVID-19 crisis. One of the largest sales channels for the state's cheese serves restaurants and institutions, both within Vermont and in urban markets throughout the Northeast.
"Restaurant closures in the New York City area resulted in a simultaneous 50 percent drop in sales for Vermont's artisan cheesemakers," Marty Mundy, executive director of the
Vermont Cheese Council
, told
Seven Days
. Mundy added that the drop in sales has since "grown to be over 50 percent for a lot of cheesemakers."
Mundy described this rural-urban sales channel as a "cheese highway," saying that when a shutdown happens along the transport path, the large quantities of cheese that were destined for those markets create a backup. That backup is felt most acutely in the state's aging caves, where cheeses line shelves waiting to reach their optimal age and flavor.
"Softer cheeses — things like spreadable cheeses, chèvre, Camembert- and brie-style cheeses — they're meant to be eaten at a specific age, when they're fairly young," Mundy said. "Their flavor starts to deteriorate once they get past that age. If they're not moving out at the rate they need to move out, then they can't be sold."
Semi-firm and hard cheese have age targets, too, though they spend longer in the aging spaces. These products are piling up and making it difficult for cheesemakers to make new cheese and properly age it.
"We have the scenario where an aging space is going to fill eventually," Mundy said. "Makers then have to make decisions about whether they make less cheese, or not make cheese at all."
Those hard decisions, Mundy continued, come down to how these producers are thinking about milk. Farmstead producers, who use milk from their own herds, may be forced to dry animals off early — so that they're not producing milk throughout the rest of the season — or reduce their herd size.
While dairy farms around the state have already been forced to dump milk
due to institutional closures and plummeting prices, Mundy said that, to her knowledge, the Vermont Cheese Council's 52 cheesemaker members so far have been able to find outlets for their milk and avoid that fate.
online sales directory
for Vermont cheese. The directory connects customers — in Vermont, New York City, Boston and elsewhere in the United States — to their local cheese and specialty food shops; and it connects Vermonters directly to cheesemakers.
Courtesy of the Vermont Cheese Council
Screenshot of the Vermont Cheese Council's online sales directory
The directory facilitates online and phone ordering and lets customers see their options for curbside pickup or delivery. For customers who don't have a certain cheese in mind, the council points out shops that offer bundle packs of Vermont cheeses. It encourages customers to "trust your monger," to let cheesemongers select a mix of products to create the desired quantity of cheese.
Within Vermont, the directory lists 21 cheesemakers offering online ordering. It also lists retailers — including the
Mad River Taste Place
and
Cheese & Wine Traders
— that offer online ordering with curbside pickup and local delivery for those seeking a mix of cheeses.
Mad River Taste Place is also working with the council to sell cheese for producers who can't accept online orders through their own websites.
Beyond the directory, Mundy says Vermonters have many opportunities to support small, local cheesemaking businesses. Numerous CSAs offer cheese add-ons, and co-ops are well stocked. "Our goal is to get as many cheesemakers through this as we can," Mundy said. "Ideally, all of them."
"Eat local," Mundy concluded. "If you eat it, it will stick around. If you spend your money elsewhere, it won't."