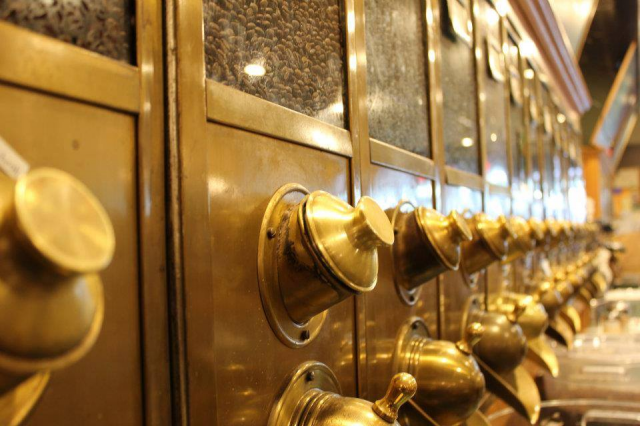 Courtesy of Uncommon Grounds Coffee and Tea
House-roasted coffee beans at Uncommon Grounds Coffee and Tea
Coffee will be free on Monday, Dec. 23, at
Uncommon Grounds Coffee and Tea
, when the well-loved Church Street Marketplace coffee shop serves customers for a final day after 25 years in business.
Owner Brenda Nadeau is retiring and closing the café and roastery that was founded by her parents, Skip and Beverly Blakely, in May 1994. Drip coffee will be free on Monday as a thank-you to her regulars, she said.
"We're doing heavy discounts on everything, and giving away drip coffee," Nadeau said. "We're just trying to give back to our people."
She chose a Monday for her final day in business to recognize the weekday coffee crowd, the five-day flow of regulars who have supported and patronized Uncommon Grounds over the years.
"The people that are on Church Street with us, who are downtown with us, they're our people," Nadeau said. "So we wanted to end with them."
The steady presence of regulars has been punctuated by special events at the coffee shop: a wedding, a memorial service, and countless first dates, Nadeau said.
Courtesy of Uncommon Grounds Coffee and Tea
Latte at Uncommon Grounds Coffee and Tea
Nadeau
announced in October
that she would close Uncommon Grounds at the end of the year to spend more time with her family.
She said she intends to walk in the woods and read books, but her overall plan is "to not be in charge of anything for a little while."
One of her managers,
Maya Crowley, will open a café and bakery
, Uncommon Coffee, in Essex next spring; and the storefront at 42 Church Street is for lease, according to Nadeau. (Efforts to reach the realtor were not immediately successful on Tuesday.)
Meanwhile, the staff at Uncommon Grounds is spending its final weeks on the job serving coffee, making espresso drinks, sharing memories — and accepting condolences.
"As sad as all our customers are, and they express it us, it can be exhausting to hear it over and over, day after day," Nadeau said. "When you're the direct family and you're at the wake, and you have to go through the whole line of people, that's what it's felt like on certain days."