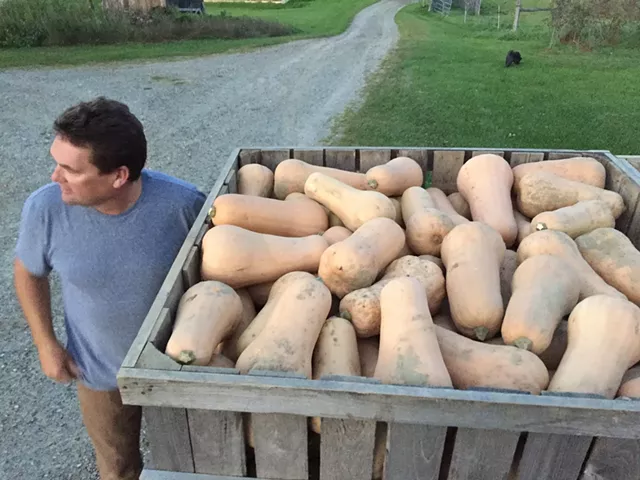 SALLY POLLAK
Eric Rozendaal with his butternut squash at Rockville Market Farm in Starksboro
Eric Rozendaal, a farmer whose products included eggs, butternut squash and maple lemonade, died Tuesday morning on a family vacation in the Bahamas. He collapsed while running at one of his favorite places, his wife, Keenann Rozendaal, told
Seven Days
by email. Rozendaal, who was 51, owned and ran
Rockville Market Farm
in Starksboro.
He started farming at the Intervale in Burlington, and established his 108-acre organic farm on conserved land in Starksboro in 2001. Rozendaal specialized in several crops — his egg business is called Eric's Eggs. He was an innovative farmer who processed his squash for donuts made on the farm and for large wholesale accounts, including the
University of Vermont Medical Center
.
"I think he was an extraordinary visionary in that he had more ideas than anyone could keep up with," said Julie Rubaud, his first farming partner and the mother of Rozendaal's daughter, Louissa. "There's a huge hole in the world right now. Above all, he was an incredible father." Rozendaal also has a son, Hans, with Keenann.
Rozendaal ran Rockville Market Farm with Keenann and with the assistance of two brothers from Guatemala who live and work on the farm six months a year. Rozendaal, who had served in the Peace Corps in Guatemala, spoke Spanish with his crew. He said he couldn't operate the farm without the Pec Ticun brothers.
"Keenann and I feel like we won the lottery," Rozendaal told
Seven Days
last fall, talking about his crew. "They're family."
Rozendaal grew up in South Burlington and was a longtime presence at the Burlington Farmers Market, where his booming voice could be heard above of the noise of the crowd. His stand on College Street sold produce, eggs, donuts and gorditas — a grilled tortilla filled with sausage and eggs raised on the farm, and topped with butternut squash hot sauce.
"He's just been an innovator since day one," said Hank Bissell, owner of
Lewis Creek Farm
in Starksboro. "The first time I heard of him, he was growing artichokes at the Intervale. Every time I turned around, he was doing something new and different."
File/Keenaan Rozendaal
Family and farm crew at Rockville Market Farm
Five years ago, Rozendaal established a vendor stand at
Smorgasburg
, a large outdoor food market in the Williamsburg neighborhood of Brooklyn. His original market product was gorditas, but soon the Rockville stand in New York was known for its maple lemonade, which Rozendaal trucked in large quantities from Starksboro to the city. He had since expanded to several markets in New York.
"He was one of the fathers of farm-to-table," said Frank Pace, chef-owner of
The Great Northern
in Burlington. "Eric is one of the first guys [responsible] for why we buy produce in Vermont. He was a great guy."