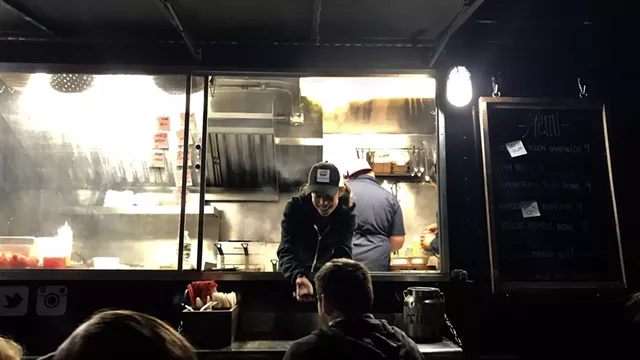 Courtesy of Pioneer Food Truck & Catering Co.
Lindsay Taylor, Pioneer Food Truck
While it's technically spring as of Tuesday, nature clearly missed the memo. But let's not let that stop us from dreaming of warmer days, in all their sunshine-y, warm-breezy, sun-dressing, food-trucking glory.
On that note, there's a new truck gearing up to hit the road in Burlington this summer and it's got a couple of foodie notables behind the wheel.
Pioneer Food Truck & Catering Co.
chef-owner Jean-Luc Matecat recently wrapped up two years in the kitchen at
ArtsRiot
. His past includes time at the
Inn at Weathersfield
, Pistou and other well-respected locales. Lindsay Taylor, his partner in life and business, will oversee the service operations. She has served at
Misery Loves Co.
and
Dedalus Wine Shop, Market & Wine Bar
, among others, and is currently at
Butch + Babe's
.
When the truck hits the trail, its menu will reflect the "culmination of my experience [cooking] around the world," Matecat told
Seven Days
.
More specifically, that means plates such as Vermont beef burgers with kimchi and bacon, as well as spicy, cilantro-laced minced alpaca-meat salad, à la Thai larb and Vietnamese-style barbecue beef with rice and green papaya, according to a
sample menu
on the truck's website. And shoestring fries, Matecat said — like
the ones at Mule Bar
, where he was the opening chef — will always be available.
Matecat said that starting in early May, the truck will park on Burlington's Pine Street Wednesday through Friday afternoons, near the Maltex Building where Stefano Cicirello and
Dolce VT
posted up for the past two summers. In fact, Matecat and Taylor bought the truck from Cicirello, who, after five years on the road, is ditching his wheels to focus on other projects, TBD.
As the weather warms and Taylor and Matecat get a better feel for the rhythms of the business, they may add other weekday dates. On the weekends, they'll be available for catering engagements.