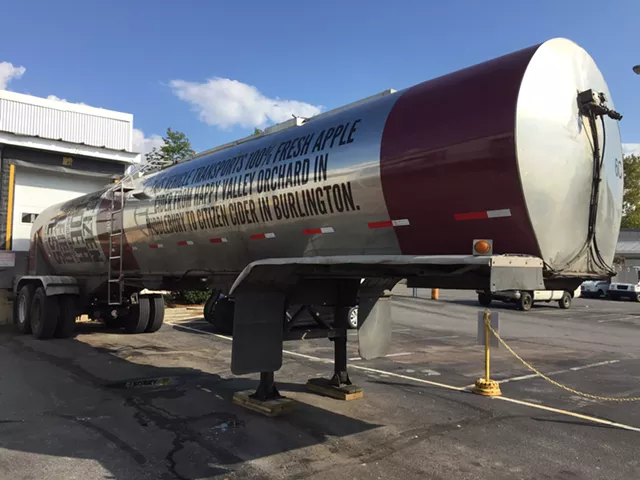 Sally Pollak
Apple cider tanker truck at Citizen Cider on Pine Street
Citizen Cider
will begin work in two weeks on an expansion to its business that will bring a portion of its hard-cider production to a second site in Burlington, cofounder Justin Heilenbach told
Seven Days.

The cidery with a production facility and taproom on Pine Street will move its apple-pressing operation from Middlebury to 180 Flynn Avenue, Heilenbach said. Currently, apples are pressed in Middlebury and transported to Burlington in a tanker truck filled with apple cider.
"We had a lot of choices for where to go," Heilenbach explained. "We're in the Enterprise Zone for a reason," he continued, referring to an area in Burlington's South End that is zoned for mixed commercial use.
courtesy of Citizen Cider
Citizen Cider in Burlington
"People want to see how things are made," Heilenbach said. There is value in a neighborhood, he thinks, in which the public can "interact with manufacturing."
He added that he is pleased as well to bring an agricultural product directly from farms to a processing facility in the city.
The first phase of the project calls for apple pressing to start at the Granite Group building on Flynn Avenue in early 2018, he said. Citizen Cider will later move other aspects of its production from Pine Street to the new location. A third phase of the project could include a tasting room at Flynn Avenue, according to Heilenbach.
Citizen Cider opened six years ago at Fort Ethan Allen in Essex and moved to Pine Street in the spring of 2014.

Correction, September 24, 2017: An earlier version of this story misstated the name of the building where the expansion will occur.