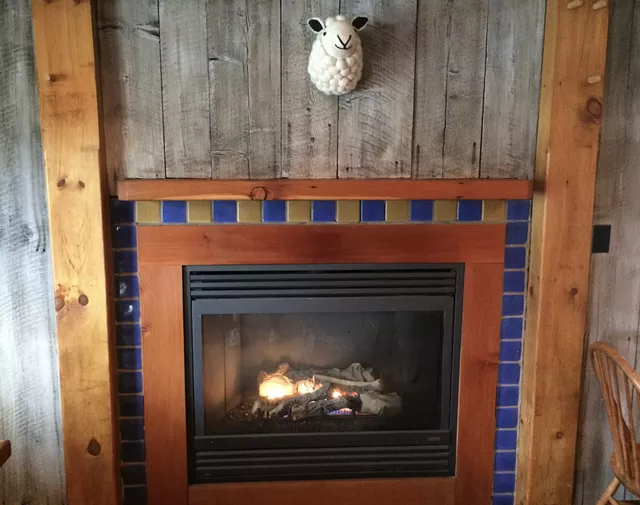 Suzanne Podhaizer
The fireplace at Shepherds Pub in Waitsfield
Above the fireplace at
Shepherds Pub
in Waitsfield hangs the head of an animal, its dark eyes watching the dining room. But this trophy is no triumph of taxidermy — it's a puffy, fabric sheep head, a faint smile on its sewn-on lips. It's a cute, innocuous nod to Vermont's hunting culture.
It's also an indication of the restaurant's theme. Located in the same building as the
Mad River Woolery
— a mini-mill that processes small batches of local fleece into felt and yarn — the spot, which opened last December, serves up lamb and beef from nearby farms in its signature shepherd's pie.
Taking the savory pie concept even further, the SP also offers a rotating selection that sometimes includes fishermen's pie with cod and mushroom cream sauce, chicken pie with leek gravy and puff pastry, pulled pork pie, and whatever other versions tickle the owners' fancies.
And, although the owners don't like to use uppity language to describe it, many of the ingredients used in their comforting dishes come from folks they know. Because why not support your neighbors by buying their fresh, delicious food? Andy Linnevers, of
Back 40 Farm
in Stowe, is one of the pub's primary suppliers.
Suzanne Podhaizer
Shepherd's pie
As a first-time visitor, I felt happily beholden to trying the shepherd's pie ($17), which arrived with a seasonal side salad topped with pickled cauliflower, green and purple beans, and beets.
The hearty portion of casserole came in a piping-hot cast-iron dish; the cheese on top was bubbling and brown and topped with a scattering of minced herbs. When I dug in, I found the meat and potatoes were nicely seasoned, and the portion was big enough to stretch out over two meals. I was too full to order dessert.
The Jackson Five were on the sound system as I ate, which sparked co-owner Jason Neimark to regale me with stories about his earliest musical memories. It was the odd time between lunch and dinner, and the dining room was empty except for me. We chatted, joked about the mounted sheep's head, and talked about the struggles of running a restaurant. Then I headed out into a spring drizzle.
Another SP bonus: It's perched at the top of one of the most beautiful stretches of road in Vermont, Route 100 between Warren and Rochester. Fortified by the meal, I drove the curves slowly, watching the rain drip from newly budded leaves, awed by the torrential waterfalls. If you have a chance to drive that road, do it. If you're hungry along the way, keep your eyes open for pies.