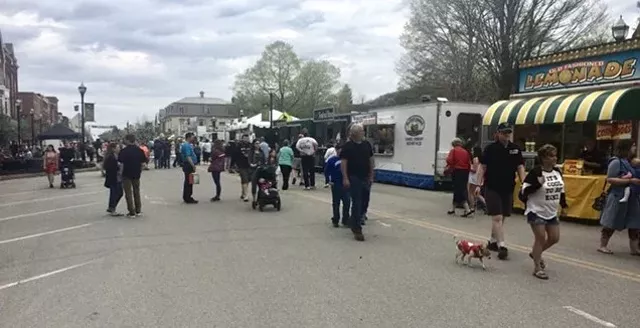 Suzanne Podhaizer
Vermont Maple Festival
I had my muck boots on and was prepared to forage for fiddleheads when my phone rang. A group of friends — including Ed, who grew up near L.A. and had never tasted pure maple syrup — were getting ready to head to St. Albans for the 51st annual
Vermont Maple Festival
. Did I want to join them?
It's been years since I visited Rail City, so I figured the fiddles could wait. I imagined a small gathering with a handful of friendly sugarers, a maple creemee stand, maybe some sweet 'n' tangy mustard and candied nuts, and some old-timey musicians.
Turns out, that was a serious underestimation of the festival's scope. 45 minutes later, we rolled up and parked near some fair rides. A family walked by with a baby in a stroller, plus a toddler waving one sticky hand in the air while digging around in a bag of maple cotton candy with the other. One little girl had shimmery butterflies painted on her face.
We meandered down Main Street, which was closed to vehicles. Shops had their doors open to welcome in the throngs. Along the way were the Bloomin' Onion, Mr. Sausage, and Al's French Fries stands familiar from the Champlain Valley Fair, plus a slew of other fast foods. Syrup-y sweets abounded.
What else? A craft show and an antique show. Bands. A foot race. A variety of events all day long. We wandered the stalls, loaded up on maple lollipops, munched on fried dough, and listened to a band play hits from the 1980s.
The best part of the whole thing was that everybody in town was getting in on the fun. A café had special maple coffee drinks for sale. And, when we stopped at
One Federal
for lunch, I was able to order a bracing Vermont Old Fashioned from a selection of cocktails made just for the festival. Even the Buffalo sauce on my chicken wings was laced with the sweet stuff.
Suzanne Podhaizer
Maple Old Fashioned at One Federal in St. Albans
Best of all, when my friend whispered in our server's ear that Ed was a maple virgin, she brought out a round of syrup shots for the table. He liked it, so we told him that he's allowed to stay in Vermont. For now. We still need to see if he can properly milk a cow, and if he's good at driving in the mud.
Suzanne Podhaizer
Ed tries syrup for the first time
The Vermont Maple Festival continues through Sunday, April 30 … it's Grade A fun.