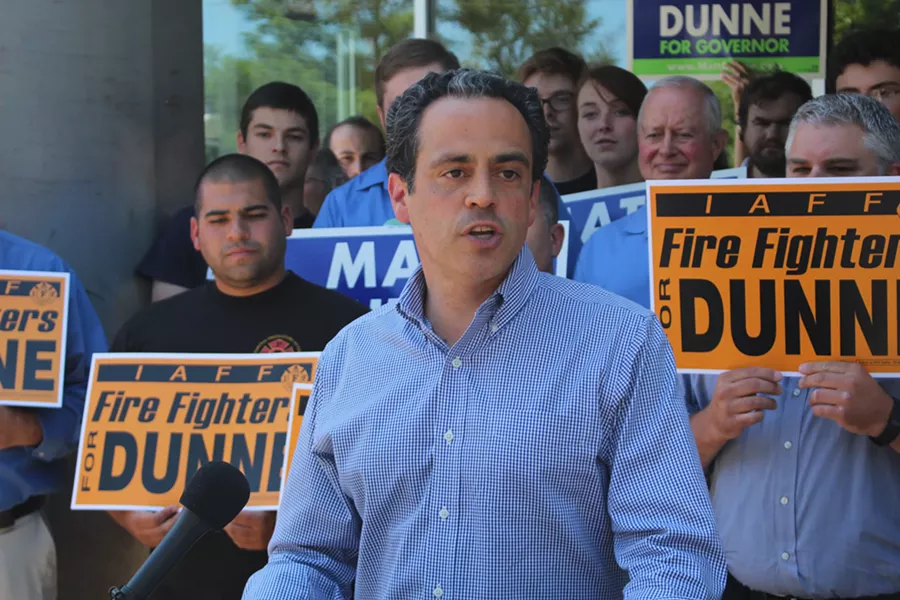 Matt Dunne on Wednesday in White River Junction
An aide to Democratic gubernatorial candidate Matt Dunne lashed out at rival Sue Minter and at Gov. Peter Shumlin on Wednesday, referring to them as part of an "establishment" seeking to derail Dunne's campaign.
At an emotional press conference in White River Junction, campaign manager Nick Charyk bemoaned what he called "unfounded, unfair and flat-out false" attacks on his boss over the past week.
"Matt is running on a platform of bold, progressive change. And that is a threat to the establishment. And the establishment is attacking Matt," Charyk said, standing outside of Dunne's campaign headquarters with fellow staffers, volunteers and the candidate himself. "That is what this debate over the past few days has been about — plain and simple."
Charyk was referring to the
deluge of criticism
Dunne has recently faced from
political rivals
and
environmental activists
over his position on siting industrial-scale wind projects in Vermont.
Last Friday, the Hartland Democrat released a proposal that would empower host communities to reject such projects by town-wide ballot. Though Dunne maintained the new plan was simply "a clarification," Minter called it "an 11th-hour flip on a very important issue." The move prompted the previously neutral Vermont Conservation Voters to endorse Minter and 350.org founder Bill McKibben to retract his support for Dunne in favor of Minter.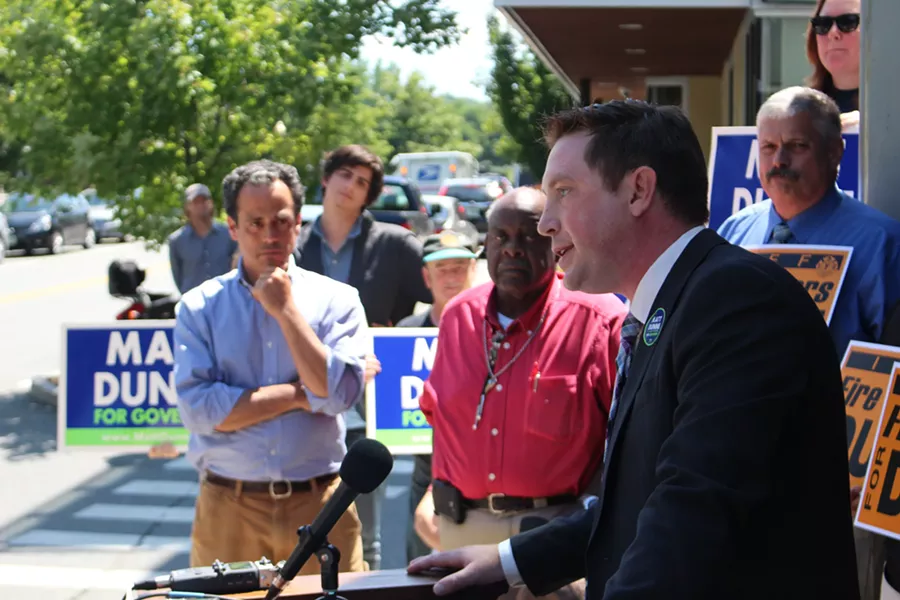 Paul Heintz
Matt Dunne, left, watches campaign manager Nick Charyk speak Wednesday in White River Junction.
At Wednesday's press conference, Charyk said the criticism was "not based on the facts or reality" and accused Minter of failing to articulate her own position on renewable siting.
"Matt made a decision to be clear and is being attacked for it," he said. "It's not fair and it's not logical and it hasn't been covered fairly."
Charyk went out of his way to criticize Shumlin, a fellow Democrat,
who has also sparred with Dunne in recent days.
After the candidate compared his position on siting to the governor's, the latter accused the former on Monday of "not telling the truth."
"The current administration has done a lot of good for a lot of Vermonters," Charyk said in response. "But they have also dropped the ball in some very big and very damaging ways."
The operative called Shumlin's management of the state's insurance exchange, Vermont Health Connect, "unacceptable," and his association with an alleged fraud scheme in the Northeast Kingdom a "fiasco" and a "failure of historic proportions."
"I'm not here to call anyone's integrity into question, but Vermonters have lost trust in their government, and that's a fact," Charyk said. "Sue Minter has been part of the administration, and she has had the backing of the establishment that isn't ready for the fresh, progressive change Matt is talking about."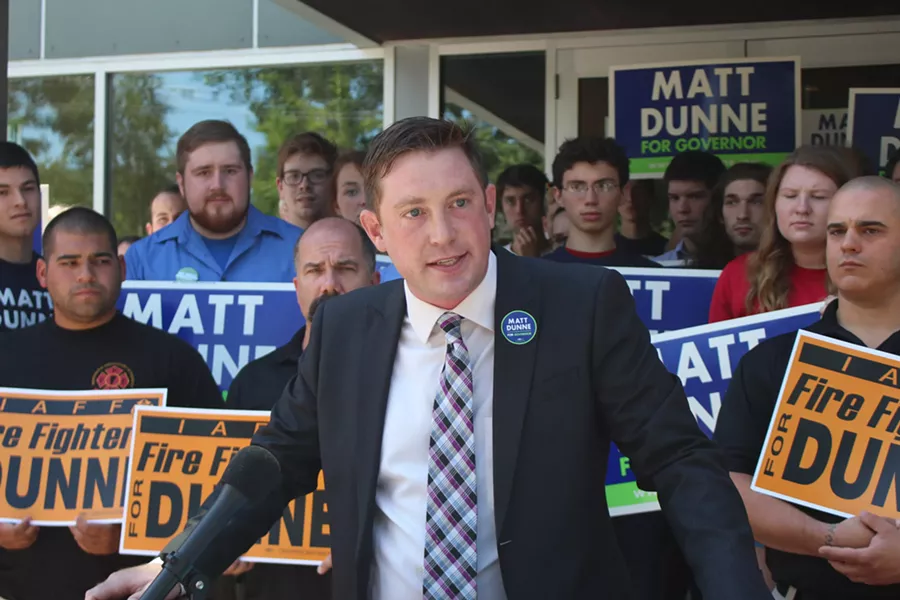 Paul Heintz
Dunne campaign manager Nick Charyk on Wednesday in White River Junction
Aides to both Shumlin and Minter did not take kindly to the comments.
"The governor understands the pressure of the final days and the final debates of a tough primary," Shumlin spokeswoman Sue Allen said, reiterating that her boss' position was distinct from Dunne's. "But what's not up for debate is that the candidates need to stick to the facts and not misrepresent this administration's policies and practices."
Minter campaign manager Molly Ritner, meanwhile, called on Dunne to stop "making desperate and dishonest attacks."
As Charyk made his remarks Wednesday, a Carhartt-clad Dunne looked on from several feet away. He appeared close to tears, as did his wife, Sarah Stewart Taylor, who briefly addressed reporters and Dunne's supporters.
"I am here just to say that I am so incredibly proud of Matt and Nick and all of these young Vermonters here who have stepped up to work on this campaign," she told the glum-looking crowd. "They have worked so hard —
so
hard over the last year — and I'm just incredibly, incredibly proud of them."
When Dunne himself addressed the group, he steered clear of the attacks that his campaign manager had just made — focusing instead on what he had heard on the campaign trail.
"I heard loud and clear that Vermonters did not feel that they were being listened to, that their ideas were not being acknowledged, that their concerns about things going on in Montpelier were not getting a fair shake," he said.
But in a question-and-answer session with reporters after the press conference, Dunne fired back at the governor himself. He said he found Shumlin's comments "incredibly unfortunate" and believed the governor's position had been "pretty damn clear."
Dunne added, "Maybe he has, you know, flip-flopped or gone someplace [else] on that particular position."
Paul Heintz
Matt Dunne and Sarah Stewart Taylor on Wednesday in White River Junction
Since Dunne released his new siting plan last Friday, many have speculated that it was designed to appease a third Democrat in the race, industrial-scale wind opponent Peter Galbraith — perhaps in an effort to convince him to drop out. As he did in a Monday interview with
Seven Days
, Dunne repeatedly refused to say Wednesday whether he or his staff had broached the subject with Galbraith.
"Look, I'm not getting into that," Dunne said after the press conference. "Next question."
Asked several more times, the candidate said, "We had conversations on a variety of levels and —"
"Did [Galbraith's] continuing in the race come up?" Vermont Press Bureau reporter Neal Goswami interjected.
"Of course it came up," Dunne responded. "We talked about lots of different things. But I'm not going to comment further than that, because that was a conversation between two candidates."
Reached later in the day, Galbraith provided an elliptical answer to the question.
"Well, I guess you could say that Matt made an effort not to have me in the race," he said. "I guess you could say that."
Asked for clarification about what that meant, Galbraith referred further questions to the Dunne campaign, saying "
They
initiated this."