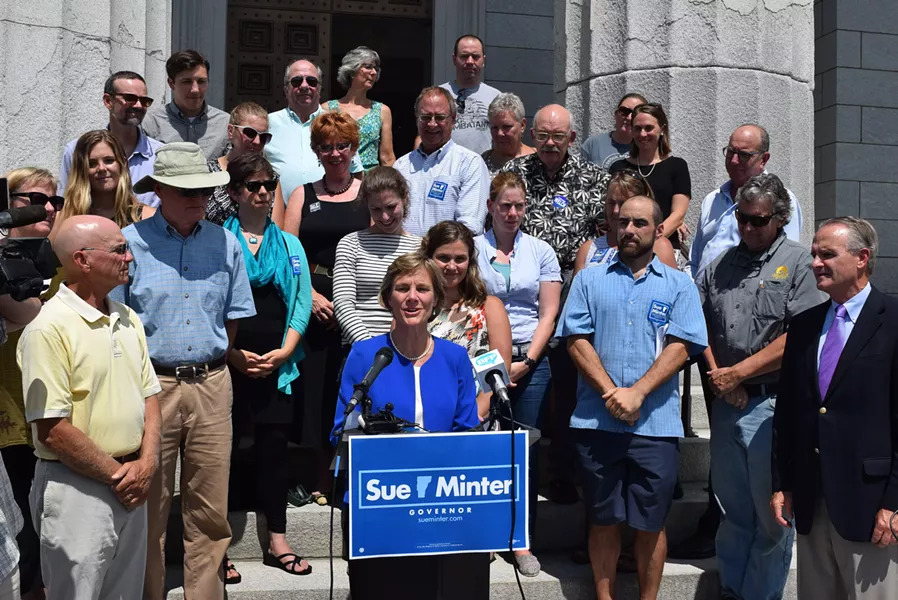 Terri Hallenbeck
Sue Minter wins the endorsement of Vermont Conservation Voters on Tuesday at the Statehouse.
Vermont Conservation Voters, an environmental group that supports like-minded candidates for office in Vermont, wasn't going to endorse any of the candidates for governor until after next week's primary election.
That changed Tuesday afternoon, when the group announced its board had voted unanimously to back Sue Minter over two rivals in the Democratic primary. The reason for the switch: Rival Democratic candidate Matt Dunne's revised policy statement on wind projects.
Fallout has been fast and furious since Dunne issued the statement Friday afternoon. On Sunday, it cost him the support of environmental activist Bill McKibben, who switched his allegiance to Minter.
VCV and others piled on the criticism of Dunne on Tuesday.
"We believe that Matt Dunne's revised position on renewable energy siting would undermine Act 174, the renewable energy siting bill that was a major priority of the environmental community this past legislative session," said Lauren Hierl, VCV's political director.
Dunne, meanwhile, argued that his stance has been misconstrued. His goal had been to show that there is a significant difference between him and Minter on how the public is involved in the process of siting renewable energy. "People had a much stronger reaction than I expected," he said. "The language around this is very, very tricky."
Indeed, much of the flurry of criticism has been over seemingly subtle differences in phrasing that Dunne underestimated.
In his statement Friday, Dunne said, "Large-scale ridgeline wind projects should only take place with the approval of the towns where the projects are located. As governor, I will ensure that no means no. Towns should be voting by Australian ballot, and if a town says no to a large industrial wind project I would use all the power of the Governor's office to ensure that is the end of the project."
That went too far for Hierl and her organization. She took the wording to mean that individual towns would have veto power over projects, even if the projects are in the state's overall public good. That would paralyze the process, she argued.
Her group fought for passage this year of Act 174, a law intended to give town and regional planning groups more say in where wind and solar projects should and should not be sited. The law needs time to be effective, she said.
Dunne said he's frustrated that his statement is being treated so harshly when he considers it no different than statements made by retiring Democratic Gov. Peter Shumlin.
Shumlin has, on several occasions, said he would abide by community votes on wind projects.
"I have always said and I will always say, I believe, no energy project should be built in a town in Vermont where the residents of the community don't vote affirmatively to host it," Shumlin said during
a 2012 interview on Vermont Public Television
with then-WCAX reporter Kristin Carlson.
Shumlin stood by that statement Tuesday,
but argued that Dunne's is different
.
"There is a huge distinction between … when a project developer comes in and says we're going to put this to a town vote and if it fails we won't build it. If it succeeds we build it," Shumlin said. "That's a huge and world difference between saying the governor and the Public Service Board shall give local communities veto power over projects. If we did that we virtually would have no highway infrastructure, no cell towers, no electricity, no internet and no renewable energy projects in Vermont."
Dunne, however, said he never intended to seek legislation to include community votes on wind projects as part of the formal Public Service Board approval process. "I was very clear I didn't support putting it into statute," he said.
His defense failed to appease renewable energy advocates.
"Even if it's merely the administration policy to try to uphold town vetoes, that alone is concerning and I don't think appropriate for public-good things like renewable energy," Hierl said.
Standing behind Minter on the Statehouse steps Tuesday were 18 supporters, including renewable energy developer David Blittersdorf and several Democratic state legislators. Blittersdorf said town votes on such projects are not always fairly run.
"This policy really demonstrates a lack of understanding of the regulatory process and renewable energy, generally," said Rep. Tony Klein (D-East Montpelier), chair of the House Natural Resources and Energy Committee.
Klein said renewable energy advocates also gave Shumlin heat for his statements regarding town votes on wind projects. But Shumlin never enacted community votes as a policy and instead supported this year's legislation as a way to give towns more say without giving them full veto power, Klein said.
Minter said she supports that law, arguing that the town and regional planning process should give local communities sufficient say in locating future projects.
Dunne argued that the new law is a good start but not enough to satisfy local residents' concerns.
Dunne's defense of his own statements didn't sit well with another of Dunne's competitors in the Democratic gubernatorial primary. Peter Galbraith, who joined in supporting Dunne's wind statement Friday, withdrew that support Tuesday.
"I don't know what Matt Dunne's stance is anymore," Galbraith said.
Galbraith, who supports a ban on industrial-size wind projects, said he took Dunne's Friday statement to mean that Dunne would do whatever is necessary — including seeking changes in state law — to give towns veto power over projects. Galbraith said he supported Dunne's statement because he thought Dunne was going further than Shumlin did in giving towns power over siting projects. But Dunne's subsequent explanations have muddled that, he said.
"There's a clear contrast among the candidates in this race," Galbraith said. "Me, I oppose all new industrial, ridgeline wind in the state. Sue Minter's position, I think, is equally clear. She is in favor of the destruction of Vermont ridgelines, and Matt Dunne's position is blowing in the wind."