Sally Pollak
Old Gold owner Karin Eisenberg
Two thousand T-shirts, cartons of nippies and pasties, scores of sequined gowns, a rainbow of tutus and stacks of faded Levis will relocate in time for the New Year as Old Gold, a Burlington sartorial landmark, decamps to Cherry Street.
The vintage clothing store and costume shop, whose window mannequins enliven Main Street, is moving from the jam-packed, jaw-dropping space it has occupied since 1977. The store's lease at 180 Main Street will end on December 31,
Old Gold
owner Karin Eisenberg told
Seven Days
. She will move her business to 153 Cherry Street — the onetime home of the B Side skate shop — and open there on January 2, 2019.
"In brick-and-mortar retail, people are dropping like flies," Eisenberg said, stressing that Old Gold is relocating and not closing. "It's becoming hard for everyone to compete with the Amazons and the TJ Maxxs and Marshalls."
Old Gold was started in 1972 by Ed Winant, who opened the shop on College Street before settling in the brick storefront on Main Street five years later.
In 1994, Eisenberg, then a recent college graduate with a degree in psychology, arrived in Burlington from central New York. "I moved up here to hang with my buddy and thought,
this place seems pretty cool
," she said.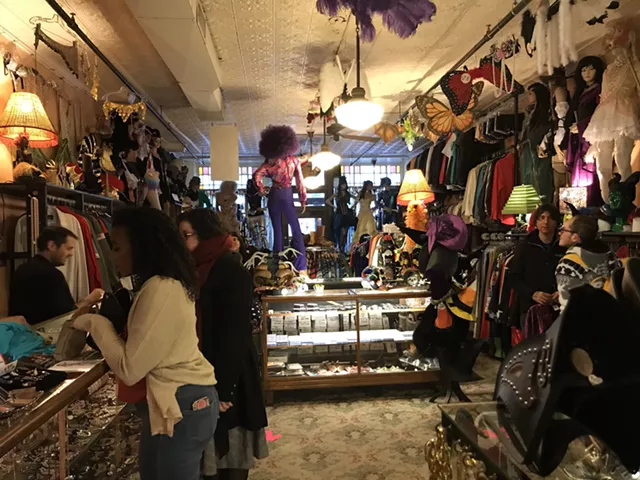 Sally Pollak
Shoppers at Old Gold
She started working at Old Gold and has been there ever since, and purchased the business from Winant a decade ago. "Ed was very good at allowing me to be his partner," Eisenberg, 47, recalled. "I came here as a worker bee and forced myself into being Ed's number one teammate. He taught me how to buy rags and how to run a business."
Sally Pollak
Mannequin morgue at Old Gold
"Rags" is slang for used and vintage clothing. At her basement desk, Eisenberg is surrounded by them. Her underground den is an organized jumble that includes a cache of dismembered mannequins, racks of clothes she's storing for herself (you never know when you'll need six denim shirts), a rafter lined with hats — cop hat, sailor hat, safari hat — and a stash of glittery gowns leftover from a "bum prom season."
But the Old Gold inventory is a bound by a theme — un-Amazony and super-cool — and spotting good fits for the store is perhaps the key lesson Eisenberg picked up from Winant.
"Ed's an old-school hippie," she said. "He's just trying to sell cool stuff. If it's cool, let's give it the people. Let's show them what's cool."
Halloween is the busy season at Old Gold, when Eisenberg hires seasonal help and lays down pink duct-tape arrows on the carpet to direct the flow of traffic. A cockroach necklace, shiny leggings, fluffy boas and strange masks present dress-up possibilities. Dragons and aliens are hot costumes this year, Eisenberg said. College girls especially are into becoming aliens, she said, interpreting that by dressing in an outfit that's "silver and tight."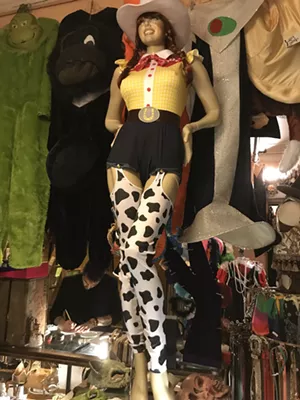 Sally Pollak
Halloween at Old Gold
After Halloween, Eisenberg will focus on reducing her storage inventory. She will hold a sale in November and start the move to Cherry Street – currently under fit-up — in December. (Due to the move, Old Gold could be closed certain days in December; check its social media for updates.)
"We will be redecorating in a fresh space, which is exciting," Eisenberg said. "We're just changing space, we're not changing face."
Among the items that won't be making the move are a majority of mannequins. "I have multiple boxes of hands, I have torsos," Eisenberg said.
"We'll just be taking our favorites."
Efforts to reach Old Gold's landlords were not successful Wednesday morning.