Jordan Adams
Target storefront
Dreams do come true.
Finally, after months of anxious waiting, certain Vermonters were blessed with a preview of the new Target store at the University Mall in South Burlington. On Tuesday evening, a select group of media personalities and other individuals — let's call them "the Chosen Ones" — were invited to attend a special friends-and-family early-access event to bask in the glory of all that is Target.
Jordan Adams
A bountiful selection of sweetened breakfast cereals
The Green Mountain State has long been the only canton of the United States of America cruelly deprived of the exalted department store. But
almost exactly one year ago
, news of the impending arrival of the ruby-colored haven of goods rocked the Champlain Valley and its surrounding realms. It was foretold that soon Vermonters would no longer have to sail across Lake Champlain to patronize the Target of Plattsburgh, N.Y.
Jordan Adams
Perfumed antiseptics for hair and body
At last, the glorious day has come.
The store's official unveiling is twofold: a tasteful, understated soft opening on Wednesday, October 17, and an opulent, resplendent grand opening gala on Sunday, October 21.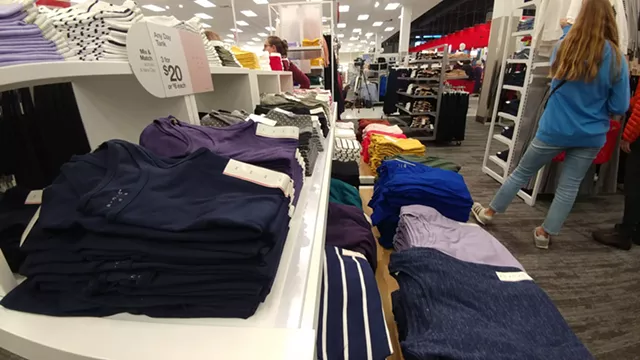 Jordan Adams
Garments, attire and apparel
At a modest 60,000 square feet, the new store is but a speck in the shadow of some of the Minneapolis-based company's more monolithic outposts, such as the 165,000-square-foot bazaar at the King of Prussia Mall in Pennsylvania. Still, Chittenden County's petit marché is thoroughly outfitted with fanciful wares, hearty provisions and designer garments.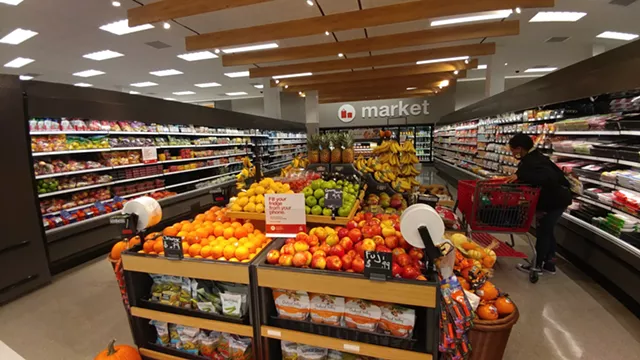 Jordan Adams
Butchered meats, exotic fruits and expertly crafted meals kept on ice
The store offers a smorgasbord of everyday necessities and mundanities as well as indulgences: fresh produce, culinary apparatuses such as KitchenAid mixers, finely knit sweaters, bed linens crafted from the very material used to make T-shirts, fine facial moisturizers… The stock seems to flow from a vortex of maddening depths.
Jordan Adams
A cornucopia of gastronomical utensils, tools and appliances
Customers wishing to partake of legal stimulants may procure fine caffeinated beverages, decadent treats and other artisanal consumables from the in-house Starbucks. This will come as a relief to any shopper inconvenienced by traveling to one of the other two Starbucks situated within a half-mile radius.
Jordan Adams
A brand-new, Vermont-specific mural by Michael Mullen
Behind the area in which customers can return or exchange unsatisfactory goods lies a majestic work of art from illustrator
Michael Mullen
. The floor-to-ceiling mural depicts a fanciful jaunt through Vermont's seasonal changes.
Patrons eager to excuse themselves and their goods without deigning to interact with other humans may take advantage of several self-service point-of-sale stations. Clients who desire products housed within the store but, for whatever reason, can't bring themselves to cross its threshold may rejoice in the arrival of
Shipt
. The intermediary company will dispatch workers to acquire items from a list provided by its clients. Goods will be couriered to the purchaser's domicile on the very same day.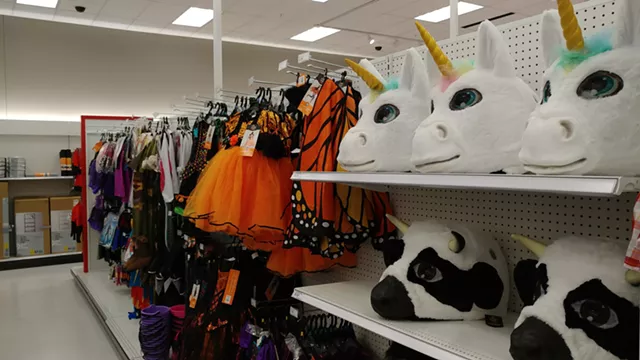 Jordan Adams
Halloween raiments
And, since the market's launch comes just before All Hallow's Eve — that is, October 31 — consumers may obtain whimsical disguises for a limited time. Note: Unicorns appear to be popular.
Rest easy, good citizens. You now have a Target in your midst. Go forth and be merry.