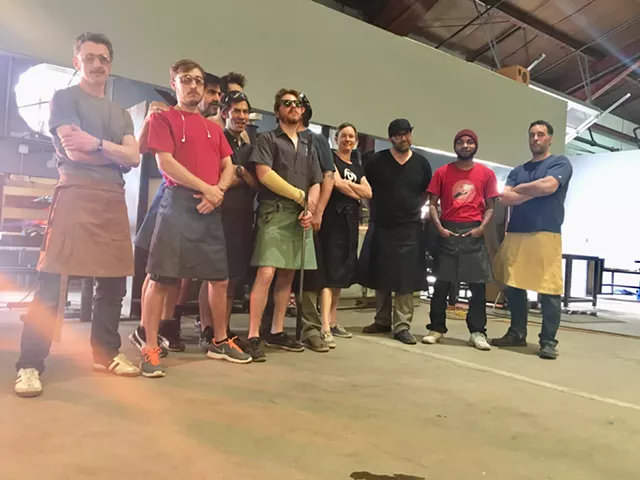 Sadie Williams
The AO Glass staff poses in co-founder Tove Ohlander's maker skirts.
Since 2011,
AO Glass
has operated out of a tiny studio in a complex of warehouse-cum-artist spaces on Pine Street in Burlington. But recently, founders Tove Ohlander and Rich Arentzen found that they didn't have enough room to keep growing. The high-end glass manufactory's production has tripled in the last four years, and projects to double in the next two. So Ohlander and Arentzen expanded their shop further into — and out of — the warehouse behind their studio.
Now, AO Glass occupies a 10,000-square-foot space with double the kiln capacity. Multiple garage doors open out into the parking lot and alley behind ArtsRiot. This Friday, May 18, that typically lightly trafficked pavement will swell with visitors to the
first ArtsRiot Truck Stop of 2018
. Piggybacking on the popular weekly foodie event, AO Glass will unveil its new digs with a coinciding open house.
When this reporter visited recently to preview the new space, a cool breeze blew in through the open garage doors, mitigating the dense heat coming off the kilns where glass blowers shaped spherical light fixtures. It was quite a change from the stifling environment of the former studio, which clocked in at 2,000 square feet with nowhere near as much ventilation.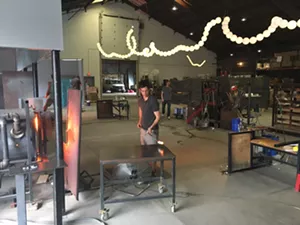 Sadie Williams
Tyler Vendituoli working in the new AO Glass studio.
The roomier production space will enable the company to keep up with its existing wholesale clients — mostly large interior design companies — and get back to manufacturing its own branded line of tableware, lighting and other glass objects. The space also allows room for classrooms and educational tours, something Ohlander is particularly excited about.
"I think it's important for kids to know that there are alternatives to jobs they get presented with in school situations," she said. "It's hard work but it's good for kids to see that you can work in manufacturing and make it happen."
The new studio also includes a modest showroom which houses Ohlander's maker skirts — sustainably crafted denim work aprons that tie in the front. The showroom, spiced up by a few vases and snowmen from AO Glass' old branded line, looks out onto the alleyway behind ArtsRiot.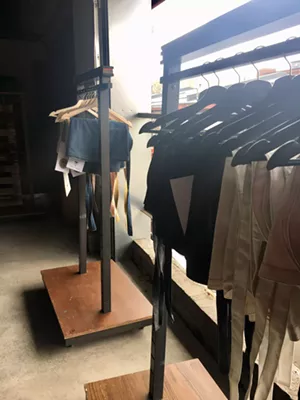 Sadie Williams
Tove Ohlander's maker skirts.
The larger, more open space means food truck revelers will have prime views of glass blowing demonstrations during the open house — some practical and some more whimsical.
Ohlander said that they might bust out the "popcorn trick" — kernels are popped in a glass bubble as it's being blown, which is then opened up into a bowl.
Yummy.