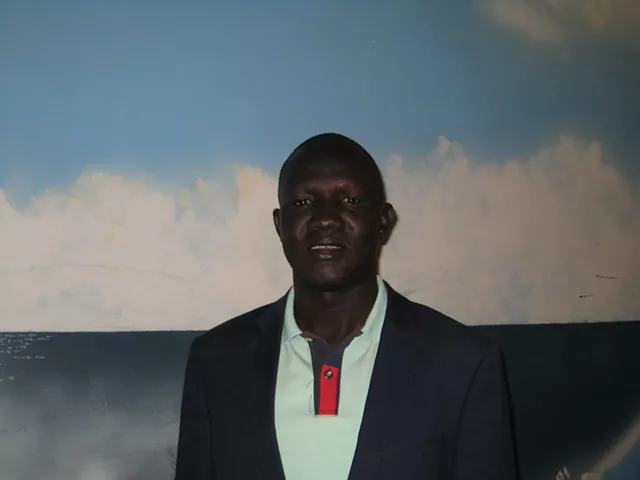 Kymelya Sari
Abraham Awolich
In 2011, Abraham Awolich left the U.S. to return to his native South Sudan. He confessed that he had thought about moving back to Vermont since then. Intense clashes between rival political factions in 2014 and 2015 had left him "sometimes scared," and living conditions in the capital, Juba, remain difficult, he said.
Awolich is in Burlington for a week to reconnect with his friends, as well as to ask the public to continue to support his projects in South Sudan. On Tuesday, he gave a presentation to a group of about 30 people at the Cathedral Church of St. Paul. Many, if not all, in attendance had known Awolich and his peers since they first arrived in Vermont 17 years ago.
What has kept him in South Sudan these past few years, Awolich said, is a sense of purpose and commitment. In the wake of the country's independence in 2011, he wants to help negotiate what he calls "rapid" and "dramatic" transitions.
Awolich, now 38, was among the nearly 4,000 boys and young men who were displaced by the civil war in Sudan and, after spending years in refugee camps in Kenya, were resettled in the U.S. He arrived in Vermont in February 2001.
Over 10 years, Awolich worked his way up the academic ladder. He earned a bachelor's degree in anthropology and business administration from the University of Vermont, and a master's degree in public administration from the Maxwell School of Citizenship and Public Affairs at Syracuse University.
In 2009, Awolich and other members of the Sudanese diaspora founded the Colchester-based nonprofit
Sudan Development Foundation
. It provides basic medical services in Kalthok in Lakes State, where Awolich is from. Today, SUDEF has another medical facility in Northern Bahr el Ghazal and is also funding a primary school in Kalthok.
Awolich took time out of his busy schedule to talk to
Seven Days
about his work with the
Sudd Institute
, an independent research foundation in South Sudan, and his aspirations for his country.
SEVEN DAYS: What have you been up to since you returned to South Sudan in 2011?
ABRAHAM AWOLICH: I'm a researcher and also a policy analyst, working for the Sudd Institute. We work on public policy issues in South Sudan, with the aim of trying to influence government and other policy makers so that they can promote public interest. There are times they don't take my advice. But I also find them interested in some of my technical skills. So, I've been informally an adviser to the government in that capacity.
SD: What was it like readjusting to life in South Sudan?
AW: It took a while to adjust to things. I had to stay in hotels for a while. There's no public electricity or running water in [Juba]. The hygiene conditions are difficult. There were no decent places to eat, so I was getting a lot of food poisoning.
I was not shocked at all in terms of the culture, although I was a little disconcerted with certain things. But I quickly made a transition. One of the challenges was to establish yourself and your identity within the broader society. There was a feeling that you're a person from the United States, you have an education, you possibly have money and things like that.
[I] just want to be seen as a regular member of South Sudanese society. Even now, there's still a feeling within the broader civil society community that the program we run [at the Sudd Institute] is an American program.
That transitional period can be very shaky. Many thoughts came to mind, including wanting to come back and just be here. But what we have learned here is ... you don't quit when things get difficult. You have to press on. 

SD: How has the return of the South Sudanese diaspora like yourself impacted the society?

AW: Refugees who grew up in the Middle East have developed a certain way of life. Refugees who were mostly in East Africa developed a certain lifestyle, and those of us who were here in the West have different lifestyles. [And then there were those who never left]. Now we're coming at the same time.
It does have positive and negative [effects]. Positive in the sense that we've been exposed to other ways, as opposed to people who've [remained] in the country. They don't know what else is happening in the rest of the world. And they don't know if what they have is the best or there are other options out there. We're able to bring some technical skills and experience.
There are tensions, linguistically. For example, most people who went to the Middle East want [to speak] Arabic, while those in Eastern Africa and places like here, they want English. The ordinary people want the local native languages. So, it's certainly a challenge to forge a national unity out of that.
[But] if people had made connections in those places, you create natural bridges. South Sudan could be a multicultural society in that regard. There's already a movement toward tolerating different ways of living.
SD: Who or what do you attribute your success to?
AW: My dad died while my mother was pregnant. She was such a hardworking woman and I took a lot of inspiration from her. Having to leave home at a very tender age, getting into the military, and interacting with other kids — those things shaped the way I look at things.
My principle is, all problems can be overcome unless God decided that's the fate you have to face. So I developed an attitude of calm … But I persistently push forward. I must also give a lot of credit to people, my colleagues and also the people around here in Burlington who encouraged me. 

I cannot emphasize enough the need to have an attitude that's not self-defeating, and having a sense of commitment and purpose. I want to make a difference in our society. I cannot be contented with how well I'm doing as a person, because that's not enough.
What worth is a person if everyone else in the society is dying and you're well-to-do? I don't find any comfort in that. That's why I decided in 2011 that I had to [return], to face that transition and be there when things are happening and to suffer with the people if they're suffering. 

SD: Is post-independence South Sudan living up to your expectations and dreams?
AW: No, absolutely not. The conflict is not between the leaders themselves. The conflict is between the society and the state. The state has failed to live up to the dream and promises of the liberation. We were fighting for a democratic society that'll be pluralistic, multi-religious, multi-ethnic and multi-political and secular.
For us to move forward, we have to go back to the purpose of the liberation. The good life for people is the ultimate objective of the liberation. That means giving people education, good health, good food and other things that will make them happy and give them the capacity they need to achieve their personal goals.
If the state doesn't improve the lives and capacity of the people, then the state is not doing what it's supposed to do. So South Sudan definitely has failed to live up to the dreams that I have for it, for myself and for the society. Part of my job [at the Sudd Institute] is to try to foster that debate, to go back to ask the fundamental question: What was the purpose of our liberation?
For those of us who had to leave our families at a very young age and got robbed of our childhood, was it worth that? My own family ... contributed three sons and 68 cows to the liberation. If you were to monetize the 68 cows, it can be a lot of money. Two of their sons didn't survive. I survived. But I had to stay away from the family for a very long time.
We want these conversations to be had in South Sudan. Real people made real sacrifices.

SD: What are some of your aspirations for yourself and South Sudan?
AW: My hope is that we can maintain peace in South Sudan and the region, to allow citizens to exploit their capacities, grow their business and social interactions, and to develop a society that is tolerant.
What I want to do at a personal level is to continue to learn, improve my capacity to do many things and transform the society, either through the Sudd Institute or through direct political engagement. I want to play a role in transforming South Sudan from what it is — a place of misery, violence, fear and backwardness — into a normal society, where people live peacefully and they're able to prosper economically and grow socially.
I need to build networks with people around the world, continue to maintain my relationship here in the United States and in Vermont, and also expand my network to different parts of the world so that I'll have a multidimensional view of things.